Gibson's homer all Hogs need
By: BRANDON DAVIS Special to the NWA Democrat-Gazette
Published: Saturday, March 30, 2019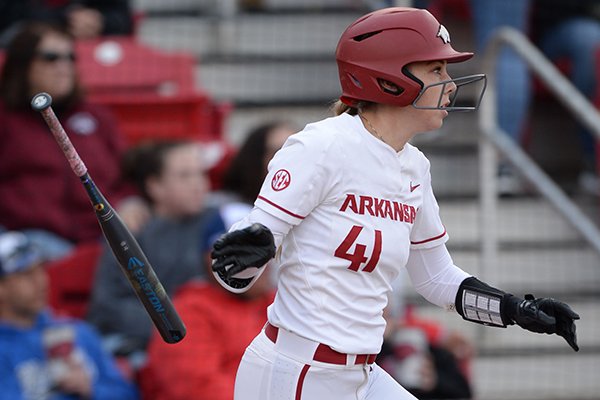 FAYETTEVILLE -- Danielle Gibson went to the plate in the fifth inning of a scoreless game looking for a pitch she could drive.
Her patience paid off as Gibson drove a pitch over the right-field fence for a solo home run, and that was all the support Autumn Storms needed.
Storms held Kentucky to just three hits to lead No. 13 Arkansas to a 1-0 win Friday at Bogle Park in the first of a three-game Southeastern Conference series.
Arkansas softball coach Courtney Deifel knew that if Gibson got what she was looking for she could do damage.
"That's what Gibby does," Deifel said. "She got a good pitch and was ready for it and put one of her swings on it. That was the difference maker for us."
Storms (12-3) and Kentucky pitcher Grace Baalman (5-6) locked into a pitcher's duel for four innings, matching zero-for-zero. Baalman struck out nine and Storms sent six back to the dugout.
Arkansas had chances earlier in the game, but could not take advantage until Gibson finally sent a charge through the Bogle Park crowd with her fifth inning blast.
Katie Warrick went 2-for-3 at the plate, and Hannah McEwen banged the first hit of the game for Arkansas (24-10, 5-5 SEC) at her first at-bat of the night.
Arkansas catcher Kayla Green also stopped some Kentucky momentum in the sixth inning by throwing out pinch runner Jaci Babbs, who was caught stealing.
Deifel credited her team's defense behind Storms as a key to the win.
"I thought our defense did a tremendous job tonight at handling the ball," Deifel said. "Stormy (Storms) was outstanding and I thought it was a great complete game."
SHORT HOPS: Arkansas improves to 4-7 in 1-0 games this season. ... Storms now has 40 career wins under her belt. ... Kentucky fell to 1-8 when trailing after the fifth inning.
ON DECK: Game two of the series between Arkansas and Kentucky is today with first pitch scheduled for 1 p.m. Admission is free to the public.
ON THE WEB: www.arkansasrazorbacks.com
Sports on 03/30/2019
Discussion
Have a comment on this story? Join the discussion or start a new one on the Forums.