Vanover eyes opportunity to come home
Published: Thursday, May 9, 2019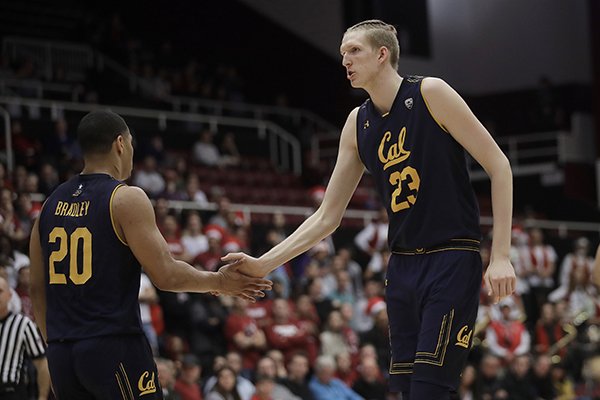 California guard Matt Bradley (20) celebrates with center Connor Vanover (23) during the first half of the team's NCAA college basketball game against Stanford in Palo Alto, Calif., Thursday, March 7, 2019. (AP Photo/Jeff Chiu)
In the interest of full disclosure, I've known Connor Vanover for a long time. I think he is a great young man who was raised right, I like his family and I fully hope he gets to live out his dream of becoming a Razorback.
It was something that the current California freshman looking to transfer wanted and shared with me on many occasions, but for whatever reasons it did not work out with Arkansas after he starred at Baptist Prep and then moved on to prestigious Findlay Prep in Henderson, Nev., to finish up his prep career.
I've looked up to him for a long time, both literally and figuratively as he has been 7-foot-3 since the ninth grade.
In what could be a match finally made in Hog Heaven after a four-year courtship with two different Arkansas head coaches, Vanover will be taking an official visit beginning today to check out new head coach Eric Musselman's Razorbacks.
Vanover was first offered a scholarship by former Arkansas and current St. John's head coach Mike Anderson on July 13, 2015, after he had finished up his freshman season at Baptist Prep and was at the tail end of his AAU season with the Arkansas Wings.
The Razorback offer was his third SEC offer at that point, following up ones after Alabama and Ole Miss, and came along at the same time the Razorbacks offered a pair of fellow Wings in future Arkansas center Daniel Gafford and Eric Curry. Minnesota would land Curry.
Vanover, whose mother Robyn Irwin played basketball for the Lady Razorbacks in the 1980s, committed to Memphis when Tubby Smith was the head coach of the Tigers.
That was while averaging 8.3 points, 7.3 rebounds, 2.5 assists and 1.3 steals at Findlay Prep and playing alongside current Razorback Reggie Chaney on a 32-5 Pilots team.
When Anfernee "Penny" Hardaway took over for Smith at Memphis, the two sides decided to go their separate ways and Vanover ended up signing with California on April 22, 2018.
Vanover averaged 6.8 points, 2.9 rebounds and a block per game for the Bears as a freshman while shooting 42 percent from the field and 32 percent from 3-point range.
His play improved considerably during the second half of his rookie season after recovering from a broken nose and concussion-like symptoms.
He started the last 15 games when he averaged over 12 points and 7 rebounds an outing for a struggling team that went 8-23 overall and 3-15 in Pac-12 action.
Vanover saved his best for last, averaging 17.1 points, 6.0 rebounds and 2.7 blocks in 28 minutes of action per game in his last three games of the 2018-2019 season.
He is not a true back to the basket post guy, but more of an extremely tall stretch forward that is a deadly shooter from mid-range out past the three-point line and obviously can get points inside as well.
Vanover showed off those skills while scoring over 1,000 points, grabbing over 700 rebounds and swatting away over 300 shots in a three-year run at Baptist Prep that included a 82-21 mark and two Class 4A state championships.
Stanford head coach Jarod Haase saw Vanover score a career-high 24 points against him in the next to last game of the regular season.
"With him, if he has a half-step, he knows that nobody is going to be able to challenge his shot," Haase told the San Francisco Chronicle after the game. "He poses some challenges, and when he's making shots like that, he's awfully good."
Cal head coach Wyking Jones believes the best is to come for Vanover, who visited Vanderbilt earlier this week and would have to sit out a season before having three years to play three at his next destination.
"Everyone can see that, at 7-3, he's unbelievably skilled," Jones said after that same contest. "He's really put in a lot of work and done a great job in practice. ... There's a bright, bright future for Connor."
Sports on 05/09/2019
Discussion
Have a comment on this story? Join the discussion or start a new one on the Forums.