Vanover to announce decision after finals
Published: Saturday, May 11, 2019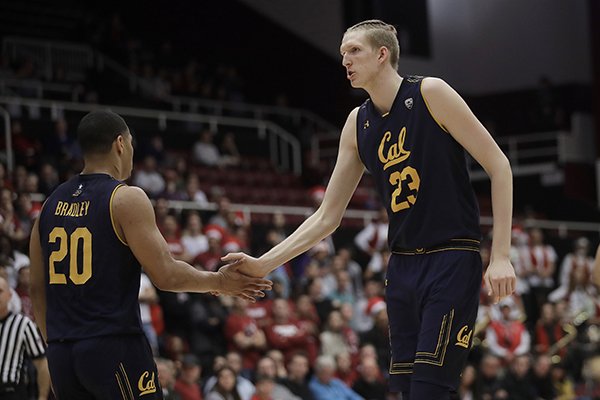 California guard Matt Bradley (20) celebrates with center Connor Vanover (23) during the first half of the team's NCAA college basketball game against Stanford in Palo Alto, Calif., Thursday, March 7, 2019. (AP Photo/Jeff Chiu)
FAYETTEVILLE — California transfer and Arkansas native Connor Vanover visited Vanderbilt and Arkansas officially this week, and now is heading back to the West Coast to think about his decision and take final exams.
Vanover (7-3, 225 pounds), who starred at Baptist Prep in Little Rock for three seasons and finished up at Findlay Prep in Henderson, Nev., had a great visit to Fayetteville, said his mother, Robyn Irwin Vanover, a former Arkansas basketball player.
"Connor is flying back to California to take finals on Monday and Tuesday," she said. "He will announce his decision after finals."
That decision will be between transferring to Arkansas or Vanderbilt, or remaining at California.
Vanover averaged 6.8 points, 2.9 rebounds and 1 block per game for the Bears as a freshman. He shot 42 percent from the field and 32 percent from 3-point range.
He started the final 15 games for Cal while averaging more than 12 points and 7 rebounds. The Bears finished the season 8-23 overall and 3-15 in Pac-12 play.
Vanover averaged 17.1 points, 6 rebounds and 2.7 blocks, and averaged 28 minutes in his final three games of the 2018-19 season.
He scored more than 1,000 points, grabbed more than 700 rebounds and blocked more than 300 shots in his three years at Baptist Prep. The final two seasons ended with Class 4A state titles.
Discussion
Have a comment on this story? Join the discussion or start a new one on the Forums.