Hammonds returns to Razorbacks
Published: Tuesday, May 14, 2019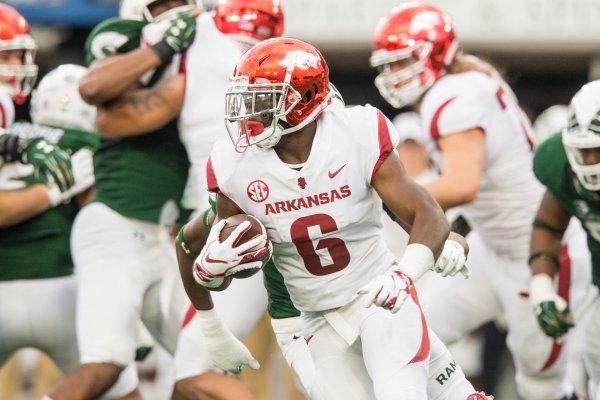 T.J. Hammonds, Arkansas running back, carries in the 2nd quarter vs Colorado State Saturday, Sept. 8, 2018, at Canvas Stadium in Fort Collins, Colo.
Running back T.J. Hammonds announced Monday he had returned to the University of Arkansas football program.
"I'm backkkkkk," Hammonds posted on his Twitter account, which was followed by several of his teammates welcoming him back into the fold.
Among them, linebacker De'Jon Harris, a senior captain, gave him advice, posting on his Twitter account, "Get your mind right this time they have people depending on you out here!"
A UA spokesman said Hammonds would be with the team when it resumes workouts at the end of the month.
Hammonds participated in four games and did not play after the fifth game last fall and later underwent knee surgery during the season. He was not with the team during spring drills due to an academic issue, sources close to the program said.
The Razorbacks ran into depth problems at tailback in the spring with Rakeem Boyd out of live work for the duration due to shoulder surgery, and Devwah Whaley missing time with a back problem. The coaching staff moved cornerback Jordon Curtis to running back to help junior Chase Hayden.
A graduate of Joe T. Robinson in Little Rock, Hammonds had 10 carries for 28 yards last year. He took a pop pass in front of quarterback Cole Kelley for a 64-yard touchdown at Colorado State in his best game of the season.
-- Tom Murphy
Discussion
Have a comment on this story? Join the discussion or start a new one on the Forums.