Adams makes career transition at Baum-Walker Stadium
Published: Thursday, May 16, 2019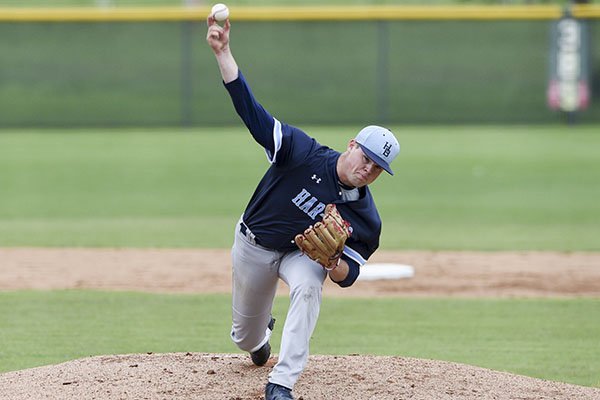 (
Charlie Kaijo
)
Springdale Har-Ber pitcher Blake Adams throws a pitch during 6A State Baseball Tournament game against Conway on Thursday, May 9, 2019, at Veterans Park in Rogers.
Springdale Har-Ber pitcher and Arkansas signee Blake Adams (6-foot-3, 210) will finish his high school career Saturday morning on the same mound he plans to pitch on in college.
Adams (7-0, 1.88 ERA) and Har-Ber (25-7) will face Cinderella North Little Rock (14-18) at 10 a.m. Saturday at Baum-Walker Stadium as the Wildcats try to win back-to-back Class 6A state titles.
It will be the sixth time that Adams, who is 22-5 the past three seasons and whose fastball has touched 95 mph, has pitched on the Baum-Walker mound and the third year in a row he has done it with Har-Ber playing for a state championship.
"Baum is obviously an amazing college facility," Adams said. "This will be my third time to pitch on it in a high school game and I have also pitched on it in a couple of summer games so I think it will be my sixth time overall.
"Even without the 11,000 fans that are there for an Arkansas game, it still gives me an amazing amount of energy. I feel really good knowing that my next few starts will be on that mound."
Adams hopes to step right into the Razorbacks' weekend rotation next season just as true freshmen Connor Noland and Patrick Wicklander have this year.
"I have actually played with both Connor and Patrick throughout my youth career with the Arkansas Sticks [organization]," Adams said. "Seeing them go out there and see what they have done has really motivated me and given me confidence that I can do the same thing next year."
Adams, who has fanned 90 batters in 59⅔ innings this season, committed to Arkansas over Oklahoma, Oklahoma State and numerous others two years ago and signed with the Razorbacks on Nov. 15.
The only thing that could keep him from pitching at Arkansas next season would be a high-round selection in June's Major League Baseball Draft.
Adams is not ranked among MLB.com's Top 100 draft prospects, a list that has former Razorback and current San Jacinto Junior College pitcher Jackson Rutledge at No. 13, current Arkansas pitching ace Isaiah Campbell at 43 and Razorback closer Matt Cronin at 69.
"It is definitely going to take a lot to get me to not go to Arkansas," Adams said. "My family and I have decided that if I don't go in the first two rounds, I am definitely going to Arkansas.
"So the possibility is still there, but I am really just seeing how the cards play themselves out."
He's excited about what the No. 4 Razorbacks have done this season and their prospects to return to the College World Series' championship series.
"It has been an awesome year for them," Adams said. "They have been unbelievable this year. I have loved going to Friday night games at Baum this season with Baum full and Isaiah just dealing like he has been all year.
"I am really excited for them and I think they have a great chance to be in the College World Series and the championship series again this year. It is just a team that gets the job done every time they come out."
He'll face a North Little Rock team on Saturday that lost its last five regular-season games before upsetting Van Buren 3-2, Bryant 9-6 in 10 innings and Bentonville West 5-1 to get to the championship game.
Har-Ber downed Conway 6-5 in 10 innings in the opening round, a rematch of last year's state title game. Har-Ber routed No. 1 seed Fayetteville 12-1 and scrapped to a 3-2 semifinal win over Cabot, the team that beat Adams and the Wildcats in the 2017 title game. Adams made a couple of sensational plays on centerfield against Cabot.
"This is how you dream of ending your high school career, on the mound with a chance to win it all again," Adams said. "But we'll have to be at our best to get it done."
Sports on 05/16/2019
Discussion
Have a comment on this story? Join the discussion or start a new one on the Forums.