Wilson sees recruits' perspective
Published: Saturday, November 23, 2019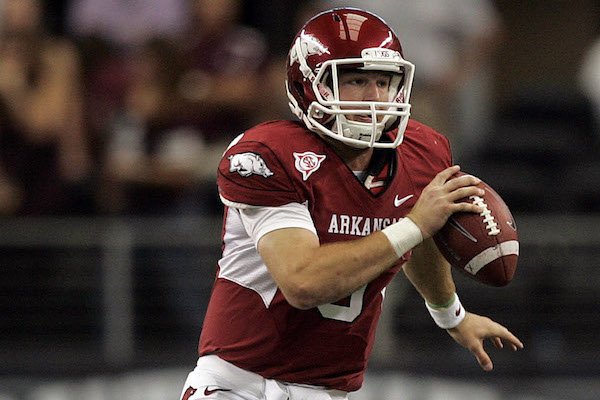 (
William Moore
)
Arkansas quarterback Tyler Wilson scrambles against Texas A&M Saturday, October 1, 2011 at Cowboy Stadium in Arlington, TX.
Former Arkansas quarterback Tyler Wilson knows all about what current Razorback football players and 2020 in-state recruits are going through right now with the recent ouster of coach Chad Morris.
Wilson was not offered a scholarship by Houston Nutt when he was a star senior quarterback for Greenwood back in 2007, something that made him resentful.
He was offered by LSU, but told to hold off committing because they were considering two other quarterbacks.
Wilson would then commit to Tulsa assistant coach Gus Malzahn, only to get the opportunity to fulfill his lifelong dream to play for the Razorbacks when Nutt resigned, Bobby Petrino was hired and assistant Tim Horton talked Petrino into taking a chance on him.
"When Nutt moved on, Tim Horton was holding the recruiting class together, the guys in Camden, the ones in Warren and getting Joe Adams, which was huge," Wilson said. "He did a tremendous job holding it together.
"I think everybody at that time thought Petrino was a home run hire and if it had not been a Petrino-type hire, I don't think that class would have stayed together, especially all the offensive weapons that were in that class."
Wilson remembers the quickness with which his situation changed and felt like he and Petrino — who took the job without stepping foot in Fayetteville — were both on official visits.
"I think it was two days after Petrino was hired that his brother Paul Petrino came down and saw me," Wilson said. "He was literally taking off his Falcons NFL hat on and putting on an Arkansas hat.
"My family and I went up and Tim was letting us and Petrino into the building because Petrino did not have keys yet. Tim was showing Petrino around just as much as he was showing me around. It wasn't until the end of that day that we sat down and Petrino offered me a scholarship sight unseen. No film, no seeing me throw live. He just basically took the word of Tim Horton and a few high school and college coaches he trusted."
It is the same time situation Wilson believes interim head coach Barry Lunney Jr.is in right now after taking over for Morris on Nov. 10.
Lunney was quick to call Morrilton quarterback Jacolby Criswell (6-1, 218), who committed to North Carolina when he was not shown enough attention by Morris, who would end up taking the commit of his son Chandler.
Criswell, the brother of former Arkansas and current San Francisco 49ers linebacker Dre Greenlaw, had always dreamed of playing for the Razorbacks, but wasn't shown the attention just like Wilson.
"I always had a chip on my shoulder because I was not offered by Nutt and the others in-state who had always had the Arkansas tag next to their name," Wilson said. "I was always envious because I wanted to play at Arkansas, I wanted to be there, but for whatever reason that opportunity had not presented itself.
"I know exactly how he (Criswell) feels. I always had resentment that I wasn't in the clique and engaged with them in the circle and I hated that because I was an Arkansas kid. I was rooting for change to happen at Arkansas (with Nutt), but I was doing so quietly and thankfully it worked out for me."
He thinks the prospects that Morris looked over in Arkansas or ones that committed elsewhere should be paying attention.
"For these guys who are thinking the game is over, I think certainly that all of them should be paying attention and doing so with eyes wide open," Wilson said, "because you never know what is going to happen in the next two or three weeks as the process goes on."
Playing with that chip on his shoulder, Wilson would go on to have a glorious career at Arkansas even though it ended with a 4-8 season during his senior campaign.
"I guess if you would ask me when I was 10 years old to have a handshake deal that during your college career that you were going to be the all-time passing leader in career history (7,765 yards), you are going to set 29 school records and you are going to tie the school record for wins, I would have said 'just stop there. I will take that deal.' I look back at my time at Arkansas with a big smile."
But heading into his senior season in Fayetteville, Petri-no was fired and Wilson and his teammates were sitting around waiting to see who the next head coach would be as the current Razorbacks are right now.
"It's a little different these days with the transfer portal," Wilson said. "But if you are a Chad Morris recruit that is contemplating the transfer portal or maybe even a Bret Bielema recruit, just take a moment and see who they bring in. There's really no rush.
"We didn't have anybody that transferred, but it is different because we were coming off an 11-2 season and a top five ranking. This is different because the program is sitting at two wins a season two seasons in a row. I can see it being very different for these group of guys that are in the locker room now so we'll see how it works out."
Dudley Dawson is the recruiting editor for Hawgs Illustrated magazine.
Discussion
Have a comment on this story? Join the discussion or start a new one on the Forums.