Editorial: A championship season
By: Northwest Arkansas Democrat-Gazette
Published: Tuesday, November 26, 2019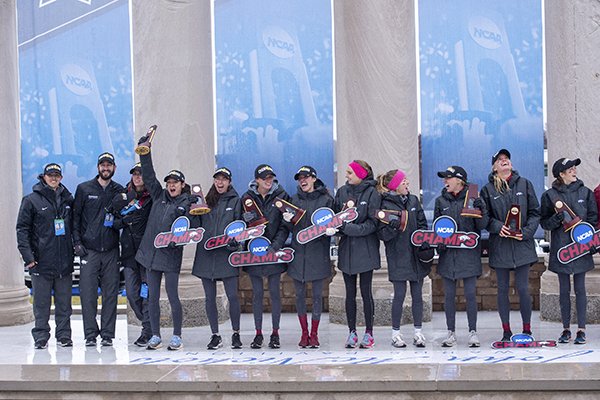 Arkansas runners celebrate after being presented their trophies for winning the women's NCAA Division I Cross-Country Championship, Saturday, Nov. 23, 2019, in Terre Haute, Ind. (AP Photo/Doug McSchooler)
Across the nation, the headlines are usually a lot smaller for cross country teams than for the big-time sports, like football and basketball. That is, when there are stories about cross country at all.
Some folks like to blame the newspapers, but when's the last time tens of thousands of fans showed up to tailgate and watch the competition of a cross country meet?
The unfortunate assumption some people make is that the student-athletes in the higher-profile sports work harder or deserve more accolades than those who achieve great things in the lesser-watched athletic events. That's a disservice to thousands of college athletes across the nation in a wide range of sports.
Society may be more fixated on certain game experiences and teams, but don't let that fool you. Athletic competition at the collegiate level takes a commitment and devotion to strength, stamina and character that involves a lot of work, concentration, talent and time.
When headlines do get big for these lesser-watched sports, it usually means team members have done something significant enough that it demands the deserved attention of fans. Championship-level success simply cannot be denied.
The headline splashed across the top of Sunday's sports section said it plain and clear: "Razorbacks women win NCAA cross country title."
The title is the NCAA Division I Cross Country Championship, which Coach Lance Harter's team won Saturday in Terre Haute, Ind.
In so doing, the women competitors completed a three-season sweep of national titles in running sports — cross country, indoor track and field, and outdoor track and field.
For the many of us unfamiliar with the record books involving such things, here's how big a deal that is: Only Oregon in 2016-17 and Texas in 1986 were the only other women's teams to win three NCAA meets consecutively.
"Too good to be true" is the phrase Razorback Katie Izzo used to describe the championship, but the reality is the Hogs were too good as a team to be beaten.
Coach Harter has been astonishing in his steady leadership that has produced unbelievable results year in and year out. The year has been marked with achievement after achievement, but capping it with an NCAA championship marks a crowning achievement for which the team and everyone associated with the University of Arkansas can be proud.
Discussion
Have a comment on this story? Join the discussion or start a new one on the Forums.