Arkansas pushing hard for 2020 hoops additions
Published: Tuesday, September 24, 2019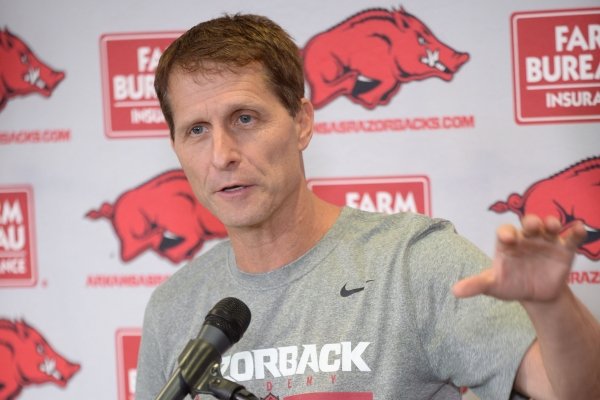 (
Andy Shupe
)
Arkansas coach Eric Musselman speaks Tuesday, Sept. 24, 2019, in the university's Basketball Performance Center in Fayetteville.
FAYETTEVILLE — While getting his existing team ready for the 2019-2020 season and preparing for the the first official practice on Tuesday, first-year Arkansas coach Eric Musselman and his staff have also been doing their best to try and build for the future.
While bringing in a variety of 2020-22 prospects in for unofficial or official visits this summer and fall, the Razorbacks brass has kept one important thing in mind.
"I mean, the one thing we don't want to do is, you never know in recruiting, but you don't want to make a mistake," Musselman said when looking back at his career as a college assistant and head coach. "I thought the one thing, looking at rosters when you make a mistake recruiting, it can really set you back. So we're going to be as sure as we possibly can.
"Obviously, the younger a player is the more upside, but yet also there is less body of work. But, we have been really, really recruiting this (2020) class really hard."
Arkansas had West Memphis senior power forward Chris Moore in for an official visit last weekend, will have Phoenix (Ariz.) Hillcrest Prep guard Kyree Walker (6-5, 200) in Oct. 4-6 and Canadian forward Keon Ambrose-Hylton (6-8, 200) of Chattanooga (Tenn.) Andrews Osborne Academy on Oct. 13-15.
The Razorbacks are also scheduled to have former North Little Rock star and current Montverde (Fla.) Academy guard Moses Moody (6-6, 190), former Bryant and current Mouth of Wilson (Va.) Oak Hill Academy guard Khalen "K.K." Robinson (6-1, 170) and possibly Fort Smith Northside big man Jaylin Williams (6-10, 230) in on Oct. 22-24.
Walker is the only one of those players that Musselman was recruiting at Nevada, his previous stop.
The November early signing period is Nov. 13-20 and the late signing period is April 15-May 20.
"Having said that, in the 2020 class, we as a staff, we as a program, and the players, we are a year behind where other people were," Musselman said. "We understand that and I feel like our staff has made incredible strides with the '20 class. What happens in November, what happens with the early signing period, the late signing period, I have no idea where that goes.
"But certainly, the effort and the energy of the staff has put in, and for most of our recruits, their openness to give us a chance or a platform to try and let recruits know who we are and what our philosophy is."
He was asked to expound on the late start in recruiting 2020 prospects.
"I just think that most relationships are started with players at the beginning of their junior year kind of, and some even before that, obviously," Musselman said. "If it's a really good player then you can identify that player early on. One of the guys we signed at Nevada, it started when he was a freshman, and there's guys we're recruiting now (on the) West Coast that I've been recruiting at a really young age.
"Really, what we've lost with this 2020 class is that junior year, so to speak, but we're getting guys that want to visit who are high-level guys. I feel like we've done a really good job, and only time will tell how it ends up."
Musselman has been taking pictures with the recruits on their unofficial and official visits and it has gone over well.
"I mean, we are doing as much as we can," Musselman said. "I'm 54-years-old, and I don't think my wife and daughter like to see me go on Twitter with a headband on and a knee brace on and a uniform. My wife doesn't really think that's cool, but right now we have recruits across the country sending us pictures like, 'Hey, if I come on campus can I do this?' So, we're trying to kind of create a niche. We try to relate to 18-year-olds rather than 55-year-olds."
The pictures have generated some national publicity on ESPN, Barstool Sports and other outlets.
"At Nevada, we did a lot of off-the-wall, outside-the-box stuff that generated a lot of national stuff," Musselman said. "It actually kind of helped us in recruiting tremendously, so we are trying to do different stuff that I have never done recruiting.
"I had never done pictures like that, it just kind of happened. One time I did something and somebody said it looked like an NBA scene and that triggered a thought.
"The weird thing is that I was at the football game the other day and two students came up to me and asked if they could, well, one of the kids had a scene of (Michael) Jordan and Kobe (Bryant) and he said, 'Will you guard me?' I was like, 'There are 60,000 people at the football game. Where we are going to do this?' So I took him up and we did it in the hallway."
Musselman noted that will work in college, but not the NBA.
"It is kind of cool and unique and different and the great thing about coaching college athletics is that you can do some stuff like that," Musselman said. "I don't think in the NBA I would be posing for pictures with any of the NBA guys I coached. Ron Artest would probably hit me in the face."
Arkansas has three seniors on its roster this season, four juniors, five sophomores and no freshmen following the transfer of Justice Hill to Salt Lake (Utah) Community College.
"I think the makeup of college basketball these days, with the transfer market, there are a lot of really good freshmen that aren't finding their ways to Power 5s right now because of that fact," Musselman said. "It is not a surprise when you get the job this late that there is not a freshman as a part of our program right now. We were not just going to take a guy late that we didn't feel was good. We exhausted all options and just didn't feel there was anybody that could contribute."
Discussion
Have a comment on this story? Join the discussion or start a new one on the Forums.