Tolefree not selected in WNBA draft
Published: Friday, April 17, 2020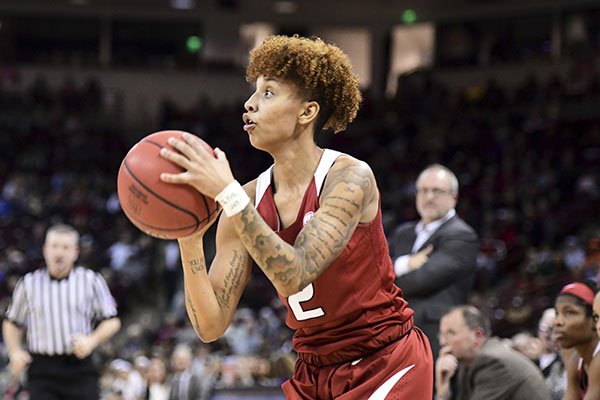 Arkansas guard Alexis Tolefree (2) attempts a shot during the first half of an NCAA college basketball game Thursday, Jan. 9, 2020, in Columbia, S.C. (AP Photo/Sean Rayford)
FAYETTEVILLE — Former Arkansas guard Alexis Tolefree was not selected in Friday's WNBA Draft.
Tolefree was listed as the second-best player not drafted, according to ESPNW, behind South Dakota guard Ciara Duffy. Tolefree was listed as the No. 22 prospect in the draft earlier in the week by ESPNW, but some mock drafts Friday had her listed as a fringe prospect in the late third round.
Arkansas coach Mike Neighbors wrote on his Twitter account Friday that getting drafted is the second-toughest feat in women's basketball aside from making the Olympic team. Twelve WNBA teams combined to draft 36 players.
"There are a lot people that want that job and it's a hard hard job to get," he said this week. "So, to me, just being niche and the possibility of being picked puts her in the conversation that very, very few people ever enter."
Tolefree could still sign an undrafted free agent contract for training camp with any team and compete with drafted players for a roster spot. She and her agent have also been looking at other professional options.
"We're also talking about teams overseas," she said earlier this week. "Where I would like to end up, where I would like to go play."
Tolefree said if she had a choice she'd want to go to a temperate climate.
"I don't like being cold, so somewhere warm," she added. "That's all I ask."
Tolefree's final season with the Razorbacks included All-SEC first-team honors. She averaged 16.3 points, shot 40 percent from 3-point range and helped the Razorbacks to their first ranking in the final Associated Press Top 25 poll since 2003.
Discussion
Have a comment on this story? Join the discussion or start a new one on the Forums.