66 years later, McHan remains Arkansas' highest draft pick
By:
Matt Jones
Published: Thursday, April 23, 2020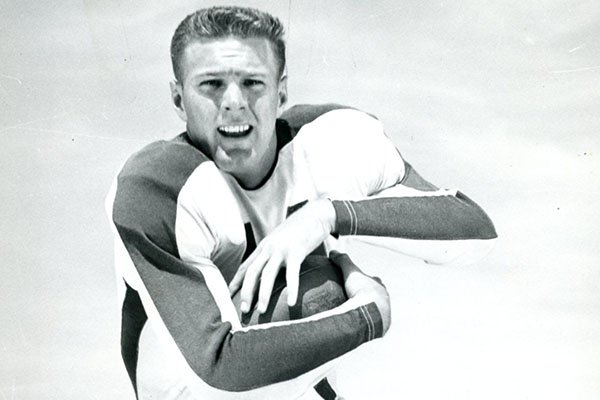 Photo by Arkansas Democrat-Gazette File
Lamar McHan was a three-year standout at Arkansas from 1951-53. In 1954, McHan became the Razorbacks' highest draft pick and still holds that distinction 65 years later.
FAYETTEVILLE — Arkansas' top NFL Draft pick didn't have a Hall of Fame career.
He wasn't the Razorbacks' top finisher in the Heisman Trophy nor any of the dozens of players who earned All-America honors during their years in Fayetteville. He was never named All-Pro.
In fact, Lamar McHan's greatest professional football legacy might have been as a coach when he was hired by the New Orleans Saints to mentor a young, redheaded gunslinger named Archie Manning. McHan's own pro career was tenured, but not particularly memorable.
In 1954, the expectations were high for McHan as a professional player when he was drafted second overall by the Chicago Cardinals as a quarterback in the NFL draft. It remains the highest draft pick ever for an Arkansas football player.
McHan, born and raised in Lake Village in the Arkansas Delta, was one of the most sought-after recruits of his day. At around 6-1 and 195 pounds, he more resembled the linemen who blocked for him than other backs on the Arkansas roster.
Broad-shouldered and quick, he was the early equivalent of the Wildcat quarterback, playing in the Single Wing offense.
"He wasn't totally like Matt Jones, but there would be a similar comparison there," said Eddie Bradford, a former Arkansas offensive lineman and McHan's teammate for two seasons in 1952-53. "There's no one who was a more flamboyant runner than Matt, but of all the quarterbacks I've known over the years, Lamar was diversified as much as any quarterback we've ever had.
"The offense we ran had similar traits to what they ran here with Gus Malzahn and Darren McFadden. It was very similar, not only in the running plays, but in the passing plays as well."
During a time when freshmen weren't eligible to play college football, McHan didn't suit up for the Razorbacks until his sophomore year in 1951. That preseason he competed for the starting quarterback job with senior Jim Rhinehart and junior Ralph Troillett.
He didn't start Arkansas' first game at Oklahoma A&M that year, but he did make his presence known on an 81-yard touchdown run. It was the longest for the Razorbacks all year and helped spark a 42-7 victory.
McHan later beat out his position mates and was pivotal in a win over Texas A&M. Against Texas, he helped lead the Razorbacks down the field for Pat Summerall's game-winning, 12-yard field goal that gave Arkansas a 16-14 victory - its first win over the Longhorns in Fayetteville.
The crowd booed as Summerall came on the field to attempt the kick, but cheered as it sailed through the uprights. It was the most popular kick of the afternoon, just ahead of an 80-yard punt by McHan.
McHan was named All-Southwest Conference as a sophomore in 1951 when he rushed for 433 yards, passed for 703 yards and accounted for 10 touchdowns.
He had a 58-yard touchdown run against Texas A&M that year on a broken play. He ran for the score after he mistakenly tried to hand the ball off to a halfback who was no longer in the backfield.
"He was very talented, he was skilled, intelligent and a very good leader," Bradford said. "He led by example, but he didn't chastise people. He was always willing to take responsibility when something went wrong."
McHan earned All-SWC honors again as a junior, despite an injury. As a senior he was ninth in the Heisman Trophy voting after he rushed for 409 yards and accounted for 12 touchdowns.
McHan's legacy hasn't stood the test of time like other great players, perhaps because the Razorbacks were never great during his time. The wins over Texas and Texas A&M in 1951 were part of a 5-5 campaign, but the Razorbacks won just five times combined in his final two seasons.
Prior to McHan's senior season in 1953, Bowden Wyatt was hired to coach the Razorbacks. He put the team through a series of off-season practices that Bradford likened to Bear Bryant's infamous summer camp at Junction, Texas, a year later that became the focus of Jim Dent's 2001 book "The Junction Boys."
"The same thing happened here in 1953," Bradford said. "It made us a very prideful team because of the fact we survived. Those of us who played that year were survivors."
Arkansas was 3-7 in McHan's senior season, but applied lessons from that year toward a Southwest Conference championship in 1954 - a group that became known as the "25 Little Pigs" because of a low roster number.
By that time, McHan was a rookie in Chicago, where he started 51 of the Cardinals' 60 games in five seasons. As a rookie he threw 22 interceptions and six touchdowns.
By his final season in Chicago, McHan still had more interceptions (13) than touchdowns (12) and was traded to Green Bay prior to the 1959 season.
In Green Bay, McHan battled for the starting job in the preseason with Bart Starr, who had been a three-year backup until that time. But a knee injury by McHan opened the door for Starr to become the starter, a job he never relinquished until his Hall of Fame career ended 12 years later.
Green Bay Packers quarterback Lamar McHan (17) watches as halfback Paul Hornung (5) leaps over the line for a touchdown during a game against the San Francisco 49ers on Oct. 24 1960, in Milwaukee. (AP Photo)
McHan spent his final three seasons in Baltimore and San Francisco. He backed up Johnny Unitas and never started a game for the Colts, but went 2-7 in nine starts for the 49ers in his final season.
McHan spent 10 seasons in the NFL. As a starting quarterback he was 24-47-2, and among his coaches were Vince Lombardi and Don Shula.
Legend has it that after his playing career, McHan had the opportunity to play for the Colts again when Shula offered him a three-game contract for $25,000 after Unitas and Gary Cuozzo both were injured in 1965. McHan, who by that time was coaching high school football in Greenville, Miss. - just across the Mississippi River from his hometown - declined the offer.
His coaching career eventually led him back to the college ranks at Northern Arizona and Texas-Arlington, and eventually back to the NFL.
In 1974 he was hired by the Saints. Like McHan, Manning had been selected second overall in the 1971 draft and struggled early in his career.
"I was very fond of Lamar," Manning said. "He was really the first quarterback coach I had. Back then not everybody had quarterback coaches. The offensive coordinator usually worked with the quarterback and that's the way it was my first couple of years in New Orleans. He spent a lot of time with me and was very helpful to me, and we became very good friends."
McHan helped Manning turn the corner in his career. After playing primarily as a sprint-out passer at Ole Miss, Manning learned how to become a drop-back passer under McHan's tutelage.
"Lamar was helpful with my mechanics and the mental aspect of the game," Manning said. "He was a soundboard for me and a big supporter of mine, and he really believed in me."
The relationship between Manning and McHan was aided by their upbringing. Manning grew up in Drew, Miss., less than 75 miles from Lake Village.
"I grew up a big Ole Miss fan and there was a great receiver in that era who played at Ole Miss named Bobby Crespino," Manning said. "He was from Greenville. He and Lamar would get together and throw during the offseason.
"My dad was a big football fan and was a real southerner. Lamar, being from Arkansas, I remember my dad talking about when he played in Chicago and Green Bay. So when he came to coach us, I knew who he was. He was an extremely nice guy; just the nicest guy in the world."
McHan died of a heart attack in 1998 at his home in New Orleans. He was 65 years old.
Though his name can still be found in Arkansas' record books, he is largely unknown generations of fans later. But for those who watched him, his legacy hasn't faded.
"Not many people would recognize his name, but people out of that era would not have any difficulty at all remembering him," Bradford said, "because he was that outstanding."
A version of this story originally appeared in Hawgs Illustrated
Discussion
Have a comment on this story? Join the discussion or start a new one on the Forums.