Pool pleased with new direction for Razorbacks
Published: Saturday, April 25, 2020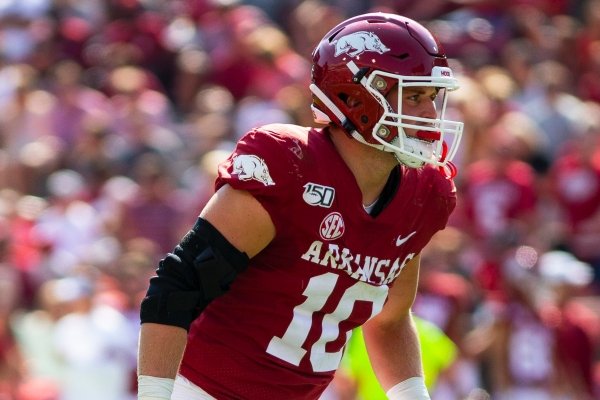 Arkansas linebacker Bumper Pool is shown during a game against Colorado State on Saturday, Sept. 14, 2019, in Fayetteville.
FAYETTEVILLE — It seems just like yesterday that early enrollee freshman defender Bumper Pool was arriving on the Arkansas campus to play football for his beloved Razorbacks. Now he is one the older players on the team.
Pool, now a junior, is the most experienced linebacker that Arkansas returns for next season. He's played 1,038 snaps over the course of his first two seasons.
He is excited to play for new Razorback linebackers coach Rion Rhodes, who had been the head coach at Coffeyville, Kan., Community College the last 13 seasons.
"Coach Rhoades is awesome," Pool said during a Friday afternoon teleconference. "He connects with everybody very well. I think when he first got hired he called every single one of us probably every day. He was just checking in. It's great to have that connection with a brand new coach."
Rhoades and defensive coordinator Barry Odom have brought in a new defensive mindset and scheme, but Pool says the transition has been smooth.
"This is going to be my third year, so you know, getting a new coach is tough, but he's made the transition so easy," Pool said. "Then, in meetings, he's a great teacher. He goes over things and makes sure that not just the guys in the front of the room know it but that everyone is on the same page. He genuinely wants everyone to be successful and to know it. I've gotten excited getting to know him and looking forward to the season."
Odom has promised a defense that will have multiple sets, something that excites Pool after a sophomore season in which he racked up 94 tackles, 6 1/2 tackles for lost yardage, 5 pass break ups and 1 quarterback hurry.
"I like the new system," Pool said. "We're very multiple and we're doing some things that I really like. I kind of think that with any scheme it's just kind of about how hard you play. It doesn't matter what front it is if you go out there and just bust it you're going to be successful in it.
"I think we've got a lot of good parts around the linebackers and even inside the linebacker group that will make us a real dominant unit. So, I'm excited to see what's in store."
While he would have loved to have had spring practice, Pool does think that the "virtual" instruction that the SEC allows via the internet has been helpful.
"For the defense, I think it's honestly been even more helpful for guys learning the playbook," Pool said. "We got to slow it down a little bit, really go through every single play, the ins and outs and knowing what the D-line is doing, what the coverages are doing, what the safeties are doing. So we're getting a complete understanding of the entire defense."
New Arkansas head coach Sam Pittman stresses fundamentals per Pool, who had 13 tackles against both Alabama and Missouri last season.
"Defense is a lot of fundamentals, so I know Coach Pittman, he's expecting us to be working on those and I know - we've seen videos and guys just talking to the coaches - everyone's been putting in that work individually, so it's not like we're just going away and not working on these things," Pool said. "It's almost like we're doing more. We're working on exactly what our weaknesses are and trying to get those up as a whole defensive unit so when we get back out on the field, we're only smarter, but we're more fundamentally sound."
Pool has been watching the NFL Draft the past few days and has seen teammates McTelvin "Sosa" Agim (Denver, 3rd round) and Kamren Curl (Washington, 7th round) get taken.
"It was kind of nice to not know what was going on and just kind of be able to expect the unexpected, I guess," Pool said. "You're not used to that with this whole deal. It was fun. A lot of guys in the SEC got picked up, so it was cool to watch that, too."
Pool, a four-star prospect who starred at Lucas, Texas, Lovejoy, loved the passion Pittman showed via video when two of his former Georgia offensive linemen were taken in the first round.
"I just watched it," Pool said. "The passion and the love he had on the phone with his wife was so real. That wasn't staged at all. When you see something like that, you can tell that he loves his guys. How could you not want to play for somebody that loves you like you're their son? That was an awesome video. I'm really glad they put it out there."
Discussion
Have a comment on this story? Join the discussion or start a new one on the Forums.