Arkansas RB pledge Hunt part of Titans' excellence
Published: Sunday, August 30, 2020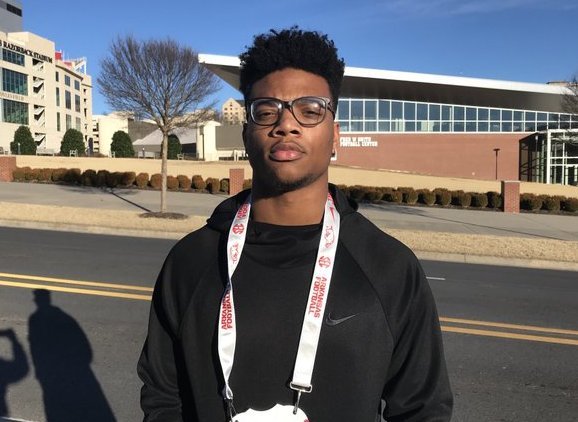 FAYETTEVILLE — When you have the standard of excellence that the Midwest City (Okla.) Carl Albert football program has achieved over the last three decades, a lot is expected each season.
The Titans, who feature Arkansas tailback pledge Javion Hunt (6-2, 205, 4.41), have won 49 of their last 50 games, four straight Class 5A state titles and 15 state championships in its history.
The school has produced athletes such as Philadelphia Phillies all-star catcher J.T. Realmuto, who quarterbacked the Titans to a title back in 2009 before heading to a Major League Baseball career.
"We have been very fortunate to have some great young men and a lot of success," Carl Albert head coach Mike Corley said. "We feel pretty good about this bunch, too."
Carl Albert's 40-game win streak was snapped last season in a 10-6 early season loss to Piedmont, a loss the Titans avenged 24-0 during its drive to the state title.
A scrimmage with Ada last week was called off due to a positive covid-19 test for one Titan, but Carl Albert did get one in at Lawton MacArthur on Friday.
The Titans will open the season against Midwest City on Friday night with Hunt, a four-star prospect per ESPN, leading the way.
"Javion had several nice physical runs during the scrimmage and also several nice tackles from the weak safety position," Corley said. "Thought it was a nice tune up for next weeks opening game vs Midwest City."
Corley said Carl Albert has done its best with the guidelines concerning coronavirus.
"Just like everybody, we have done all we can – wear the mask, social distance, organize meetings in different groups – to get to the field with the limited resources we have in high school obviously compared to the college level," Corley said. "Our kids have responded well to it and do a great job of doing what we ask of them."
Hunt, son of former Carl Albert and Oklahoma star Jay Hunt, is one of six prospects in the state who has committed to Arkansas in the 2021 class. He chose the Razorbacks over Nebraska, Baylor, Virginia Tech, Texas Tech Iowa State, Minnesota and others on May 9.
Hunt visited Arkansas on a Junior Day on Feb. 1 and fell in love with the new staff led by Sam Pittman.
"I think they have done a great job of recruiting him," Corley said. "Javion's dad is very familiar with the recruiting scene since he played at OU.
"His dad and Javion did a great job of looking at things other than the football program – the whole university. Coach Pittman and his staff have got a great one coming."
Hunt, No. 6 in The Oklahoman's list of top 30 in-state players, is cousins with Oklahoma City Heritage Hall senior hoopster Trey Alexander, who the Razorbacks basketball program is hoping to add to its 2021 class.
Despite battling a hamstring tear and a sprained ankle, Hunt still rushed 160 times for 1,114 yards and 25 touchdowns as a junior. He also caught 12 passes for 135 yards and two more scores.
"Javion is everything that you could want," Corley said. "He is a weak safety and tailback for us, a strong physical runner. I don't use him much on defense now. When I have to, I do, and he just steps right in there and does a great job for me.
"He has got good strength, too. He power cleaned over 350 (pounds) last winter before we got sent home. That's pretty impressive. He is the real deal."
Discussion
Have a comment on this story? Join the discussion or start a new one on the Forums.