Myron Cunningham to return for another season
Published: Saturday, December 26, 2020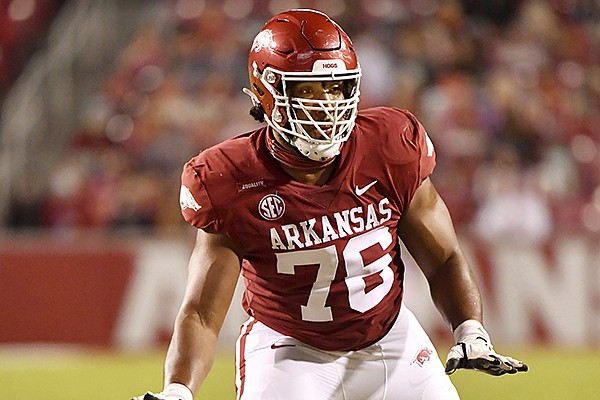 Arkansas offensive lineman Myron Cunningham against Tennessee during an NCAA football game on Saturday, Nov. 7, 2020 in Fayetteville. (AP Photo/Michael Woods)
FAYETTEVILLE — Two days, two big announcements for the Arkansas football program.
Senior left tackle Myron Cunningham announced Saturday that he will return to play one more season for the Razorbacks.
"These past two years have been nothing short of a blessing," Cunningham tweeted. "I just wanna thank the Hog fans for all the support these past two years but we aren't done yet."
Cunningham has started 20 of Arkansas' 21 games — including all 10 this season — since signing with the Razorbacks from Iowa Community College.
Cunningham's announcement comes a day after redshirt senior and SEC first-team all-conference linebacker Grant Morgan tweeted he would be returning for another season.
Arkansas coach Sam Pittman noted Monday that four seniors had confirmed that would take advantage off the NCAA's extra year afforded to them because of the coronavirus pandemic. Pittman did not say who those seniors were.
He also noted that three or four other seniors might return as well.

Seniors who have not announced their intentions yet include offensive lineman Ty Clary; tight end Blake Kern; running back TJ Hammonds; defensive linemen Dorian Gerald, Xavier Kelly and Elias Hale; linebackers Hayden Henry and Deon Edwards; quarterbacks Felepie Franks and Jack Lindsey; wide receivers De'Vion Warren and Tyson Morris; safety Micahh Smith; kicker A.J. Reed; and deep snapper SK Fountain.
Discussion
Have a comment on this story? Join the discussion or start a new one on the Forums.