Denton's relief effort leads to Arkansas sweep
Published: Sunday, February 23, 2020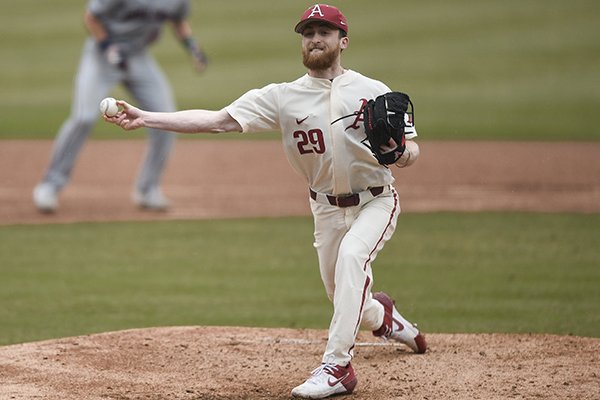 (
Charlie Kaijo
)
Arkansas pitcher Marshall Denton throws during a game against Gonzaga on Sunday, Feb. 23, 2020, in Fayetteville.
FAYETTEVILLE — In a Sunday game where 14 runs were scored, one might not think there was a key pitching performance to select from.
But both Arkansas coach Dave Van Horn and Gonzaga coach Mark Machtolf pointed to winning redshirt junior pitcher Marshall Denton's fourth-inning relief appearance as a pivotal point.
The No. 5 Razorbacks were ahead 1-0, but starter Caleb Bolden gave up a pair of singles to lead off the third, and Denton was summoned from the bullpen to face the Zags' No. 4-6 hitters.
He fanned all three batters and Arkansas (7-0), which has not trailed all season, went on to a 9-5 win that completed a four-game sweep of Gonzaga (2-6).
"That was really good to see," Van Horn said. "Denton's outing was outstanding. He came in and went through, I don't know, 4, 5 and 6 in the order, somewhere in there, and got three strikeouts. That was big time for us."
Denton, now 3-0 in his career after making 24 appearances last season and going 2-0, had a simple mindset coming into the game.
"Just attack mode," Denton said. "Fill up the zone and off-speed pitches. That's what we've been going with all week, and they weren't hitting it well, so that's what I went with."
Arkansas' bullpen has compiled a 2.61 ERA through seven games to back up the starters' 1.69 ERA.
"Our bullpen is pretty solid, I'd say," Denton said. "I'd say if we can just come in and pound the zone, I think we give ourselves the best chance out of anybody. So, we've got a lot of live arms down there, it's just a question of can we come in and fill up the zone. When we do, we're very successful."
Machtolf, whose team was outscored 30-13 and out-hit 40-29 this weekend, lamented not being able to grab momentum at that point in the game.
Arkansas responded with five runs in the bottom of the fourth.
"It was a huge momentum swing," Machtolf said. "We did not put together big at-bats then and the inning before we hit the ball real hard and our guy got doubled off.
"In the third inning, their guy (Denton) came, the slider guy, the slinger guy, and we didn't adjust to him at all."
Van Horn was asked about possibly giving Denton, who has not allowed a run and just one hit in three appearances this season, another inning on a day when he used six pitchers.
"I think he did exactly what we wanted him to do," Van Horn said. "We pitched him, I think, Thursday a little bit. We got him up Friday two different times where he was hot, then we sat him down. Then we weren't even going to be able to pitch him. He didn't pitch yesterday. I think that was enough.
"He knows his role is to come in there and either give us a couple innings and keep it where it is, or get out of a jam. Get some right-handed hitters out, maybe get a ground ball. He came and struck out the side, 14, 15, 16 pitches, whatever he threw. I think it was good letting it go there. We had some guys that we wanted to get in the game."
Arkansas junior shortstop Casey Martin, Denton's former summer baseball teammate, was impressed with the pitcher who was known by his middle name, Angus, when he first arrived in Fayetteville.
"I can honestly say that I grew up playing with Angus - Marshall - in high school and travel ball," Martin said. "We'd travel with each other and play, and seeing what he has accomplished here has been awesome, but I'll tell you there wouldn't be another guy I would rather put in that situation. He came in and did his thing. He did what was asked of him.
"We need more guys like him. I hope that rubs off a little bit on our pen. He put it to them. He threw a lot of strikes, and that's all we could ask. He was very effective, got ahead early and didn't get behind in counts, which worked to his advantage. He threw the ball like we knew he could.
"That's a good lineup over there, honestly. Gonzaga has a good lineup. They're a veteran team. Seeing what Marshall did, that's awesome and that is progress for us. He put it to them. A lot of the guys were excited. I just hope that rubs off on our pen, honestly."
Freshman second baseman Robert Moore is a fan of Denton's intro song - Metallica's For Whom the Bell Toll.
"I've only been here a few weeks, but what I know is when you hear his song come on it's a good feeling," Moore said. "You know he's nails. When he came in, I saw there were three right-handers coming up, and I was like, 'OK, we've got this.'
"He's either going to get a ground-ball double play or he's going to strike out the side, and he did it."
Discussion
Have a comment on this story? Join the discussion or start a new one on the Forums.