Three days of baseball is heaven on earth
Published: Thursday, February 27, 2020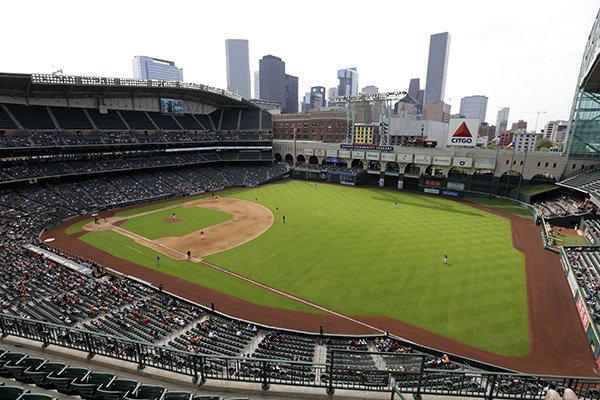 The roof of Minute Maid ballpark is open showing a portion of the Houston downtown skyline during an exhibition baseball game between the Houston Astros and the Kansas City Royals Saturday, April 4, 2015, in Houston. (AP Photo/Pat Sullivan)
Since married, my wife and nearly lifelong love Petra and I have joked about how she is the second-longest loving relationship that I have ever had in my life.
Our relationship began 48-plus years ago in 1971 when I slipped her a note in the fourth grade asking her if she would "go" with me.
It was just like the George Strait song "Check Yes or No," and it ended up lasting a whole week.
I have always regretted not being a better writer at that time. If I had, I would have explained in detail where we were going to go, what we were going to do, etc.
Fortunately, I'm still in line to have the girl I first fell in love with also be my last.
But my longest continuous love and relationship would be with the game of baseball.
Lots of my baby pictures include me with a baseball, glove and/or bat while dressed in a St. Louis Cardinals shirt and/or hat. That really hasn't changed. I am now 56.
With apologies to Crash Davis from Bull Durham, I tweaked his speech to come up with how I feel about baseball and other things:
"I believe in the soul, Perry Mason and Jim Brockmire, the music of Barry White and Charlie Wilson, the writing of John Grisham, the hanging curveball, cheese, chocolate milk and Bud Light.
"I believe Lee Harvey Oswald acted alone. I believe in Project Blue Book. I believe there ought to be a constitutional amendment outlawing Astroturf and the designated hitter. I believe in the sweet spot.
"I believe in opening your presents Christmas morning rather than Christmas Eve, and I believe in baseball tournaments that last three days."
So you can bet I'm overjoyed that I'll be traveling to Houston this weekend to cover the three-day, six-team, nine-game Shriners Hospitals for Children College Classic at Minute Maid Park.
It might as well be called the SEC vs. Big 12 Classic as No. 5 Arkansas (7-0), LSU (5-3) and Missouri (4-3) will take on Texas (8-0), Oklahoma (7-2) and Baylor (4-3) with three games each on Friday, Saturday and Sunday.
Arkansas will face Oklahoma at 3 p.m. Friday, Texas at 7 p.m. Saturday and Baylor at 7 p.m. Sunday.
"Playing at the park, I know we're going to have a lot of fans come out and support us," Arkansas shortstop Casey Martin said. "Those are three good teams you can't really take for granted. It's our conference versus theirs. So, everybody is going to be playing to win."
Minute Maid Park is the Houston Astros' home stadium that has been in the news a lot lately.
"It's a really good ballpark," Arkansas coach Dave Van Horn said. "We know if it's cold, they'll close the roof. We know the weather is going to be good no matter what and we're going to get our games in. That's a major plus when you travel, you know you're going to play and you're going to play in a good climate.
"But it's our first time on the road with a bunch of new guys who need to learn how to handle travel a little bit and a hotel and everything else and playing on a different field. I think it'll be a learning experience. Hopefully it goes good for us as far as wins and losses, but if it doesn't, we're still going to get better."
The Razorbacks-Sooners matchup could feature Arkansas sophomore Connor Noland (2-0, 1.42) against Oklahoma's Cade Cavalli (1-1, 2.31). Cavalli is a possible first-round draft choice in the 2020 Major League Baseball Draft.
Cavalli (6-4, 218) is coming off a seven-inning start in which he allowed one run and six hits in a 2-1 win over Illinois State after going just 4 2/3 innings in a 6-0 loss against Virginia in Pensacola, Fla. He gave up two runs against Virginia.
He'll get the chance to go against a pair of projected first-round MLB Draft picks in the Arkansas junior duo of right fielder Heston Kjerstad and Martin.
"We're going to see a right-hander on Friday that's probably going to sit about 97, 98 (miles per hour)," Van Horn said. "Saw him for an inning in the fall, stuff's great. Played with Team USA last year and a couple of our guys got to play with him there. We know what we're in for there.
"Then we've got the Longhorns on Saturday at night. I'm sure it's going to be a great crowd. We're playing Texas in the state of Texas. It's going to be a big challenge."
As the Cure once sang: "It's Friday, I'm in love."
Dudley E. Dawson can be reached at dedsports@aol.com .
Discussion
Have a comment on this story? Join the discussion or start a new one on the Forums.