Turner among 5 early enrollees in Pittman's first class
Published: Monday, January 6, 2020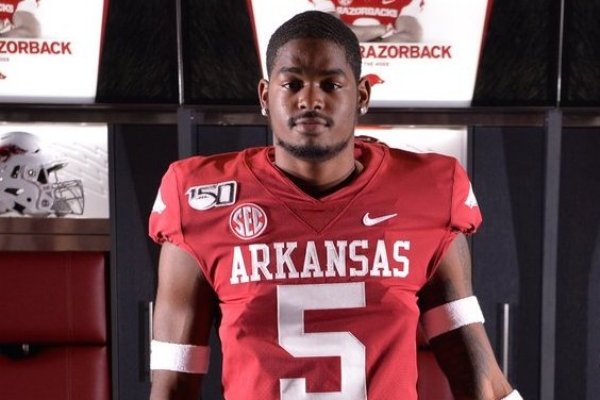 2020 athlete/receiver Darin Turner.
FAYETTEVILLE — It turns out there will be five early enrollees in Arkansas head coach Sam Pittman's first recruiting class.
Memphis (Tenn.) Central four-star wide receiver and safety prospect Darin Turner (6-3, 206) confirmed Monday that he will arrive on campus Thursday and will go through offseason conditioning and spring practice with the Razorbacks.
"Yes, that is true and I am really excited about it," Turner said. "I feel like it will be good for me to get up there early so I can learn and get an early jump. I will be ahead of the game."
Turner joins four defensive signees - Hazen defensive end Blayne Toll (6-6, 244), Broken Arrow, Okla., defensive back Myles Slusher (6-0, 181), Harvey (La.) Helen Cox linebacker Kelin Burrle (6-0, 205) and East Mississippi Community College defensive end Julius Coates (6-6, 270) - as early enrollees.
Turner, a one-time LSU commit and ESPN's No. 18 wideout, chose Arkansas over Auburn, Ole Miss, Mississippi State, Tennessee and others. He will be looked on both offense and defense.
Tennessee's third-best 2020 grid prospect, per ESPN, Turner caught 17 passes for 304 yards and five touchdowns as a senior while also recording 12.5 tackles, five interceptions and five pass breakups defensively.
"Right now, they are leaning more toward wide receiver, but it is kind of a get up there deal and we'll find out," Turner said. "I love scoring touchdowns, but I also like defense and hitting people, too. I like both, so we will just have to see. "
His nickname, Baby Megatron, came from fans who think he compares to former Detroit Lions All-Pro wide receiver Calvin Johnson.
"This a fun fact," Turner said. "The fans came up with that, people up in the stands came up with it. I liked it, so I just took it and ran with it."
If Turner stays at wide receiver, he will be coached by Justin Stepp, a holdover from the previous staff.
"Coach Stepp is a great guy," Turner said. "I am excited that he is still around and I think we are going to make magic."
Turner committed to Arkansas on Aug. 30, but re-opened his recruiting after Chad Morris was fired on Nov. 10.
Stepp stayed on Turner and talked him into a second official visit to Arkansas on Dec. 13-15.
"They just stayed solid and stayed in communication with me even after they ended up firing the head coach," Turner said. "Communication is the key. Without communication, there can not be a relationship and you can't win games."
Turner had not met Pittman before taking that second official visit to Arkansas.
"I didn't know him at all, but I came up there and met him and he was a real cool dude," Turner said. "He was a real person that didn't tell me what I wanted to hear, he told me what I needed to hear. I just trust his process."
Arkansas has a receiving corps that includes current seniors De'Vion Warren, Deon Stewart, Tyson Morris and junior Jimmie Stoudemire, sophomores Mike Woods, Kolian Jackson and Kendall Catalon, freshmen scholarship wideouts Treylon Burks, Trey Knox, Shamar Nash and TQ Jackson, and freshmen walk-ons John David White, Peyton Ausley, Jackson Salley and Brett Nabors.
Woods and the dynamic rookie duo of Burks and Knox combined for 90 catches and 1,283 yards last season with seven touchdowns.
"If I add to that mix, we are going to be the deadliest wide receiving group in the country," Turner said. "That is too much talent for defenses to have to defend."
Arkansas is coming off a second consecutive 2-10 season, but that did not scare off Turner, who is former high school teammates with Nash and Razorbacks defensive lineman Eric Gregory.
"Everybody will have struggles and they have just been going through a rebuilding process," Turner said. "That is what we are in right now. The class that we've got coming in, I think we're going to help out, and there were several games that we could have won without some minor mistakes that can be fixed."
Discussion
Have a comment on this story? Join the discussion or start a new one on the Forums.