Playmaking Williams ready for second look at Arkansas
Published: Friday, January 17, 2020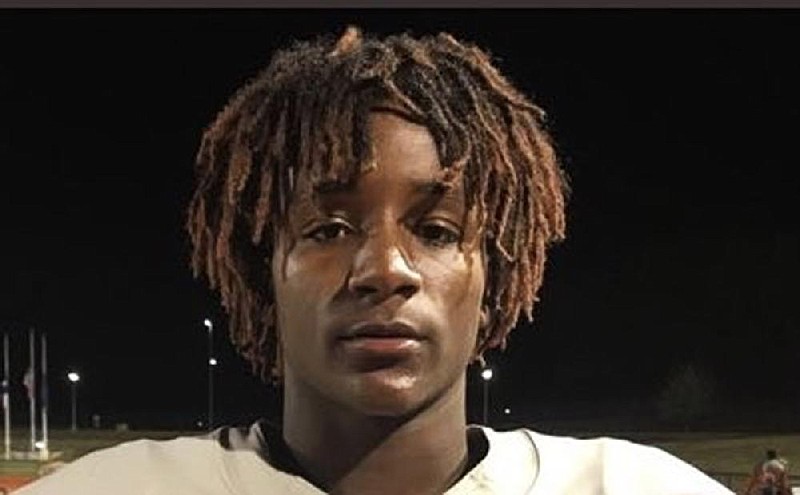 FAYETTEVILLE — Arkansas will get a second chance this weekend to land a 6-5, 205-pound wide receiver that his head coach calls simply "a freak."
Marshall, Texas, four-star standout Savion Williams, who played quarterback this season for the Mavericks, will be making his second official visit to Fayetteville to check out the Razorbacks.
His first was back in May, and he originally committed to Arkansas before re-opening his recruitment on Nov. 10 about an hour after news that coach Chad Morris was being relieved of his duties.
He joins Crockett, Texas, tight end Allen Horace as former Razorbacks pledges taking official visits to Fayetteville this weekend.
"Savion is one of those kids that you are lucky if have you one in your entire coaching career, and if you do you feel very fortunate," Griedl said. "He is just a freak with unbelievable athleticism. He is 6-5, 205 pounds and the way that he runs, and more importantly the way that he cuts when 6-5, 205 is running at full speed, is pretty remarkable."
Williams has over 25 offers, but is down to Arkansas, SMU and TCU. He visited SMU officially in December and has plans to visit TCU next weekend.
"For an 18-year-old, he has been acting with some great discernment during the whole recruitment process, which I know for some kids can be overwhelming," Griedl said. "As his coach, it's been great to kind of see him handle it the right way.
"He has narrowed it to three schools and I think Arkansas has as good a chance as any of them. He is excited and in the meantime he has been dominating on the basketball court and having a lot of fun doing that.
"It is going to be great to kind of see how the chips fall. Wherever he lands, I think he will be able to make an immediate impact."
The fact that Razorbacks coach Sam Pittman retained Justin Stepp as wide receivers coach is a big factor in him taking a second look, according to Griedl.
"I know he is excited about his visit to Arkansas this weekend and excited about the fact that coach Pittman retained coach Stepp," Griedl said. "He really thinks that coach Stepp is one of the better receiver coaches in the country and coach Stepp was one of the main reasons why he committed to Arkansas in the first place."
It certainly doesn't hurt that Arkansas brought in new offensive coordinator Kendal Briles, a former offensive coordinator at Baylor, Houston and Florida State.
"I know of him and I know what he has done and I know it is definitely an exciting piece of the puzzle that makes Arkansas enticing for a kid like Savion," Griedl said. "He would be going to play for a receivers coach that he wants to play for and on top of that, they are going to bring in a pass-happy offensive coordinator. As a receiver, what don't you like about that?"
Williams knows that redshirt freshman KJ Jefferson (6-3, 220) has a chance to start for Arkansas next season, that the Razorbacks are also bringing in former Florida quarterback Felipe Franks (6-6, 238) this weekend and may also have a shot at Houston graduate transfer signal caller D'Eriq King (5-11, 194).
"Savion has done a great job of just looking at the big picture," Griedl said. "There is a chance that the starting quarterback at Arkansas next year is going to be a dual-threat kid. He knows that and because he was a dual-threat quarterback this year, he knows that defenses have to send down a safety or keep another guy in the box. So there is going to be a lot of one-on-one coverage for somebody on the field and it's likely to happen more on the outside than on the inside.
"So Savion knows that with the pieces that are there, the offensive coordinator and the receivers coach that are there and the potential quarterback, Arkansas could be a really good situation for him."
Williams passed for 1,053 yards and eight touchdowns this season and rushed for 541 yards, an average of more than 12 yards per carry, and nine more scores.
He also caught 12 passes for 121 yards and two scores a year after playing wide receiver full-time as a junior and catching 43 passes for 656 yards and 11 touchdowns on 15.3 yards per reception.
Griedl thinks Williams learned a lot by playing quarterback this season.
"He had the opportunity to grow playing quarterback for us this year and I think he even surprised himself with some of the things he is capable of as a playmaker," Griedl said. "He kind of took his game to another level and he knows that is what he has to stay at and grow off of that.
"In terms of what he needs to work on, he is just 18, so he knows he needs to continue developing and figure out how to move and function at the most efficient way possible as he continues to grow and get stronger."
Discussion
Have a comment on this story? Join the discussion or start a new one on the Forums.