Rice transfer Murphy looking hard at Arkansas
Published: Sunday, March 29, 2020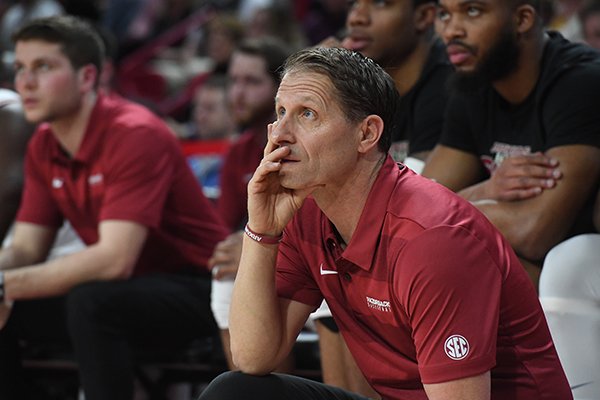 (
J.T. Wampler
)
Arkansas coach Eric Musselman is shown during a game against LSU on Wednesday, March 4, 2020, in Fayetteville.
Arkansas' basketball program has made contact with one of the nation's most versatile transfers.
Rice star Trey Murphy III (6-8, 200), who averaged 13.7 points, 5.5 rebounds and 1.2 assists last season for the Owls (15-17), entered his name in the transfer portal on Saturday and was immediately contacted by the Razorbacks.
Arkansas is coming off a 20-12 season in coach Eric Musselman's first year.
"Yes, they have," Murphy confirmed via Twitter direct message Sunday afternoon. "Seems like a great place and he is a good coach I would say."
He was in Fayetteville to start the season and scored seven points in the Razorbacks' 91-43 season-opening rout of the Owls.
Murphy, a Durham, N.C., native who will have to sit out a year due to NCAA rules before having two seasons to play at his next school, shot 36.8 percent on 204 attempts from 3-point range.
Arkansas, Arizona, Arizona State, Cincinnati, DePaul, Iowa State, Stanford, Texas, Wichita State and Xavier are some of the schools who have contacted Murphy.
"I'm looking to maximize my potential and win," Murphy said of the things guiding his decision.
The Razorbacks had one open scholarship with the news that junior Jalen Harris has entered the transfer portal. That would grow to two if Arkansas junior star and Associated Press co-SEC player of the year Mason Jones keeps his name in the NBA draft and does not return to the program.
The coronavirus pandemic will obviously affect the process with how Murphy goes about choosing a new destination.
Murphy had 18 points in his final game at Rice, an 85-76 loss to Florida International University in the Conference USA Tournament opening round.
Murphy, who was 5-9 in the ninth grade and is told he is still growing, made 64 3-pointers as a freshman while shooting 42 percent from 3.
Yale forward Jordan Bruner (6-9, 205), who averaged 10.9 points and 9.2 rebounds for his 23-7 Ivy League championship team this season, appears to be another top target for the Razorbacks.
Brunner told the Hartford Courant that Arkansas, Maryland, Alabama, Baylor and Georgetown are recruiting him "the most, or the hardest," among 50 or so teams who have contacted him.
That recruiting has taken various forms for Brunner as he finishes the spring semester online at his home in Columbia, S.C.
"Most of it is phone calls," Bruner told the newspaper, "conversation about systems, descriptions of the offense. They send me video to watch, full games. That's what I've asked for so I can get a feel for how they play if I haven't seen them as much. ... I think I do everything well - shoot the ball well, even better than my numbers. I pass the ball, handle the ball, rebound and guard. There isn't anything a coach can ask me to do that I'm not capable of."
Bowling Green transfer guard and Detroit native Justin Turner (6-4, 205) has reduced his list to a final six of Arkansas, Missouri, Marquette, Xavier, Missouri and Louisville.
Turner, who averaged 18.8 points, 4.6 rebounds and 2.5 assists per game this season while making 36.1 percent of his 108 3-point attempts, was given a virtual tour of the Arkansas campus and facilities recently.
Quinnipiac transfer Kevin Marfo (6-8, 245), the nation's leading rebounder last season, chose Texas A&M on Saturday over Penn State, St. John's, Minnesota and VCU.
Arkansas had been among the schools who had contacted Marfo.
Discussion
Have a comment on this story? Join the discussion or start a new one on the Forums.