Trio of Arkansas hoops targets on display in NWA
Published: Friday, November 13, 2020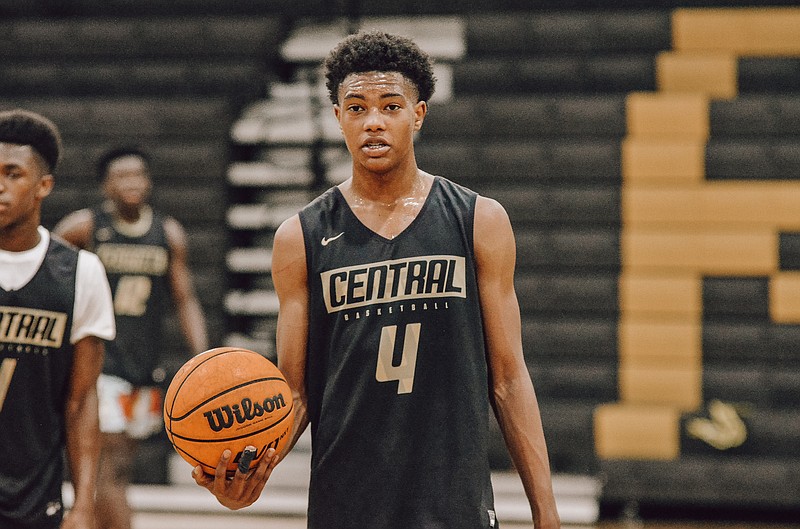 Little Rock Central sophomore Bryson Warren.
FAYETTEVILLE — Three young Razorbacks basketball targets will be in high action in the next few days in Northwest Arkansas.
Little Central sophomore Bryson Warren (6-2,180) and freshman Annor Boateng (6-5, 200), who both have Arkansas offers, will lead the Tigers (1-0) in a benefit game at Bentonville on Saturday at 3 p.m.
A limited amount of tickets are available to purchase online.
"We will have limited capacity and all tickets have have to be purchased online," Bentonville athletic director Scott Passmore said Friday morning. "It's not a lot of tickets, but it is open under the (covid-19) guidelines."
Morrilton and Razorbacks junior small forward commit Joseph Pinion (6-6, 180), one of six in-state 2022 prospects Arkansas has offered, will open the Devil Dogs' season Tuesday at Rogers Heritage at 7:30 p.m.
"We have tickets available both online and at the door," Rogers athletic director Keith Kilgore said.
Pinion had 23 points, 9 rebounds, 3 steals, 3 assists, 2 steals and 2 blocks Monday while playing three quarters in his team's 95-68 benefit game loss to Maumelle.
Defending Class 6A state co-champ Central rallied from a 14-point third quarter deficit to down defending Class 5A state co-champ Jacksonville 67-62 on Tuesday in both team's season opener.
"We looked terrible. We looked like it was the first game of the year, which it was," Central coach Brian Ross said. "You have to realize everybody is going to look that way right now. We came out and didn't have any rhythm, but I will say that we showed a lot of heart coming back from down 14 in the third quarter and outscored them like 34-15 from that point on. I was proud of the toughness we showed."

Warren, who played his freshman season at North Little Rock, had a game-high 32 points in his debut for Central. That included a go-ahead 18-footer with 45 seconds left.
"He did it about every way – he had 12 points on 3-pointers, 12-points off of free throws and then whatever is left, eight (points), off of midrange," Ross said. "He really scored at all levels.
"One of the biggest things I stressed to him was he had to draw fouls more than he did last year. He took that to heart and shot 15 free throws."
Warren has offers from Arkansas, Ole Miss, Texas A&M, Georgetown, Seton Hall, Vanderbilt, Oklahoma State and other programs.
Boateng, the co-MVP of the Pangos Freshman-Sophomore All-American Camp, added 9 points, 10 rebounds and 2 blocks in the win.
"He got off to a great start," Ross said. "I was a little worried about how he might play being a freshman in his first game against a team with some pretty good bigs. But first time he touches the ball, he gets an and-1 and the second time he gets the ball he dunks it."

Senior Corey Camper added 15 points for Central, which won its final seven games and finished 18-12 last season.
"He is our returning leader from last year and is going to be extremely consistent for us," Ross said. "Our other guys just flat out didn't have their best games, but I don't think that will ever happen again."
Discussion
Have a comment on this story? Join the discussion or start a new one on the Forums.