Razorback target Warren shows out in Northwest Arkansas
Published: Saturday, November 14, 2020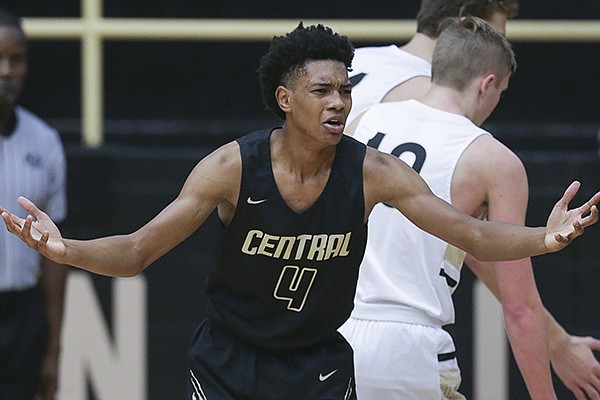 (
Charlie Kaijo
)
Little Rock Central guard Bryson Warren (4) is shown during a game against Bentonville on Saturday, Nov. 14, 2020, in Bentonville.
BENTONVILLE — Little Rock Central brought a balanced basketball team to Bentonville on Saturday, but there was no doubt who was the team's closer.
Sophomore guard Bryson Warren scored a game-high 19 points — including 13 after halftime — to lead Central to a 64-48 victory over Bentonville in a benefit game. Warren is being recruited by Arkansas.
"He's doing a great job," Central coach Brian Ross said. "He just trying to find a mix of getting other people involved, but also get his shots. And then he understands team chemistry, but also understands when it is closing time, it is closing time."
While the game didn't count toward either team's season record, Ross said he viewed it as a game that did count. Among those in the masked up-crowd was Arkansas Gov. Asa Hutchinson, whose grandson plays for Bentonville.
"I've always kind of treated benefit games like a real game that counts," Ross said. "We don't put it on the record, but we play to try and win every time out."
Warren has offers from the Razorbacks, Auburn, Oklahoma State, Georgetown, Seton Hall and others, and is drawing interest from Kansas and Memphis.
"I like to come out and jump start our team and get everybody involved," Warren said. "…But then I also try to take it over when I need to.
"Our shots weren't falling at first, but I think that is matter of us just getting some early jitters out. Once we settled down, our shots started falling and we got on a run."
Warren made 7 of 14 shots, including 6 of 10 3-pointers.
He had eight points during a 14-0 run in the third quarter that turned a 33-30 Central deficit into a 44-33 lead.
Warren added a mid-range jumper and his final 3-pointer late in the fourth quarter after Bentonville closed within eight.
"I like do work at all three levels," Warren said. "I work with pro guys on pick and rolls and getting to the mid-range, which is my bread and butter. I feel like it is hard for defenses to stop that and it opens up everything else in my game."
Warren, who played his freshman season at North Little Rock, had a game-high 32 points in his team's season-opening 67-62 victory over Jacksonville after Central had fallen behind by 14 in the third quarter.

"That is two games in a row when he has closed it out for us," Ross said. "I knew he could do it because he did it against us last season."
Bentonville, which will officially open its season on Nov 24 at Little Rock Catholic, was led by Owen Dehrmann's 10 points while junior Abel Hutchinson added seven.
Hudson Likens added 14 points for Central, Cody Robinson 8, Corey Camper 7 and freshman Annor Boateng 5.
Boateng (6-5, 200) has offers from Arkansas and Arkansas-Pine Bluff. He had 9 points and 10 rebounds in the win over Jacksonville.
"He didn't have big numbers tonight by any means, but he really did in our first game and I think he is just going to keep getting better," Ross said. "He is still having a huge impact. The potential is there to be amazing."
Warren is looking forward to watching Arkansas this season and worked out with the Razorbacks' four freshmen over the summer.
"I really like the Arkansas coaching stuff look forward to seeing what they are going to do this season," Warren said. "I worked out with four of their freshmen (Devonte Davis, Moses Moody, Khalen Robinson and Jaylin Williams) coming in this season...just trying to get better. I feel like they are going to be pretty good."
Discussion
Have a comment on this story? Join the discussion or start a new one on the Forums.