Arkansas 2021 specialist pledges among nation's best
Published: Friday, October 16, 2020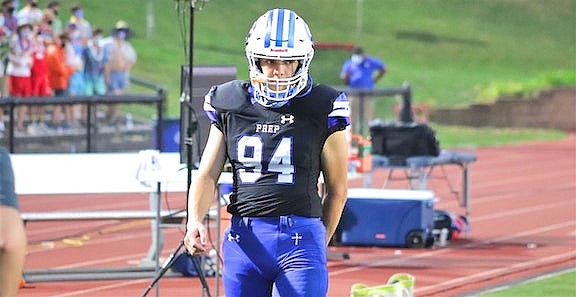 FAYETTEVILLE — While hoping to strengthen its special teams for the future, Arkansas has landed its kicking specialists for the 2021 class.
Omaha (Neb.) Creighton Prep punter Patrick Foley (6-3, 200) committed to the Razorbacks on Tuesday, joining Moore (Okla.) Southmoore kicker Cameron Little (6-2, 170) in the fold.
Kohl's Kicking lists Foley as a 5-star punter and the 14th-best punter nationally and while Little is rated as the second-best kicker and fifth-best punter.
"I have seen him (Little) at multiple Kohl's camps and we talk a lot on social media," Foley said. "He's a good kid and we are starting to form a friendship that will hopefully carry over. He is a completive kid and he is going to do great things at Arkansas, too."
Little has been invited to the US Army All-American Game while Foley has been invited to the the Blue-Gray All-American Game.
Creighton Prep (4-2, 3-0) have won three straight games and is in first place in Class A District 1 heading into Friday's home game with Papillion-LaVista South (1-5).

"We were able to start our season on time, but with very limited attendance because of covid," Foley said. "The policy now is six tickets per player and our entire senior class gets in to watch."
Foley chose Arkansas over an offer an offer from South Dakota and preferred walk-on offers from Nebraska, Kansas State among others.
Razorbacks special teams coach Scott Fountain was a key in pledging to Arkansas, according to Foley.
"I kind of knew where I wanted to go once I built my relationship with Coach Fountain," Foley said. "He separated himself from any other coach in the country because he was sending me letters, texts and calling me every single week. No other coach was contacting me as much as he was. I just felt I had a great relationship with the coaches at Arkansas and felt like it was family.
"Really excited about what they are doing down there turning around Razorback football."
The fact that Arkansas head coach Sam Pittman hired Fountain solely as a special teams coordinator is an important aspect to Foley.
"It was really important to me that Coach Fountain was just the special teams coach and just focusing on the kickers, punters and snappers," Foley said. "He will be paying attention to us 24/7 and helping us out with our craft. That was a big part of what I wanted."
Foley is 13 of 13 on field goals in his career and is also perfect on each PAT he has attempted in high school.
As a junior, Foley punted 41 times for a net average of 36.4 yards with a long of 52 and is averaging 39.4 yards per kick this season. Foley will concentrate on punting his freshman season while Little focuses on field goals, PATs and kickoffs.
"I am going up there to punt and Cameron Little is coming in to kick," Foley said. "I will be trying to fill in for (redshirt senior) Sam Loy and (junior) George Caratan."
Foley is a versatile athlete who believes he brings more to the table than just his punting and kicking skills.
That versatility is reminiscent of former Arkansas and All-SEC punter Sam Irwin-Hill, who took a fake punt 51 yards for a touchdown and had tackle against No. 6 Texas A&M in a 35-28 loss at the Dallas Cowboys' AT&T Stadium in 2014.
"I used to play safety my freshman and sophomore years and then I just got move to just kicker and punter because my coaches didn't want to risk losing me to injuries and all that," Foley said. "So I can go down there and make tackles. I have already made four tackles this year on kickoffs.
"I haven't had to make any on the punt team because I have been forcing a lot of fair catches. I also played quarterback my freshman year, too, so I can throw the ball around pretty good. Hopefully we can use that for fake punts sometimes."
Foley will arrive as a preferred walk-on with hopes of going on scholarship at some point.
"I am going to come in to Arkansas as a walk-on, so I am not going to get any athletic money to start off with, but I am getting academic money that helps out with that situation," Foley said. "Coach Fountain believes that I have a chance to compete for the starting spot my freshman year, but if I don't win that job I will redshirt and hopefully have the job by redshirt freshman, sophomore, junior and senior seasons."
Foley is excited about what he has seen from Arkansas (1-2) this season.
"I have been watching the games this year – all three of them," Foley said. "I was really surprised at how they were winning at halftime against one of the best teams in the country. That just showed me what these coaches are capable of doing while turning a program that was 2-10 last season to having it competing with one of top teams in the country.
"Then going on the road and beating Mississippi State and beating Auburn, which they did but were robbed of it, just shows you what they are capable of doing and how these players care about the coaches and trust in the process.
"Now they can bring in the talent in our class and develop it and we will be back on our feet and a top-25 team."
Discussion
Have a comment on this story? Join the discussion or start a new one on the Forums.