Observations from Arkansas 33, Ole Miss 21
By:
Matt Jones
Published: Sunday, October 18, 2020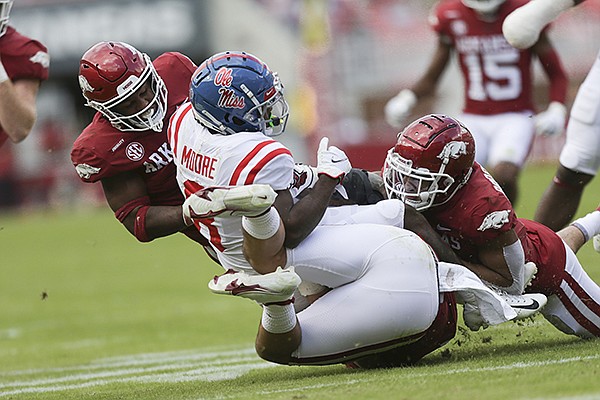 Arkansas players tackle Ole Miss receiver Elijah Moore during a game Saturday, Oct. 17, 2020, in Fayetteville.
FAYETTEVILLE — It feels a little like 1998 in Fayetteville.
That was the year Houston Nutt rolled in and led Arkansas to an 8-0 start a year after the Razorbacks went 4-7 in two consecutive seasons.
Nutt's enthusiasm for the program was a breath of fresh air for a team that largely had not experienced much success in college football. The Razorbacks played hard for their new coach and he energized the fan base.
It's a similar tale this year.
Arkansas has already lost twice — insert your comment about the Auburn game here — and the covid-19 outbreak has forced games to be played in the most unique environments of our lifetime, but the turnaround is just as pronounced as 22 years ago, if not more so.
Arkansas 33, Ole Miss 21
Arkansas went 2-10 and felt lifeless in SEC play at times the past two years. Now the Razorbacks are competing well against every team on their schedule.
It is all happening in the first year on Sam Pittman's watch.
The least splashy of SEC hires in the last coaching carousel, Pittman improved to 2-0 against other first-year coaches with the Razorbacks' 33-21 victory over Ole Miss and coach Lane Kiffin on Saturday. It came two weeks after Arkansas handed Mike Leach his first loss at Mississippi State.
The hires of Kiffin, Leach and Eli Drinkwitz at Missouri were more praised than Arkansas' hiring of Pittman last December. Pittman had never been a major head coach or even coordinated an offense. It was a risky choice.
But those who had seen Pittman in work at his many coaching stops felt confident he had been long overlooked as a candidate to be a head coach. That included Arkansas, where he was an assistant from 2013-15.
Pittman hired a staff of mostly highly experienced coaches, and they are showing now just how effective good coaching can be on a roster that was thought to be lacking talent. No team in college football has improved more than Arkansas this year, or perhaps in a while.
Like in 1998, the Razorbacks' gamble on an unproven head coach who grew up loving the program is paying off.
• One of the stars of Nutt's 1998 team was Brandon Burlsworth, who became an All-American in his only year working with Nutt's long-time offensive line coach, Mike Markuson.
Now the Burlsworth Trophy memorializes his story by awarding the best player each season who began his career as a walk-on.
Arkansas has never had a finalist for the Burlsworth Trophy, but might this year. In fact, the Razorbacks will have a tough choice about which player to nominate.
The two biggest defensive stars of Saturday's game against Ole Miss were linebacker Grant Morgan (19 tackles, sack, interception returned for touchdown) and cornerback Hudson Clark (3 interceptions). The senior Morgan began his career as a walk-on and Clark, a redshirt freshman, is still a walk-on.
It would be difficult to find any former or current walk-on playing better than Morgan or Clark right now, but the Burlsworth Trophy only allows a school to nominate one of its players.
Morgan leads the SEC with 52 tackles this season. Clark has played well since an injury to Montaric Brown forced him into playing time two weeks ago at Mississippi State, and has been on the field as Arkansas shut down two of the SEC's best passing attacks.
Clark's three interceptions against Ole Miss were the most he has ever had in a game, including his time at Texas high school powerhouse Highland Park.
• If the Razorbacks continue this level of play, they will have multiple players and coaches up for awards at the end of the season.
The award that seems most within reach at this point is SEC coach of the year for Pittman, who has been roundly praised over the past three weeks.
"Sam Pittman has Arkansas ahead of schedule," Desmond Howard said Saturday on ESPN's College Gameday.
Another candidacy to watch is defensive coordinator Barry Odom for the Broyles Award, which goes to the nation's best assistant coach. Like with the Burlsworth Trophy, the Razorbacks have never had a winner of the trophy that is so closely associated with their program.
Odom's candidacy for the Broyles Award speaks for itself. Arkansas had the league's worst defense last year when it allowed 471.5 yards and 39.9 points per SEC game.
With several of the same players — and with multiple starters missing playing time due to injuries — Odom's unit is allowing 418.8 yards. The Razorbacks are allowing 25.5 points per game, which includes two non-offensive touchdowns and a safety.
Gene Chizik — the 2004 Broyles Award winner while a defensive coordinator at Auburn — had high praise for Odom on SEC Network following Saturday's game.
"This is the biggest turnaround I've ever seen for a defense in this short of time, and don't forget they had no spring practice," Chizik said.
"He's doing a great job of disguising coverages. You don't know exactly what they're rolling to on the snap, but they're rolling to different things and these guys are playing fast. They know exactly where they're supposed to be. They had six interceptions today? I saw two more that were dropped; I'm talking right in their hands. They could have had eight (interceptions) and had four going into the game.
"You want to talk about the turnaround of a program? A defense can do it."
• Treylon Burks' acrobatic fourth-quarter touchdown catch was SportsCenter's No. 1 play of the day, but the sophomore was key throughout the drive.
With Arkansas leading 20-14 and momentum seeming to turn in Ole Miss' favor, the Razorbacks began the drive at their 30-yard line with 12:06 remaining.
Burks rushed for 11 and 5 yards on the first two plays of the drive. Running back Rakeem Boyd converted a third down, and two plays later Burks caught a pass for 16 yards on a second-and-9 that moved the ball to the Ole Miss 19.
• The Rebels had success their first three games with deep passes, but they also played all three of those games in good weather conditions.
It was clear Saturday, but extremely windy. At one point just before kickoff, a 40 mph gust was recorded in Fayetteville.
It appeared the wind affected several of Matt Corral's passes, including the first pass he had intercepted by Clark after the teams switched directions to start the second quarter.
That pass appeared to hold up in the wind, while on other occasions it seemed like the wind at Corral's back caused his passes to sail too far.
• Ole Miss did not score until its 10th possession of Saturday's game.
Coming into the game the Rebels had not gone more than three possessions without scoring a touchdown or field goal. Ole Miss scored 19 times (17 touchdowns, 2 field goals) in 38 possessions during its first three games.
The Rebels had several chances to score before they finally did Saturday. The Razorbacks made goal-line stands on Ole Miss' first drive of each half, and the Rebels had a turnover on downs inside Arkansas territory in the second quarter.
Ole Miss had the ball on Arkansas' side of the field nine times Saturday, but scored only three times.
• An old Lou Holtz quote came to mind when Ole Miss linebacker Momo Sanogo ran 47 yards on a fake punt in the fourth quarter.
Holtz would tell his teams that a team runs trick plays when it doesn't think it can win straight up.
So while the big run led to a touchdown, it reinforced the belief the Rebels couldn't move the ball against the Razorbacks' defense.
Ole Miss had seven offensive snaps following the touchdown drive that included the fake punt. Of those seven plays, two were for lost yardage and two were intercepted passes.
• Arkansas fans inside the stadium were imploring Pittman to punch in another touchdown after the Razorbacks advanced to the Ole Miss 1 in the final minute.
Instead he called for a kneel down to end the game.
It reminded of when the Razorbacks went into victory formation at the goal line to cap a 31-7 win over Texas in the 2014 Texas Bowl. Pittman was on the field then as an assistant.
Of kneeling at the Texas 1, then-Arkansas head coach Bret Bielema famously said, "It was borderline erotic."
Beating Ole Miss in that manner is probably more exciting to many Razorback fans than beating Texas. Arkansas doesn't have an arch rival, so the biggest rivalry game can be a matter of perception, and perception a matter of one's geography.
It seems that for a lot — maybe even the majority — of Razorback fans living in or near the Arkansas Delta, any win over Ole Miss feels sweeter than most.
Discussion
Have a comment on this story? Join the discussion or start a new one on the Forums.