Razorbacks unveil white football uniforms from McFadden era
By:
Matt Jones
Published: Wednesday, September 2, 2020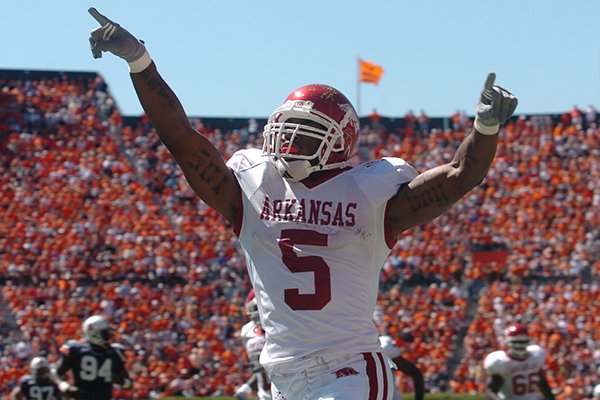 Arkansas running back Darren McFadden celebrates after scoring a 63-yard touchdown during a game against Auburn on Saturday, Oct. 7, 2006, in Auburn, Ala. The Razorbacks beat the No. 2 Tigers 27-10.
FAYETTEVILLE — When it comes to football jerseys, old is new again at Arkansas.
The Razorbacks unveiled white jerseys Wednesday that are replicas of the ones worn by the program from 2005-07, and are companions to the red jersey tops Arkansas brought back last year for home games.
The white jerseys will be used for road games, which for the Razorbacks this year are scheduled at Mississippi State, Auburn, Texas A&M, Florida and Missouri.
The white jersey tops include the word "Arkansas" in red and all caps across the chest, a red collar, and red Razorback logos on each sleeve. White pants with a double red stripe down each leg will be used with both the red and white tops.
The uniforms are remembered fondly by Arkansas fans. They are commonly referred to as "McFadden-era" uniforms, referencing former All-American running back Darren McFadden who played for the Razorbacks from 2005-07, a time during which Arkansas won 22 games and won the SEC West in 2006.
Adidas was the Razorbacks' apparel sponsor at the time. Arkansas became affiliated with Nike in 2010.
The Razorbacks plan to use the McFadden-era jerseys exclusively in the upcoming season, a team spokesperson said. Former Arkansas head coach Chad Morris initiated the return to the classic-looking uniforms — including the white version unveiled Wednesday — prior to being fired last November.
Jake Rosch, the Razorbacks' director of football equipment operations, said last July that Morris preferred a traditional look, which contrasted with several uniform combinations the program had used under head coach Bret Bielema. Rosch said Nike requires about 18 months to turn around uniform orders, meaning uniforms unveiled now were likely ordered shortly after the conclusion of Morris' first season at Arkansas in 2018.
"The trend we've seen lately is more throwback stuff," Rosch said last year. "We're also in our conference...(where) tradition kind of wins out over doing all kinds of different stuff all the time. That's what we're trying to fall in line with."
Discussion
Have a comment on this story? Join the discussion or start a new one on the Forums.