Arkansas connections all over NFL
By:
Rick Fires
Published: Sunday, September 13, 2020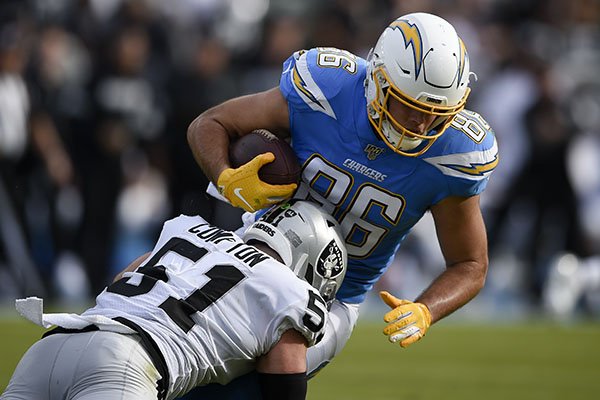 Oakland Raiders linebacker Will Compton, front, tackles Los Angeles Chargers tight end Hunter Henry during the first half of an NFL football game in Carson, Calif., Sunday, Dec. 22, 2019. (AP Photo/Kelvin Kuo)
Elite recruits mostly choose college programs that'll help them get to the NFL and no one does better than Alabama, which has 56 former players on NFL rosters for 2020.
Ohio State has 50 and LSU, the defending national champions, has 41 on opening day rosters.
Arkansas' troubles in football in recent years is reflected by the relatively small numbers of players, especially for an SEC team, in the NFL. Arkansas has 13 players on NFL rosters, which is less than even Temple (20) and Utah (19). Still, there are players with ties to our state you'll find on Sundays if you look hard enough.
Here's a partial but incomplete list, especially considering a player down on the depth chart could be on the active roster one day then dropped from the team the next.
DRE GREENLAW (Fayetteville/Arkansas/San Francisco 49ers)
Greenlaw's tackle against Jacob Hollister inside the 1 that secured the No. 1 seed in the playoffs for the 49ers should be part of a training film for every youth league in America.
Greenlaw is an outside linebacker who made plenty of tackles as a rookie while helping San Francisco reach the Super Bowl. A former foster child, Greenlaw is an inspiration to anyone dares to dream and overcome obstacles.
HUNTER HENRY (Pulaski Academy/Arkansas/LA Chargers)
Sports fans in Arkansas were thrilled to see Hunter Henry back on the field after he missed the entire 2018 season with a torn ACL.
If he stays healthy, Henry should surpass the 55 passes he caught last season for over 652 yards and five touchdowns. Tyrod Taylor, who has replaced Phillip Rivers at quarterback for the Chargers, will do well to find his big tight end with No. 86 on his jersey.
K.J. HILL (North Little Rock/ Ohio State/LA Chargers)
The addition of rookie K.J. Hill gives Taylor two targets from the Little Rock area in the Chargers' passing game.
Hill, who helped North Little Rock win a state championship in basketball as a senior, is listed as a backup at wide receiver and punt returner after being selected in the seventh round by the Chargers. Hill caught 57 passes in 2019 to become the all-time leading receiver (201) at Ohio State.
When Razorback fans talk about the ones who got away, Hill should be high on that list.
DEMARIO DAVIS (Arkansas St./New Orleans Saints)
A third-round draft choice by the New York Jets in 2012, Davis was selected first-team all-pro by the Associated Press in his second season with the New Orleans Saints.
A two-star recruit in high school, Davis found success at Arkansas State after he was suspended his freshman year for shoplifting at Walmart. Needing direction, Davis joined a campus ministry and that involvement with the church helped him to turn his life around on and off the field.
JASON PETERS (Arkansas/ Philadelphia Eagles)
It is mind-boggling to realize this future Hall of Famer at left tackle joined the league as an undrafted free agent with Buffalo in 2004.
It's also easy to forget Peters played tight end at Arkansas and caught 21 passes for 218 yards before turning pro. That's 10.4 yards per catch, which equals the distance Peters pushes defenders off the line of scrimmage on runs plays.
McTELVIN AGIM (Arkansas/Denver Broncos)
Agim was the first Razorback selected in April with the 95th pick in the third round by the Broncos.
Agim did not live up to the hype as a 4-star recruit, but he still play well enough at Arkansas to receive a chance in the pros as a backup nose guard.
TREY FLOWERS (Arkansas/ Detroit Lions)
Flowers reunited with former New England assistant and Lions head coach Matt Patricia at Detroit after winning two Super Bowl rings with the Patriots.
He's a disrupted force who's registered at least seven sacks in three of his last four years.
FRANK RAGNOW (Arkansas/Detroit Lions)
A prize recruit by Bret Bielema at Arkansas, Ragnow is back at center with Detroit after playing some at offensive guard.
He'll be blocking this season for a group of running backs that include Adrian Peterson, who recently joined the Lions for his 13th season in the NFL.
DEATRICH WISE, JR. (Arkansas/New England Patriots)
Wise started at defensive end and made five tackles in Super Bowl LIII when New England shut down the Los Angeles Rams 13-3.
The question now is how will Wise and his New England teammates do with Tom Brady in Tampa Bay. The Patriots are listed ninth at 20-1 odds to appear in the Super Bowl this season.
If there is a Super Bowl this season.
Discussion
Have a comment on this story? Join the discussion or start a new one on the Forums.