Arkansas remains in mix for Trey Alexander
Published: Tuesday, September 22, 2020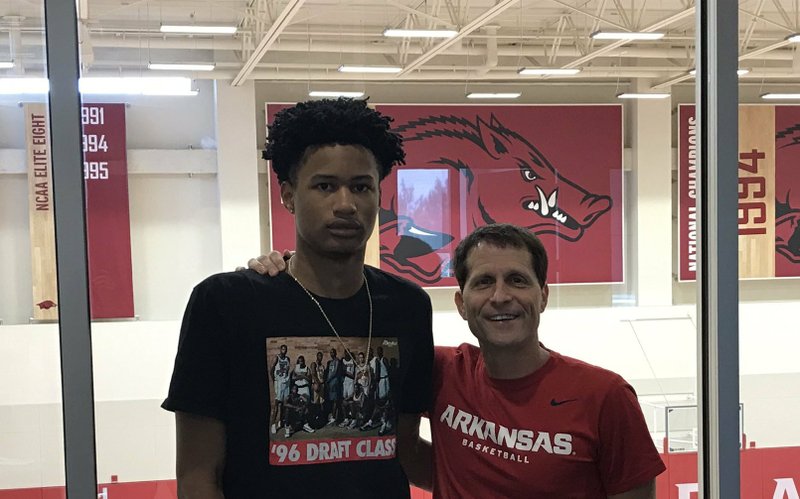 2021 guard Trey Alexander and Arkansas coach Eric Musselman.
FAYETTEVILLE — Arkansas remains in contention for one of the nation's best 2021 high school basketball prospects.
Oklahoma City (Okla.) Heritage Hall senior guard Trey Alexander (6-5, 180), a four-star prospect who is ranked 40th nationally by ESPN, cut hit list to seven teams on Tuesday.
Alexander noted via Twitter that the Arkansas, Kansas, Oklahoma, Auburn, Georgia, Ole Miss and Grambling State are the schools he is still considering.
He averaged 26.6 points and nine rebounds last season for Heritage Hall head Chris Hamilton and the Chargers (20-5).
"I have talked to all the top coaches and top programs and I tell them all the same thing: If you get him, you are getting a special guy to play for you and help your program in a major way," Hamilton said. "He is a guy that can turn the program around and he can simply go."
Alexander was the first 2021 prospect offered by Arkansas coach Eric Musselman.
"I have heard they (Razorback coaches) are beating the path trying to turn the program around," Hamilton said. "I wish them luck and I am telling you right now that if they get him, he can start for them right away. He is just that kind, and we are a college preparatory school.
"Academics are not a problem and he is taking tough course load now, so that transition is not going to be a problem for him."
Hamilton has known Alexander since he was playing youth basketball and has watched him grow on and off the court.
"He is just a great character kid, has a lot of goals and aspirations and if he doesn't get there, it won't be because he hasn't worked hard," Hamilton said. "Every year he adds an element to his game.
"He can score at every level with either hand and is a prototype point guard. He has a burning desire to win. He is really self-motivated and you don't have to kick him in the butt to get him going. He just has to continue to get more muscle on his body. He is just special, just a special player."
Hamilton has high praise for his star, who led his team to a state title as a freshman, a runner-up finish as a sophomore and who was the favorite headed into last year's state tournament that was canceled due to the covid-19 pandemic.
"I have coached some good ones, but I have never had one like this that has this type of talent and work ethic," Hamilton said. "I just can't say enough good things about him."
Discussion
Have a comment on this story? Join the discussion or start a new one on the Forums.