SEC SOFTBALL:
Gibson's 5-RBI day lifts UA
Published: Saturday, April 17, 2021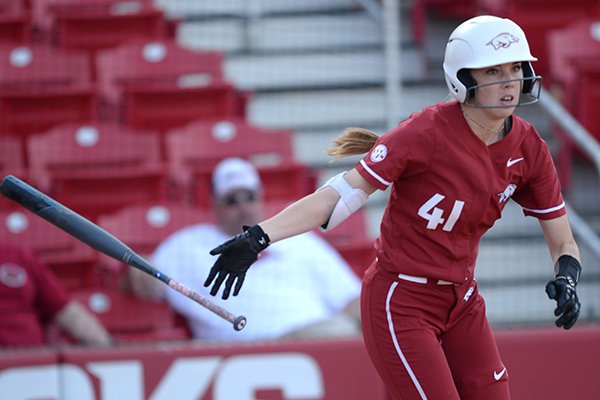 (
Andy Shupe
)
Arkansas designated hitter Danielle Gibson tosses her bat as she heads to first against Wichita State Wednesday, April 10, 2019, during the fourth inning at Bogle Park in Fayetteville.
Danielle Gibson drove in five runs with a home run and a double as the University of Arkansas defeated Georgia 10-3 on Friday in Athens, Ga.
The No. 10 Razorbacks (34-5, 14-2 SEC) collected eight hits and broke a 2-2 tie in the fifth inning on Braxton Burnside's run-scoring double. One batter later, Gibson belted a two-run home run -- her 12th of the season -- to give the Razorbacks a 5-2 lead.
No. 20 Georgia (27-9, 6-7) picked up seven hits and committed two errors.
Autumn Storms (7-1) earned the victory. She allowed 3 hits in 4 innings, walking 1 and striking out 1. Mary Haff picked up her fourth save, striking out five in three innings. Mary Wilson Avant (14-5) took the loss for Georgia.
The Razorbacks' first two runs came via the home run -- Hannah Gammill hit a one-out shot in the third inning and Kayla Green made it 2-0 in the fourth.
Georgia's Lacey Fincher tied the game with a two-run double in the bottom of the fourth, but with runners at first and third, Storms got Jayda Kearney to ground into an inning-ending double play.
Arkansas took the lead for good in the fifth when Gammill drew a one-out walk and scored on Burnside's double.
The Razorbacks put the game away with a four-run sixth inning. Hannah McEwen drew a bases-loaded walk to increase the Arkansas lead to 6-2, and Gibson followed with three-run double to left center.
Gammill capped the Razorbacks' scoring with a run-scoring fielder's choice in the top of the seventh. Georgia's Ellie Armstead hit a two-out home run in the bottom of the seventh.
Discussion
Have a comment on this story? Join the discussion or start a new one on the Forums.