Roster talk plenty as Hogs begin Penn State prep
Published: Monday, December 20, 2021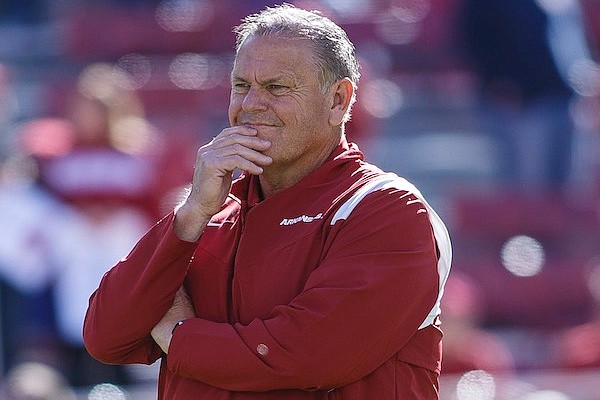 ( David Beach/Special to the Democrat-Gazette )
Arkansas coach Sam Pittman is shown prior to a home game against Auburn on Saturday, Oct. 16, 2021, in Fayetteville.
FAYETTEVILLE — After a week of using its Outback Bowl practices to get a look at some younger players, Arkansas turned its full attention to Penn State on Monday.
The Razorbacks (8-4) and Nittany Lions (7-5) are set to meet Jan. 1 at 11 a.m. Central at Raymond James Stadium in Tampa, Fla.
"Today was our first day on Penn State," Arkansas coach Sam Pittman said. "We talked about them in the team meeting and certainly the entire practice. We had basically a Monday practice. We were pretty much going to do a full, let's say, September on Monday, Tuesday, Wednesday, Thursday, without full pads.
"We won't go full pads. It'll be shells, and we'll do like a full rep count of September then come back next week (after Christmas break) and do a Monday, Tuesday, Wednesday, Thursday in what we would call a November-type, which would cut down some reps."
Arkansas will be without senior defensive defensive end and Missouri transfer Tre Williams, who was arrested for DWI over the weekend then announced via social media he would be opting out of the bowl game to prepare for the NFL draft.
More WholeHogSports: Pittman talks roster, bowl practices
Pittman made it clear Williams, who had a team-leading six sacks this season, would not have played for the Razorbacks in the bowl game.
"I would've suspended him for a game," Pittman said. "I would've made him run. I would've asked him to go get some rehab help and then we would've gone on a game-by-game situation after that."
Pittman noted that Jashaud Stewart, Eric Thomas, Eric Gregory and Zach Williams are in line to get Williams' snaps.
"I think we'll be fine, first of all," Pittman said. "I think that would be the guys that would take more than what they normally have. We'll move (defensive tackle) Eric Gregory out there some. We have a few more inside players. It depends on if we play more three- or four-down front, which we'll play both, but I think that's probably who, off the top of my head, would take the extra reps."
Pittman thinks the reps for players who will be back next season are a positive.
"I think it's going to help us in the long run," Pittman said. "Certainly no one wanted what happened to happen, but it did. We handled the situation as quickly as we possibly could. I think because of whom I talked about, those guys will all be back next year, so I think it will be a nice little audition for them."
Arkansas will also be without back-up offensive linemen Jalen St. John, who was not at Monday's practice, and Ray Curry, who will not be on the bowl roster, according to Pittman.
"Well, St. John has been hurt," Pittman said. "He was not at practice today. I'm not positive what's going on there. I've got to talk to him. Ray Curry is not going to the bowl, so that's probably why you haven't seen him. Other than that, I really can't elaborate on St. John, because I don't really know any more on that.
"He just didn't show up for practice today, so I've got to talk to him."
St. John entered the transfer portal later Monday.
Reserve quarterback Kade Renfro suffered a knee injury in practice last week, but Pittman said there are no plans right now for former quarterback turned tight end Landon Rogers to move back to the position.
He also noted that Razorbacks defensive coordinator Barry Odom was trying to poach Rogers for his side of the ball.
"(That) certainly is a thought that would certainly save us number-wise, especially for spring ball," Pittman said. "We don't want to slow Landon's potential as a tight end or wide receiver, one of the two.
"Barry's trying to get him over on defense. We don't want to slow down his potential there, but at the same time, he's got a lot of arm and we certainly have that in the back of our mind that we could move him back to quarterback for the spring, but again, that would only be if we thought he could be a 2 or a 3. Otherwise, we'd feel like he can be a 2 or better as a tight end/wide receiver.
Arkansas cornerback Montaric Brown is expected to be with the Razorbacks for the bowl game, but it may be the last game of his college career.
Brown had a team-high five interceptions this season. He has not announced a decision on a possible entrance to the upcoming draft.
"Not to me he hasn't," Pittman said. "But right now, I don't know what he's going to do. He hasn't come and talked to me, but right now I would say he's probably not going to come back. But I haven't had that conversation with him yet."
Ladarrius Bishop, Hudson Clark, Greg Brooks, Myles Slusher, Khari Johnson, Keuan Parker and Chase Lowery have all worked at cornerback in bowl practices.
"What we are saying is that we are (more) top heavy at safety than we are at corner, so we are trying to find a few more corners or the best corners that we have," Pittman said. "We certainly believe we have the best ones out there right now, but we are looking to coach a lot of different guys out there."
Arkansas star receiver Treylon Burks recently opted out of the bowl game and declared for the draft, and safety Jalen Catalon and offensive lineman Dalton Wagner have announced they will return next season. Pittman knows there will be some discussions after the game regarding next year's roster.
"You know, unless somebody wants to talk to me about it and tell me exactly what they're thinking, we still have a game to play," Pittman said. "Most of the time you do that after the bowl. Some guys will come in and say, 'Do you know what my draft status is?' And at that point, they're trying to figure it out.
"I've talked to, I believe, all of them about that. Some have said they're going to think about it, some have said they're leaving. Some said they don't know yet. We'll have a lot of conversations after the bowl game with the seniors and the super seniors."
Catalon's recent announcement was a Christmas present for Pittman.
"I think he would be ready to go through spring ball," Pittman said of Catalon's return from a season-ending injury that required surgery. "We'll certainly be cautious with him and ... we wouldn't put him in any live scrimmages or anything of that nature.
"We might put a green jersey on him, a little bit like we did Hayden Henry last year in spring. We kind of took all the hitting off of him because he was trying to get his shoulders healthy, too, but I believe he can be out there all the time except maybe live scrimmages."
Pittman said he believes he is getting a Christmas present from offensive lineman Ty'Kieast Crawford and defensive lineman Eric Thomas during bowl workouts.
"I'll tell you what, I'm seeing Ty'Kieast Crawford out there," Pittman said. "I think he's going to be a really good player for us, and he's a kind of guy behind the scenes, but I think he's going to be a really good player for us. That could be kind of a present. I think Eric Thomas is coming along. I think he could be kind of a present.
"And right now, I'm not losing any of our coaches, and that's a present. I don't want to. I want them all to stay here. Obviously, people are coming after our coaches. We had success. But my Christmas wish list would be keep who we have intact, and hopefully we can do that.
"I'm talking about support staff – recruiting staff is part of that – and certainly assistant coaches."
Discussion
Have a comment on this story? Join the discussion or start a new one on the Forums.