SEC roundup: Kessler's triple-double sparks Auburn; Tide top Vols late
Published: Thursday, December 30, 2021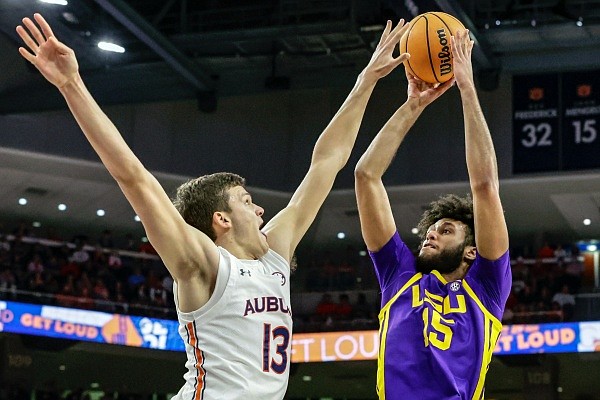 Auburn forward Walker Kessler (13) blocks the shot of LSU center Efton Reid (15) during the first half of an NCAA college basketball game Wednesday, Dec. 29, 2021, in Auburn, Ala. (AP Photo/Butch Dill)
AUBURN, Ala. — Auburn's Walker Kessler blocked three shots before LSU made a single one.
It was that kind of night for both Auburn's 7-foot-1 center and LSU's offense.
Kessler had 16 points, a career-high 11 blocked shots and 10 rebounds to lead No. 11 Auburn to a 70-55 victory over previously unbeaten No. 16 LSU on Wednesday night in the Southeastern Conference opener for both teams.
"I think that we have, if not the best defense in the country, one of the most elite ones," Kessler said. "I think we showed that tonight. We played aggressive, blocked shots, went after loose balls."
Kessler got the second triple double in Auburn's program history, but it didn't become official until well after the game ended.
Auburn's official scorer changed the stats to credit Kessler with a rebound that had initially gone down as a team board with 9:55 left in the first half. It became official more than 90 minutes after the game ended.
Kenny Gabriel had Auburn's only other triple double on Jan. 2, 2012 against Bethune-Cookman. He had 24 points, 13 rebounds and 10 blocks.
Freshman Jabari Smith also scored 16 points for Auburn (12-1), which has won nine straight and didn't give up a field goal in the opening 10 minutes.
LSU (12-1), which came as one of major college basketball's five unbeaten teams, scored just one point in the first 10:45 but still managed to pull to within six a couple of times in the second half.
It was the lone regular-season matchup between two of the SEC's top contenders.
"We don't want anybody to do our work for us," Auburn coach Bruce Pearl said. "So it was an opportunity not only for us to get one (win) but to give them one (loss)."
Kessler made 6 of 8 shots, including his fourth 3-pointer of the season, and fell a rebound shy of the second triple double in Auburn history. He contested a 3-point shot at the end instead of going for the potential rebound.
Wendell Green Jr. had 15 points and preseason All-SEC guard Allen Flanigan scored 10 in his first start. 
Flanigan returned against Murray State and scored three points after missing the first 11 games recovering from Achilles surgery.
"We've been missing Allen," Kessler said. "It's so good to see him back out on the court. He's a big part of our team."
Xavier Pinson had 13 points when he fouled out with 5:32 left for LSU. Leading scorer Tari Eason, who missed the Lipscomb game with back spasms, got foul No. 5 a couple of minutes later and scored 11. Darius Days also scored 11.
"I thought we played with tremendous effort," LSU coach Will Wade said. "We played our hearts out. We just didn't play with the discipline and the smarts that we needed. 
"The start was obviously not great again, but we cut it to six in both halves."
Auburn turned the tables on one of the nation's stingiest defenses.
LSU missed 16 straight shots to open the game, 11 of them from 3-point range, and had three of them blocked by Kessler. LSU's Eric Gaines did snap a personal string of 21 straight missed 3-point attempts late in the game.
"It really showed the young guys what the SEC's about," Days said.
The host Tigers were playing without guard Devan Cambridge, who announced Tuesday that he tested positive for COVID-19. Cambridge was averaging 7.8 points and 3.3 rebounds a game.
LSU guard Brandon Murray didn't play after pulling a muscle while stretching in practice this week, Wade said. 
Alabama tops short-handed Vols with late push
TUSCALOOSA, Ala. — Jahvon Quinerly scored 18 points and Noah Gurley added a season-high 15 to help No. 19 Alabama beat 14th-ranked Tennessee 73-68 on Wednesday night in the SEC opener for both teams.
Jaden Shackelford, Alabama's leading scorer, struggled for most of the night before he made a 3-pointer and a layup in the final two minutes. The 3-pointer tied the game and the layup gave the Crimson Tide (10-3) the lead.
Oliver Nkamhoua then made a 3-pointer with 50 seconds left to give Tennessee a 68-67 advantage. Keon Ellis answered 10 seconds later with his own 3 and Alabama made three free throws in the final 25 seconds to seal the victory. 
The Volunteers (9-3) were missing Kennedy Chandler and John Fulkerson, who tested positive for COVID-19. Chandler is Tennessee's leading scorer. The freshman point guard is averaging 14 points and a team-leading 5.3 assists per game.
Even without their two stars, Tennessee held the advantage for most of the first half, briefly pushing the lead to 10 before Alabama's 10-0 run to end the fhalf tied the game. It was highlighted by a 3-pointer from Shackelford.
The Volunteers also led for all but the first minute and final minute of the second half as they made 17 of 20 from the foul line.
Nkamhoua led Tennessee with 15 points and nine rebounds.
Gardner-Webb hands Georgia big home loss
ATHENS, Ga. — Jordan Sears, Lance Terry and Zion Williams scored 14 points apiece and Gardner-Webb secured its first victory over Georgia, 77-60, on Wednesday night.
Kareem Reid added 11 for Gardner-Webb (6-7), which had lost four previous meetings against the Bulldogs between 2002-16. The win was the first road victory this season for Gardner-Webb, which beat a Power Five team for the sixth time in coach Tim Craft's nine years. It was also the first win over an SEC team in Craft's tenure.
While Gardner-Webb had six players score nine or more points, Georgia (5-8) had three: Braelen Bridges with 17, Kario Oquendo 12 and Noah Baumann 11.
Gardner-Webb led by 13 at halftime, saw that lead briefly clipped to single digits early in the second half and then went up by as many as 21.
Georgia went on a 9-0 run to close within 49-42 with 16 minutes remaining but missed its next seven shots and fell back by double figures for the remainder of the game.
Gardner-Webb outshot Georgia 49%-37% and made four more 3-pointers — Georgia was just 3 of 19 from the arc — and held edges in points in the paint plus bench and second-chance points. It also made all 12 of its free throws to 13 of 20 for Georgia.
Gardner-Webb went in front 18-8 in the first seven minutes after Georgia started 4 of 15 from the floor, missing its first six 3-point attempts. The Runnin' Bulldogs came out of a timeout with 8 1/2 minutes left and went on a 13-4 run to go up by 16 on their way to a 44-31 halftime lead. 
The teams combined to go only 7 of 27 from 3-point range in the first half but Gardner-Webb scored 11 points off nine Georgia turnovers and outscored the hosts 24-18 in the paint. 
Gardner-Webb has won five of its last six games. 
Georgia lost its second straight, having fallen to East Tennessee State 86-84 a week ago, and have also lost at home to Wofford and George Mason. The Bulldogs are scheduled to play Texas A&M on Tuesday.
Other SEC scores
Kentucky 83, Missouri 56
Mississippi State 81, Arkansas 68
Texas A&M 85, Central Arkansas 59
South Carolina State at South Carolina — PPD
Florida at Ole Miss — PPD
Discussion
Have a comment on this story? Join the discussion or start a new one on the Forums.