SEC basketball roundup: Cats roll Vols, Alabama edges Vandy
Published: Monday, February 22, 2021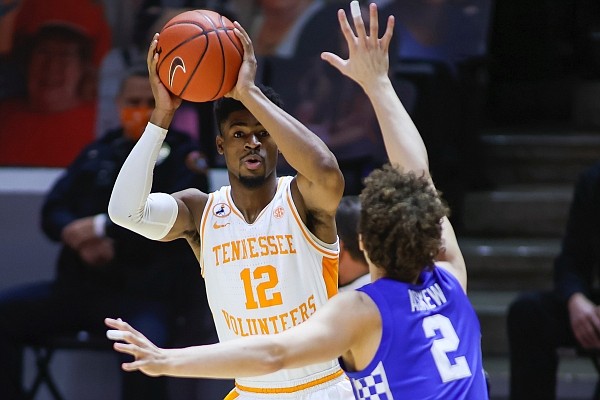 Tennessee guard Victor Bailey Jr. (12) looks to pass the ball against Kentucky's Devin Askew (2) during an NCAA college basketball game Saturday, Feb. 20, 2021, in Knoxville, Tenn. (Randy Sartin/Pool Photo via AP)
KNOXVILLE, Tenn. — It's taken a long time, but Kentucky is getting better. Just in time for the postseason, too.
A season full of frustration is finally coming into focus. The Wildcats won their third straight game Saturday, topping No. 19 Tennessee 70-55.
Isaiah Jackson scored 16 points and Davion Mintz had 15 in going 5-for-5 on 3s in the first half as Kentucky (8-13, 7-7 SEC) matched its longest winning streak of the season.
Keion Brooks had 10 points and 12 rebounds and Olivier Sarr scored 10 for a team that's always considered a lock for the NCAA tourney.
"Even when we were playing bad (this season), I still believed in them," Kentucky coach John Calipari said. "They're kids. You keep working with them, but you hold them accountable when they're not doing it right."
Victor Bailey led the Volunteers (15-6, 8-6) with 18 points. Keion Johnson scored 15 and Yves Pons had 10.
"That we were beaten by just 15 (points) is a surprise," Tennessee coach Rick Barnes said. "We were that bad. We got stagnant (on offense). We play better when we move it and get going."
Early in the game, Kentucky had a 15-0 run that made it 23-10. Mintz had two 3-pointers in that burst and Jacob Toppin had a pair of baskets.
Up 15 at the break, Kentucky got the lead to 60-40 midway through the second half.
"We're a good defensive team," said Calipari. "We knew this was going to be hand-to-hand combat. (Tennessee has) a chance to be in the Final Four. We came in here and did it. They weren't at their best today. We were at our best.
"I don't even know our record. I just coach them to get better," he said.
Said Barnes: "I did not think we had great mental preparation.
"The first half we played like we practiced (Friday). (Practice) was only 30 minutes, that's the frustrating part. So much of this game is mental and the mental part is not there yet."
Alabama edges Vanderbilt at home
TUSCALOOSA, Ala. — Alabama's frequently launched 3-pointers weren't falling with their normal regularity, and Vanderbilt just wouldn't go away.
The result was familiar, if not the methodology: another Crimson Tide win.
Jaden Shackelford scored a season-high 27 points and No. 8 Alabama came from behind to beat Vanderbilt 82-78 Saturday and move a step closer to a Southeastern Conference championship.
"That's what our team is about," Tide guard John Petty Jr. said. "We're about pulling wins out even though we're not shooting well or doing what we do best.
"It was an ugly win, but no matter how ugly it was, it is a win. So we're proud of our team."
The Tide (18-5, 13-1 SEC) moved within a win of clinching at least a share of their first regular-season title in 19 years despite an off 3-point shooting performance.
Jahvon Quinerly made a late 3-pointer and a clinching free throw with 2 seconds left to help Alabama quell the upset bid by the Commodores (6-12, 2-10), who went nearly five minutes without a basket but stayed in it at the free-throw line.
Maxwell Evans made a layup with four seconds left to pull to within 81-78 after rebounding a missed 3. After a quick Vandy foul, Quinerly missed one free throw and made another to clinch it.
Quinerly scored 15 points for the Tide, who made just 10 of 39 3-point attempts (25.6%). Alex Reese scored 10 points while Keon Ellis had eight points and nine rebounds, including a pair of free throws with 28 seconds left.
Alabama overcame low scoring from Petty (six points) and Herb Jones (eight before fouling out). Shackelford came within one point of his career high despite making just 1 of 9 3s, frequently scoring on drives instead.
Thomas, LSU rout Auburn
BATON ROUGE, La. — Cameron Thomas, the reigning Southeastern Conference Freshman of the Week, scored 27 points, his 15th 20-point game of the season, and LSU pasted Auburn 104-80 on Saturday.
Thomas leads all Division I freshmen in scoring 20-plus points in a game. Thomas was 7-of-16 shooting with three 3-pointers and made 10 of 11 free throws to lead five LSU (14-6, 9-4 SEC) players in double-figure scoring. Trendon Watford scored 18 with 11 rebounds, Darius Days scored 17, Javonte Smart 16 with six assists and Josh LeBlanc scored 12 with 10 boards.
Saturday's 104 points were the most the Tigers have scored against an SEC opponent since 1994. LSU has won three in a row and is 10-2 at home this season.
Sharife Cooper led Auburn (11-12, 5-9) with 26 points but was dinged for six turnovers, four in the first half. Allen Flanigan scored 13 points with five assists for Auburn while JT Thor scored 10 with four blocked shots.
Each team had a midweek game postponed by treacherous travel conditions as a deadly cold front hit Southern states.
"We spent Saturday, Sunday and Monday preparing for Mississippi State, and then come to find out we're playing LSU," Auburn coach Bruce Pearl said prior to the game.
The sudden schedule change appeared not to affect LSU, which scored 50 in the first half for the third time this season.
LSU shot 53% for the game (39 of 73), canning 11 3-pointers and outrebounding Auburn 47-39. LSU dominated in the paint, 50-38, scored 25 points on the fast break.
Other Saturday scores
Arkansas at Texas A&M – PPD
No. 20 Missouri 93, South Carolina 78
Florida 70, Georgia 63
Mississippi State 66, Ole Miss 56
Discussion
Have a comment on this story? Join the discussion or start a new one on the Forums.