Wilson's addition could boost Arkansas secondary
Published: Friday, January 22, 2021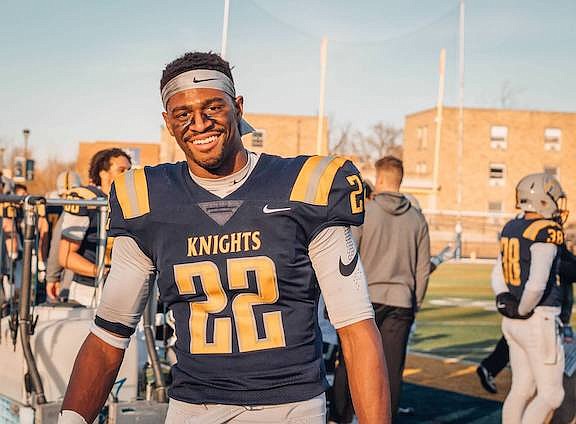 FAYETTEVILLE — Most college football preferred walk ons are just out of high school, but Arkansas has added one who does not fit that mold.

Marian (Ind.) University graduate transfer safety Darrell Wilson (6-3, 210 pounds) was one of the Razorbacks' 15 early enrollees on Jan. 10 and he comes with a wealth of playing experience.
Wilson, a former Chicago-area high school star for Warrenville (Ill.) Glenbard East, played three seasons for the NAIA ` Knights after redshirting in 2016.
"I feel like I bring a lot of experience to Arkansas and someone who has been put in a lot of different situations," Wilson said soon after committing to Arkansas on Dec. 18. "I feel really good about my coverage ability and also being able to come down and play in the box and make tackles."
He arrived in Fayetteville on Jan. 8.
"I actually came in a few days early because I couldn't wait," Wilson said. "The people and environment have been great. I'm happy y'all got me down here."
Wilson chose Arkansas over Illinois, Indiana, Purdue, Western Kentucky and others. He had 143 career tackles (72 solo stops) and four interceptions during his NAIA career.
Arkansas secondary coach Sam Carter plans to use Wilson's versatility in the secondary after former Arkansas safety Myles Mason transferred and with cornerback depth lacking at the end of the 2019 season.
"I'll be playing safety and nickel," Wilson said. "Probably more field safety than anything."
Wilson is coming off a 2019 season in which he had 53 tackles, 36 solo stops, intercepted 2 passes, forced 2 fumbles and recovered a fumble for the Knights (12-1). He was named first-team Mid-States Football Association.
He had a game-high 12 tackles in his final game, a 40-38 loss to Morningside (Iowa) University in the 2019 NAIA FCS title game at Eddie Robinson Stadium in Grambling, La.
Marian's 2020 season was pushed from fall to spring after practice began in August. Wilson chose to opt out when his defensive coordinator left for Kansas and his position coach left for Florida.
The Knights will open their season Feb. 13. By then Wilson will be fully immersed in Arkansas' offseason strength and conditioning program.
"I had a great career at Marian, got my degree and just thought that I could play a the next level," Wilson said. "When the opportunity opened up for me at Arkansas, I knew it was one I wanted to take.
"It just seemed like the right time with things working out with covid like they did. I'm excited to get things going."
Discussion
Have a comment on this story? Join the discussion or start a new one on the Forums.