For state's coaches, hope bill passes
Published: Thursday, March 25, 2021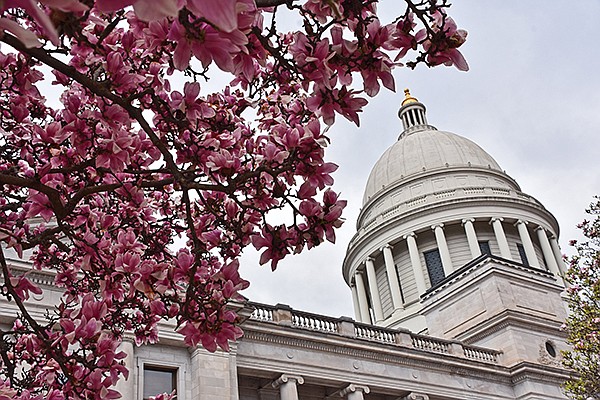 (
Staci Vandagriff
)
Magnolia trees bloom around the Arkansas State Capitol building Thursday, March 18, 2021 in Little Rock.
In the past week or so, I have noticed an ad on Facebook featuring a prominent current Razorback athlete posed with a t-shirt picturing the faces of all of his teammates.
The athlete never posed for the shot. It's a poor photoshop (many characteristics indicate that) and was something done to no doubt try and increase sales of the t-shirt.
I won't be giving the company any publicity by naming it because I don't think that is cool or ethical at all.
But it is one of the first things I thought of Tuesday when a few of the state's top sports figures leaped into the political arena out of what they thought was necessity.
Arkansas Vice Chancellor and Athletic Director Hunter Yurachek, Razorback head football coach Sam Pittman and new Arkansas State athletic director Tom Bowen testified before the Arkansas State Legislature Education Committee.
There were there to speak about House Bill 1671, also known as the Arkansas Student Athletes Publicity Rights Act and a bill brought forth by House Speaker Matthew Shepherd, R-El Dorado.
It is a bill that would allow and regulate student athletes at the state's two- and four-year education institutions to be compensated for the use of their name, likenesses and images.
Why is this a such a big deal?
Because six states - Florida, California, Michigan, Nebraska Colorado and New Jersey - have already enacted laws allowing them to do so and 23 more are making the move toward approving it per Shepherd.
It's tough enough to compete in the Southeastern Conference without recruiting disadvantages and this would be one, in my opinion, if Arkansas doesn't get on the ball so to speak.
Basically, being able to make some money off your image and likeness might be the difference in a prospect's decision.
It's not as if Arkansas would throw the doors open and let it become the Wild, Wild West with money flying everywhere.
But you to need to have something in place to make it a fair fight in regards to this issue.
If approved, Arkansas' law would go into effect on Jan. 1, 2022.
On April 29, 2020, the NCAA Board of Governors announced that it would support rule changes allowing athletes to earn money from the use of their names, images and likenesses after it could see it was going to happen with or without approval.
A restriction in place would be the deals would have to come from third parties so that athletes could not be considered university employees.
HB 1617 also would not allow Arkansas student-athletes to make money off of deals involving alcohol, pharmaceuticals, tobacco, gambling or adult entertainment.
While I'll never claim to be the sharpest tool in the shed, I think I am still smart enough to see the benefits of this bill passing.
More importantly, I can see the problems it will cause for the state's coaches if it is not.
It's not just about books, tuition and housing anymore. Better get to it.
Discussion
Have a comment on this story? Join the discussion or start a new one on the Forums.