Arkansas hoping to land Rowser on Sunday
Published: Saturday, March 27, 2021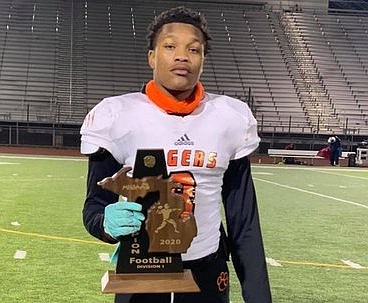 4-star safety Myles Rowser.
The Arkansas football program is hoping to have a great Sunday morning.
Detroit Belleville 4-star defensive back Myles Rowser (6-1, 185 pounds), who is ESPN's 181st-best prospect in the 2022 class, is set to announce his college choice at 10 a.m. Central between Arkansas, Alabama, Michigan State and Kentucky.
The former commit to Michigan, where his older step brother Andre Sheldon plays, has set up an official visit to Fayetteville on June 4-6, but is ready to make his choice public Sunday.
"No other official visits planned," Rowser said. "Recruitment takes up a lot of time. I love the opportunities, but just needed to find my best fit in a school and now I have. Trying to focus on early graduation and win a state title for my school with my bros."
Rowser is being recruited by Arkansas head coach Sam Pittman, defensive backs coach Sam Carter and Detroit native Butler Benton, the Razorbacks' new executive director of recruiting and player personnel.
"I talk with the Arkansas staff daily, especially Coach Carter, and I know they value me," Rowser said.
Rowser, who had 61 tackles, 3 tackles for lost yardage, 2 forced fumbles, 3 interceptions, 1 sack and 10 pass break ups as a junior, is looking forward to his first trip to Fayetteville.
"My first visit on-campus (I) want to meet staff and see the campus life in person," Roswer said. "Also the area around the school."
Rowser also has offers from Notre Dame, Florida, Florida State, Tennessee, Penn State and others.
He unofficially visited Michigan, Michigan State, Kentucky and Cincinnati in 2019, and Penn State, Kent State, Cincinnati and Western Michigan in 2018.
Rowser and the Tigers endured an strange 2020 season, winning their first 10 games before falling to West Bloomfield 35-34 in the championship game on Jan. 16.
Belleville's final two of four playoff games were played two months after the first two as coronavirus pandemic concerns shut down his school during the interim.
Bellveille downed Canton 53-29 on Nov. 13 and then did not play again until a 43-16 win over Cass Tech on Jan. 9.
"(It was) mentally tough," Rowser said. "Just wanted to keep going. When we did come back, key players were hurt and other team never left. It wasn't the same at all.
"Then my grandpa died so I missed the first game back."
Rowser, whose team had a stretch from Week 2 to Week 6 where it won games 69-0, 69-0, 68-0 and 56-0, summed up his game.
"(My) strength (is) passion for the game," Rowser said. "Weakness, not very talkative except on the field."
Rowser transferred to Bradenton (Fla.) IMG Academy in early 2020 and spent seven months there before deciding to return to Belleville to play his junior season.
"I started off at Belleville, so I really wanted to end off at Belleville," Rowser told the Detroit Free Press. "Corona(virus) was at a peak in Florida, so at home it wasn't worse. It was a football and family decision.
"It was really the brotherhood and my Day 1 coach (Jermain Crowell) from high school, so I missed them. I went down there for more exposure and more competition."
Crowell welcomed him back.
"It's the same thing he brought before," Crowell told the Detroit Free Press "He's a solid guy, tackler, one of the better players in the state. His brother (Andre Seldon) was the same type of guy, a playmaker."
Discussion
Have a comment on this story? Join the discussion or start a new one on the Forums.