Mississippi State feeling embarrassed in losses to Diamond Hogs
Published: Saturday, March 27, 2021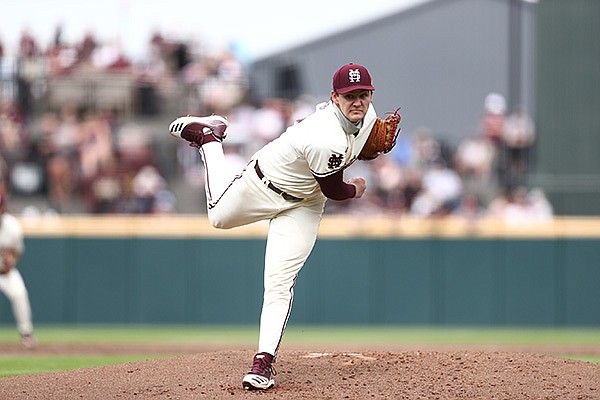 Mississippi State pitcher Will Bednar throws during a game against Arkansas on Saturday, March 27, 2021, in Starkville, Miss. (Photo courtesy Mississippi State Athletics, via Pool)
As far as Mississippi State's Tanner Allen sees it, Arkansas has walked into Dudy Noble Stadium this weekend and simply embarrassed the Bulldogs.
Arkansas downed Mississippi State 8-2 on Friday and then rallied to whip the Bulldogs 11-5 on Saturday.
The Razorbacks launched four home runs in each win.
More from WholeHogSports
"I'm going to be honest with you, this is embarrassing getting beat at home," Allen said. "We have such a great fan base and such a great program. We take pride winning at home, and so far that hasn't happen this weekend, but the weekend is not over.
"They are the No. 1 team in the country for a reason. They have got some great players and they are making plays, but I feel like we beat ourselves today. But today's over with, man. It is about tomorrow and it's a long season. We just want one (win) tomorrow and have a good week of practice."
Allen thinks the Razorbacks (18-3, 4-1 SEC),who had 16 hits on Saturday, may be teaching the Bulldogs (17-6, 2-3) a much-needed lesson.
"This is probably a good thing," Allen said. "We get punched in the face at home. To be honest with you, we have been getting told how great we were. I almost feel like some of our guys just think we are going to roll up to the field and win.
"Obviously you have to bring it every single night because anybody can beat anybody."
As Arkansas did Friday, Mississippi State jumped to a 3-0 lead in the opening inning and led 4-2 in the fifth before its defense let it down.
A dropped fly ball and another miscue eventually resulted in Christian Franklin's two-out, three-run homer that gave the Razorbacks a 5-4 lead.
The defensive lapses surprised Mississippi State coach Chris Lemonis.
"It's a windy day and we lose two fly balls and it kind of starts them and gives them momentum," Lemonis said. "It's not an excuse. We have got to catch them. We have caught them all year. It was the first two fly balls we have not caught all year and it ended up being very costly."
That blast was Franklin's third in two games and his team-leading eighth of the season. Arkansas added three more runs in the sixth, two in the seventh and one in the ninth.
Lemonis knows you can't let a team like Arkansas off the hook.
"They are a good team. They have great hitters and they jumped on everything at that point," Lemonis said.
Allen feels like there is not a big difference in the two teams.
"I feel like we come out and were the better team for the first five innings for sure, clearly," Allen said. "There was no doubt about it, playing with energy, had the crowd rolling, scoring early, (Will) Bednar is pitching a great game.
"But hat's off to Arkansas, man. When you play great teams, you have got to play perfect. But we had a few errors, a popup dropped, but that's baseball. That's going to happen. You have got to be able to keep playing no matter what happens. No matter if you have a bad at-bat, you have to keep playing. This is the hardest league in the world in college baseball – the SEC.
"There is no time to pout or whine or feel bad for yourself. You just have to keep playing. Once we figure that out, we are going to be fine."
The two teams will meet again in the series finale Sunday at 2 p.m.
"You always want to win the series at home and never get swept on the road," Allen said. "Obviously we have already lost a series at home, but if we can salvage one more game, or a game this weekend and end this weekend on a positive note, I think that would be huge for our program and our guys confidence-wise."
Discussion
Have a comment on this story? Join the discussion or start a new one on the Forums.