SEC Baseball:
Vitello's Vols have SEC's attention
By: Eric Olson, The Associated Press
Published: Monday, March 29, 2021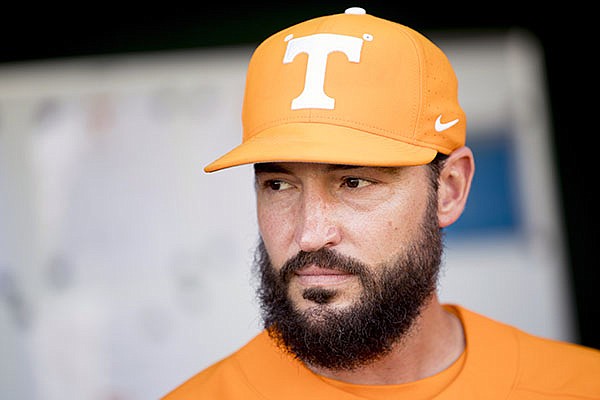 Tennessee baseball coach Tony Vitello is shown before a game in Knoxville, Tenn., in this Tuesday, April 9, 2019, file photo. (Calvin Mattheis/Knoxville News Sentinel via AP, File)
Fresh off its first three-game sweep of LSU since 2008, Tennessee is out to its best start in Southeastern Conference play in 20 years.
The Volunteers (21-4, 5-1 SEC) were ranked No. 6 in the USA Today Baseball Coaches Poll on Monday and are a consensus top-10 team.
The team had two SEC sweeps over the first three seasons under coach Tony Vitello, against Alabama in 2018 and Kentucky in 2019. The feeling with those wasn't the same as it was this weekend after taking three games at home against one of the biggest brands in college baseball.
"Momentum is a real thing in sports," Vitello said, "and wins like (these) can give our guys momentum literally throughout the entire year because it's a top program, there's top talent.
"It does mean a little bit more and it does give you confidence. You'd like to think one cup equals one cup, but that's not the case in sports, which is one of the reasons it's real fun."
The second and third wins over LSU were extra-inning walk-offs. Drew Gilbert's homer in the bottom of the 11th gave the Vols a 9-8 win. Tennessee won the finale 3-2 on Luc Lipcius' RBI single in the bottom of the eighth, ending a game originally scheduled for seven innings for travel reasons.
Evan Russell tied a school record with three homers in the second game. He had gone into the game batting .154 with one home run and 20 strikeouts in 52 at-bats.
"It would have been really tough to swallow to lose a game where a Tennessee Vol had an effort like that," Vitello said. "We salvaged an epic day by Evan Russell when we won that game."
Russell is among five seniors who have been in the program since Vitello, a former Arkansas assistant, took over in 2018.
The Vols went 13 years without an NCAA Tournament appearance until they broke through in 2019 and made a regional final. They haven't had a winning record in SEC play since 2005.
The Vols opened 13-0 and were ranked as high as No. 11 in the pandemic-shortened 2020 season, and this year they've already posted their most sweeps (four) since 2004.
"I feel like we're in the talks to be one of the top programs in the nation," Russell said, "and it's really nice going into the locker room and seeing guys that aren't surprised."
Discussion
Have a comment on this story? Join the discussion or start a new one on the Forums.