Ball's big weekend includes arrival in Fayetteville
Published: Monday, May 24, 2021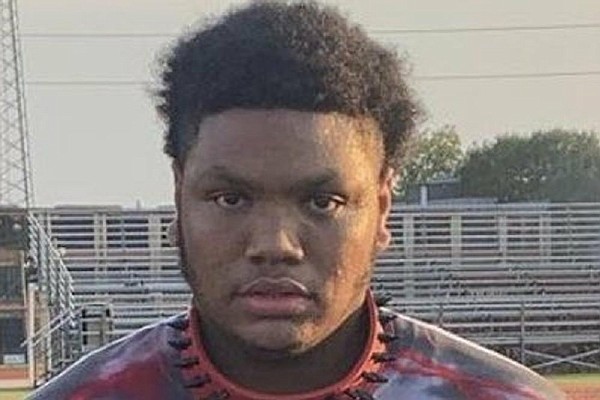 Former Atlanta (Ga.) Tri-Cities standout Cameron Ball.
It was one of biggest weekends of Arkansas defensive tackle signee Cameron Ball's young life and the former Atlanta (Ga.) Tri-Cities star is all about that.
Ball (6-5, 300) graduated Saturday then he and his family made the drive to Fayetteville on Sunday to begin his college career.
"It still hasn't hit me yet," Ball said. "It is surreal and bittersweet. It is a new chapter in my life and I am ready to get started with it."
Ball has spent the offseason preparing both physically and mentally to become a college athlete.
"There are ways to prepare for that type of training, but I think the biggest thing is you have to go in with the right mindset, one that you can do anything if you put your mind to it and put in the work," Ball said. "I have been training with my defensive line coach and I have a little weight room in my house.
"I've been lifting weights and just getting in a lot of conditioning. I think that really is what getting ready for college is about, getting into the best condition you can."
Ball chose Arkansas over Florida State, Arizona State, Illinois, Georgia Tech, Tennessee, Mississippi State, Missouri, Michigan State, Indiana, Purdue and other programs.
One reason he cited is Arkansas' coaches being up front with him about potential playing time.
"You had all these coaches lying to you and saying you can come in and start right away, but the Arkansas coaches kept it real with me and that's why I chose Arkansas," Ball said. "They were up front with me and said it is going to be a dog fight and a competition.
"They have talked to me about being ready to play early, but that it is anybody's game. That's what I like is competition. Everything I have gotten in my life, I have earned. That's the way it is going to be with playing time at Arkansas."
Ball also believes that Arkansas is trending up under second-year coach Sam Pittman.
"I feel like we are headed in the right direction," he said. "There are always things you can work on, things we can get better at.
"But I feel like adding in this class and with Coach Pittman, the train is just going to keep on rolling. It is only up from here."
Ball signed with Arkansas in December despite never having stepped foot on campus. But he did get in an unofficial visit a few months ago.
"I went on a visit by myself in March," Ball said. "My first impression is that it was way different than Atlanta. You don't see many tall buildings, just a whole lot of trees and fields and grass.
"That is another reason I wanted to go to Arkansas, just a change of scenery, experience new things and meet new people."
A consensus 3-star prospect, per ESPN, 247 Sports and Rivals, Ball played in 6 games as a senior making 42 tackles with 6 tackles for lost yardage and 4 sacks.
He also broke up 3 passes, recovered 2 fumbles and forced 1 fumble and then scored touchdown on a fumble recovery in the Florida-Georgia All-Star game.
Arkansas freshman quarterback Lucas Coley spearheaded a text group that allowed the players to get to know each other better and recruit.
"When I first got the Arkansas offer, Lucas Coley put me in a group chat with people who were committed and about to be committed," Ball said. "I just built a bond with all those guys and that's going to stay through these next 4-5 years."
Discussion
Have a comment on this story? Join the discussion or start a new one on the Forums.