Arkansas' Hunter a force on, off the field
Published: Friday, November 12, 2021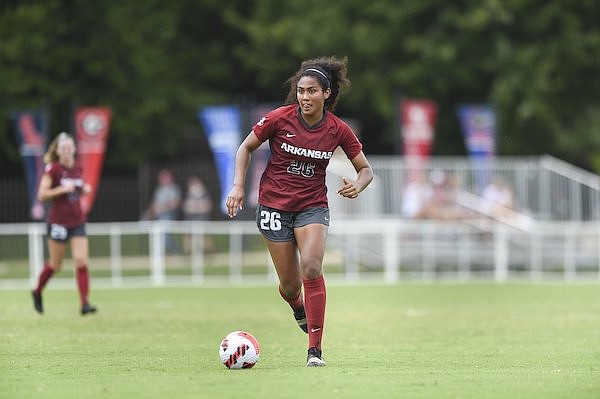 (
Charlie Kaijo
)
Arkansas' Bryana Hunter moves the ball during an exhibition game against Arkansas-Little Rock on Sunday, Aug. 8, 2021, in Fayetteville.
FAYETTEVILLE — Arkansas soccer coach Colby Hale might as well write Bryana Hunter's name in Sharpie on the team sheet.
Dating to 2019, she has made 56 consecutive starts at center back and led the team in minutes played each season since her sophomore campaign. That is quite the feat for any athlete — let alone one who struggled to get on the field for her youth team. 
"I usually subbed in and played around 10 to 15 minutes for my club," Hunter said. "So, that is when I decided that I was just going to be the absolute best teammate I could possibly be and would practice super hard."
Through dogged determination and selflessness, Hunter ascended into a permanent fixture in the lineup for Lonestar FC and began receiving attention on the recruiting trail. She planned on attending Tulsa but everything changed when she stepped foot in Fayetteville. She committed to the Razorbacks just two days after visiting campus.
Four years later, Hunter said she could not have made a better choice. The center-back duo of Hunter and Haley VanFossen has helped lead the program to three consecutive regular-season SEC championships. VanFossen has been selected to the All-SEC first team the last three years, but it was Hunter who earned the recognition this year.
"You just cannot say enough about her," Hale said. "I think she gets lost a little bit this year with all the older super seniors, but she is a fantastic person, a great student and a tremendous player."
VanFossen echoed similar sentiments regarding Hunter's ascension into the national spotlight.
"She has not received a ton of attention before this year, so I am so excited that it is finally coming for her," VanFossen said. "She is so deserving because of everything she puts into soccer and especially school."
Hunter graduated with a degree in biochemistry and aspires to be an orthopedic surgeon. During her time at Hendrickson High School in Texas, Hunter's relentless work ethic in school and soccer cemented her legacy.
Norma Sierra, who coached Hunter in high school, said she has never seen anyone else like Hunter throughout her 29-year career.
"She was the complete package," Sierra said. "From grades to athleticism, she was the thing you dream of having as a coach. The coaches are always talking about there will never be another Bry Hunter. She always had a book open and her glasses on."
Education has been a priority to Hunter for as long as she can remember. She is a three-time SEC Academic Honor Roll member and was named the 2021 SEC Scholar-Athlete of the Year.
"Winning this award would not have been possible without the support from my professors and advisers over the past four years," Hunter said. "Also, I want to thank all of the teachers I've had in middle school and high school who believed in me and pushed me to follow my dream in STEM education."
Hunter said learning how to manage her time has been one of the biggest skills she has developed in college. A typical Monday for her involves three classes — personal finance, cell biology and physical chemistry — a recovery session, two three-hour labs, and homework and studying to end the night.
On the pitch, Hunter's selflessness is on full display as she shares the ball out of the back and orchestrates scoring opportunities for teammates. Off the pitch, her charitable character shines in the form of volunteering. Despite her busy schedule, Hunter finds time to give back to the community and has been on the SEC Community Service Team two years in a row.
During her time in Fayetteville, she has visited patients at Arkansas Children's Northwest, written letters to retirement homes and frontline health care workers, and partnered with Tyson's Fight Against Hunger campaign, which donated more than 200,000 pounds of food to local school districts. She also volunteers through the Be My Eyes app, which allows her to help blind people complete daily tasks such as reading their mail or picking an outfit.
"I just like making people's day better," Hunter said. "During covid, I have not been able to physically give letters to people like I did in high school, but I just love seeing their reactions and making them smile."
Razorback fans have a chance to return the favor and support the soccer team as Arkansas hosts Northwestern (La.) State during the first round of the NCAA Tournament on Friday night in Fayetteville. The match is scheduled to begin at 6:30 p.m. 
Hunter is unsure if she will remain in Arkansas for her fifth year before she applies to medical schools in her home state of Texas. Regardless of where she lands, her dreams of helping others remain the same.
"I know it is not possible to be a perfect individual, but she is pretty darn close to it," Sierra said.
Discussion
Have a comment on this story? Join the discussion or start a new one on the Forums.