Toney leads Hogs to Hall of Fame Classic title
By: Dave Skretta, The Associated Press
Published: Tuesday, November 23, 2021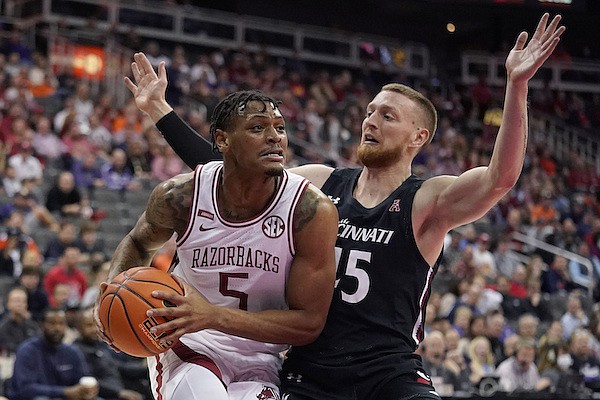 Arkansas' Au'Diese Toney (5) looks to pass under pressure from Cincinnati's Mason Madsen during the first half of an NCAA college basketball game Tuesday, Nov. 23, 2021, in Kansas City, Mo. (AP Photo/Charlie Riedel)
KANSAS CITY, Mo. — Au'Diese Toney scored 19 points, including the go-ahead free throws with just over a minute to go, and Chris Lykes was perfect at the foul line down the stretch in helping No. 13 Arkansas beat Cincinnati 73-67 on Tuesday night in the title game of the Hall of Fame Classic.
Lykes finished with 15 points and JD Notae overcame another cold-shooting night to finish with 13 for the Razorbacks (5-0), who made every crucial play in the closing minutes of a game that neither team led by more than six.
Toney's free throws with 1:23 left gave the Razorbacks a 68-67 lead, the fifth time it had changed hands in the final five minutes. Jeremiah Davenport missed at the other end for Cincinnati, and Arkansas grabbed three consecutive offensive rebounds before Lykes was fouled and made two more free throws with 21.8 seconds left.
The Bearcats (5-1) squandered one last chance when Mike Saunders Jr. was called for charging with 9.6 seconds to go.
David DeJulius scored 24 points to lead Cincinnati. Saunders finished with nine points and five assists.
There wasn't much offense early from two teams that have the ability to fill up the bucket.
The Razorbacks struggled with their outside shot, going 0 for 10 from beyond arc in the first half. And the Bearcats had trouble on the glass, where they didn't get a single offensive rebound until the waning minutes.
Cincinnati also dealt with a bunch of foul trouble while building a 30-26 halftime lead. Mika Adams-Woods took a seat with three fouls after playing just seven minutes, and big man Victor Lakhin went to the locker room with two fouls.
It forced first-year Bearcats coach Wes Miller to use some creative lineups late in the first half.
They continued to maintain their meager lead in the second, even though just about every rebound and loose ball went the other way. On a single trip down floor, Arkansas forward Jaylin Williams missed a 3-pointer, Connor Vanover got the board and was tied up, then Lykes missed a shot before the sprightly guard finally got one to go.
The game remained nip-and-tuck all the way to the finish.
COURTSIDE ROYALTY
Chiefs tight end Travis Kelce, who starred at Cincinnati before heading to the NFL, took in the championship game from courtside seats. Kelce often shows up for college basketball games at T-Mobile Center, and the timing of the Bearcats in the Hall of Fame Classic worked out perfectly; the Chiefs (7-4) have a bye this week.
THE TAKEAWAY
Cincinnati had plenty of chances to pull away, including when it led 56-53 with less than seven minutes to go. But that's when DeJulius missed a 3-pointer and Hayden Koval missed another on consecutive trips down floor, opening the door for the Razorbacks to eventually pull ahead.
Arkansas struggled again from beyond the arc, going 3 of 17 in the championship game. The Razorbacks were 3 of 22 from 3-point range when they held off Kansas State in the semifinal round.
EARLIER
Au'Diese Toney led Arkansas with 19 points and 9 rebounds and helped the Razorbacks defeat Cincinnati 73-67 in the championship game of the Hall of Fame Classic in Kansas City on Tuesday.
Toney matched a career high with 6 offensive rebounds in the win. Arkansas, for the game, finished with 18 offensive rebounds and scored 14 second-chance points.
Chris Lykes finished with 15 points, hitting 8 of 10 at the free throw line. He and Toney were named to the Hall of Fame Classic all-tournament team, and Toney was named MVP of the event.
JD Notae also added 13 points for Arkansas on 4 of 17 shooting.
David DeJulius scored a game-high 24 points for the Bearcats.
:08.8, 2H - Arkansas 72, Cincinnati 67
Jaylin Williams took his fourth charge of the game to gift possession back to Arkansas. Chris Lykes hit two more free throws on the other end.
:21.8, 2H - Arkansas 70, Cincinnati 67
The Razorbacks have grabbed 18 offensive rebounds in this game, and Davonte Davis' last one helped Arkansas kill some clock. Chris Lykes then hit two free throws.
1:31, 2H - Arkansas 68, Cincinnati 67
JD Notae came up with the biggest play of the season so far, stripping Bearcats guard David DeJulius on the perimeter. He dove for the loose ball, grabbed possession then passes to Au'Diese Toney, who was fouled on a layup attempt.
Toney hit both shots at the line to give Arkansas a 1-point lead. Toney is up to 19 points and 8 rebounds tonight. He's been phenomenal.
3:53, 2H - Arkansas 61, Cincinnati 60
Trailing by 4 with 5:49 left, Chris Lykes buried a left-wing 3 assisted by Davonte Davis, then Davis assisted on a layup by Au'Diese Toney. Arkansas, in a flash, went from down 4 to up 1.
Toney, though, just left the game after being poked/hit in the eye. Stanley Umude, who has not played much tonight, checked in for him.
He is back in the lineup after the under-4 media timeout. Toney has 14 points and 7 rebounds tonight. His activity, again, has been terrific.
7:19, 2H - Cincinnati 56, Arkansas 53
The offenses on both sides got going a bit in that last stretch of action.
Arkansas ripped off 8 straight points - 6 by JD Notae on a deep 3 and 3 free throws, and Connor Vanover jumper - and took a 51-45 lead. But the Bearcats answered in a hurry.
Cincinnati scored the next 6 points and is currently on an 11-2 run.
Think the timeout came at a good time. Jaylin Williams is gassed and needed a break. He will be at the line when play resumes.
Officials called an over-the-back foul on a Cincinnati big prior to the break. Thought it was a pretty generous whistle for the Razorbacks.
11:15, 2H - Cincinnati 45, Arkansas 43
David DeJulius is about the only player in the building tonight who can consistently knock down a shot, and that's not good for the Razorbacks.
He has a game-high 14 points on 5 of 9 shooting and 2 of 5 from deep. His left-corner 3 over Chris Lykes gave the Bearcats the lead back at the under-12 media timeout.
We have seen three ties in the second half alone, and Cincinnati has scored to regain the lead each time.
Au'Diese Toney is the lone Razorback in double figures with 10, and Lykes has 8 points and 3 assists. JD Notae has 7 points on 3 of 13 from the floor.
15:36, 2H - Cincinnati 38, Arkansas 35
JD Notae finally got a shot to fall, and it was a big one to tie the game 33-33. He had misfired on his previous 8 shots before hitting an off-the-dribble 3 from the left wing.
Arkansas has buckets from Connor Vanover, Notae, Chris Lykes and Au'Diese Toney so far in the second half. Toney has a team-high 8 points, and Lykes has 7.
Hayden Koval's 3 from the top of the key over Vanover is the difference in the game right now. David DeJulius is up to 11 points for the Bearcats.
Half: Cincinnati 30, Arkansas 26
The Razorbacks' first half tonight was essentially the exact opposite of what we saw on Monday against Kansas State.
Arkansas struggled mightily to find any rhythm or flow offensively. Au'Diese Toney leads the Razorbacks with 6 points off primarily offensive rebounds, cuts and free throws.
JD Notae and Davonte Davis' struggles are continuing. Notae is 1 of 9 from the floor so far, making him 5 of 26 shooting in Kansas City. He grabbed 4 rebounds.
Davis is 2 of 9 shooting in the game and 0 of 2 beyond the arc. He has taken more ill-advised shots than good looks in this event, which is a bit concerning.
The Razorbacks missed all 10 of their 3-point attempts in the half and shot 29.4% overall. Chris Lykes had 5 points on a bucket in the lane and 3 free throws.
Jaylin Williams chipped in 4 assists for Arkansas. The rest of the team has 2.
Cincinnati has to be feeling good at the break. Its leading scorer last night, Jeremiah Davenport, is 0 of 3 from the floor with 1 turnover and has been a non-factor, but the Bearcats have a 4-point lead.
According to HogStats.com, Arkansas is 12-17 under Eric Musselman in games it trailed at halftime. The Razorbacks have won 6 of the last 8 such games.
3:46, 1H - Cincinnati 23, Arkansas 22
Au'Diese Toney is having another nice night for Arkansas. He just walled off a Cincinnati drive and forced an errant pass. The turnover found Jaylin Williams' hands and he pitched ahead to Davonte Davis for a dunk.
The Bearcats, though, have the lead thanks to 7 points from David DeJulius and 5 from Mike Adams-Woods. Mason Madsen and Jarrett Hensley have their last two buckets.
7:59, 1H - Arkansas 16, Cincinnati 16
Neither team is lighting it up offensively. Arkansas is 1 of its last 11 from the floor and 6 of 23 for the game to this point.
Cincinnati isn't faring much better, having connecting on 6 of 19 attempts and 2 of 11 tries beyond the arc. David DeJulius leads the Bearcats with 7 points.
The Razorbacks are being led by Jaylin Williams, who in addition to 3 assists has 2 points and a team-high 5 rebounds. He, though, was just called for 5 seconds closely guarded after he grabbed an Arkansas miss in front of the Cincinnati bench.
JD Notae is struggling again tonight. He is 1 of 7 from the floor and 0 of 3 beyond the arc. So far in Kansas City he is 5 of 24 shooting.
11:44, 1H - Arkansas 10, Cincinnati 9
Good spurt from the Bearcats after Wes Miller's timeout a moment ago. Cincinnati is on a mini 5-0 run behind two scores by David DeJulius, including a tough, contested 3-ball from the right wing. Davonte Davis was there on the release. Just better offense.
DeJulius has 7 of the Bearcats' 9 points so far.
Jaylin Williams has assisted on 3 of Arkansas' 5 scores.
Kamani Johnson entered the game around the 13-minute mark. He picked up an offensive foul on a postup and has 1 block.
12:51, 1H - Arkansas 10, Cincinnati 4
Au'Diese Toney has 4 early points to lead the Razorbacks, and Stanley Umude, JD Notae and Davonte Davis each have 2.
Davis just hit a nice midrange jumper from the foul line, forcing Wes Miller to call for time. Bearcats are 2 of 10 from the floor and 0 of 5 from deep.
15:57, 1H - Arkansas 4, Cincinnati 2
Both teams early on are playing like they have some heavy legs. Each side is playing its second game in as many days for the first time this season.
Jaylin Williams has assisted on both of Arkansas' scores through 4-plus minutes. He hit a cutting JD Notae for a layup on the Razorbacks' first bucket the found Au'Diese Toney along the baseline for a layup as well.
Williams now has 20 assists this season against 6 turnovers.
Mike Adams-Woods has the lone score for the Bearcats, a layup in semi-transition. Cincinnati is 0 of 5 from deep.
Pregame
Arkansas' starting lineup: JD Notae, Davonte Davis, Au'Diese Toney, Jaylin Williams and Connor Vanover.
Vanover is getting a starting nod for the fourth consecutive game. He and Chris Lykes led the team with 14 points against Kansas State on Monday. Vanover finished 3 of 4 shots inside the arc and made a career-high 8 free throws on 9 attempts.
Toney turned in another solid performance against the Wildcats, flirting with a double-double – 13 points, 9 rebounds (6 offensive). Notae added 11 points on 4 of 17 shooting, and Stanley Umude pitched in 10 off the bench.
Entering tonight's game, Arkansas is No. 23 nationally in offensive efficiency (110.6), according to KenPom, and No. 25 in defensive efficiency (90.4). That is a measure of points scored and allowed over 100 possessions.
Cincinnati's starters: David DeJulius, Mika Adams-Woods, John Newman, Jeremiah Davenport and Abdul Ado.
Davenport was the star for the Bearcats in their 71-51 win over Illinois on Monday. He scored a team-high 19 points and knocked down 4 of 8 attempts from 3-point range. Davenport has hit 40.6% of his 32 looks beyond the arc this season.
Cincinnati has beaten two Power 5 schools so far. The Bearcats defeated Georgia 73-68 at home on Nov. 13.
They come into this game No. 6 in the country in effective field goal percentage against (37.6%) and No. 5 in 2-point defense. It has limited opponents to 37.5% inside the arc through five games.
Ado is a transfer from Mississippi State and Newman is a 6-5 small forward from Clemson. DeJulius is in his second season at Cincinnati after leaving Michigan.
Running updates by Scottie Bordelon
Discussion
Have a comment on this story? Join the discussion or start a new one on the Forums.