Noland, Lanzilli impress in Friday scrimmage
Published: Friday, October 8, 2021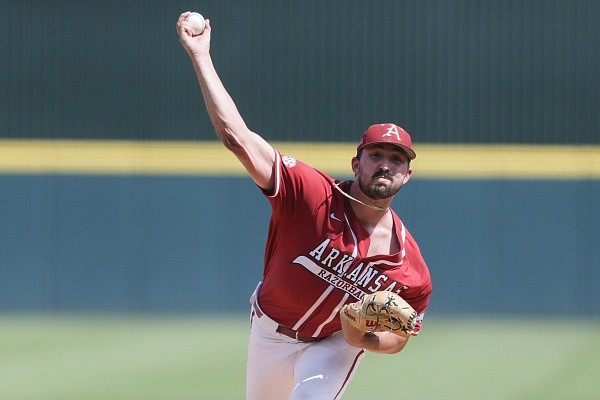 (
Charlie Kaijo
)
Arkansas Connor Noland (13) delivers to the plate on Saturday, June 12, 2021 during the sixth inning of the Fayetteville Super Regional at Baum-Walker Stadium in Fayetteville. Check out nwaonline.com/210613Daily/ for the photo gallery.
FAYETTEVILLE — Building a college baseball roster is no ordinary task. Players get injured, recruits get drafted and athletes hit the transfer portal.
However, if anyone knows how to get it done, it's long-time Arkansas baseball coach Dave Van Horn. It was evident as the Razorbacks played Game 1 of their Cardinal-White intrasquad scrimmage Friday afternoon at Baum-Walker Stadium, with two lineups full of top-end talent.
"It's felt a little different being around so many good players," said outfielder Chris Lanzilli, who transferred from Wake Forest this summer. "It's one of those things that makes you better as a player because you're surrounded by so many guys that can take your job at any day."
The fight for regular-season innings and at-bats brought out the best from Lanzilli and starting pitcher Connor Noland. Their White squad defeated the Cardinal team 9-3 behind a dominant start from Noland, who allowed 2 hits and struck out 3 in 4 shutout innings.
Both of the hits against Noland came from Cayden Wallace. Noland credited his defense for taking the pressure off his shoulders.
"With the defense we have here and how they are playing, I knew if I got them to put the ball in play that it was going to go well," Noland said.
Arkansas pitching coach Matt Hobbs has been impressed with Noland's progression heading into his fourth season.
"He's gotten a lot better and that has been a big boost for the team," Hobbs said last week on the WholeHog Baseball Podcast. "What we are seeing right now is the best version of Connor."
White team starter Heston Tole struck out the side in the first inning, but conceded two runs. Tole, who Hobbs said has been the most consistent pitcher this fall, was pulled after recording five outs on 56 pitches.
The Cardinal team teed off on Tole in the second inning to the tune of five hits while taking a 6-0 lead.
Tole's defense did not do him any favors in the big inning. Freshman shortstop Drake Varnado picked up an error on a wild throw to first on a ground ball from Braydon Webb. Three batters later, Webb scored on a high infield popup that dropped a couple of feet in front of the pitcher's mound as freshman third Kendall Diggs came up short on a diving attempt for the ball.
Lanzilli, a 2019 Collegiate Baseball third-team All-American, showed off his howitzer of an arm when he gunned down Wallace trying to tag from first. Lanzilli raked at the plate as well. He reached base 3 times in 4 at-bats and had 3 RBI.
The White scored twice on Cardinal relievers. Outfielder Jace Bohrofen hit a solo home run to right field off third-year sophomore Will McEntire. It was the only home run of the day.
The Razorbacks will scrimmage again Sunday at noon. All scrimmages are open to the public free of charge.
Discussion
Have a comment on this story? Join the discussion or start a new one on the Forums.