Slavens shows off power, Pallette returns to live action
Published: Thursday, October 14, 2021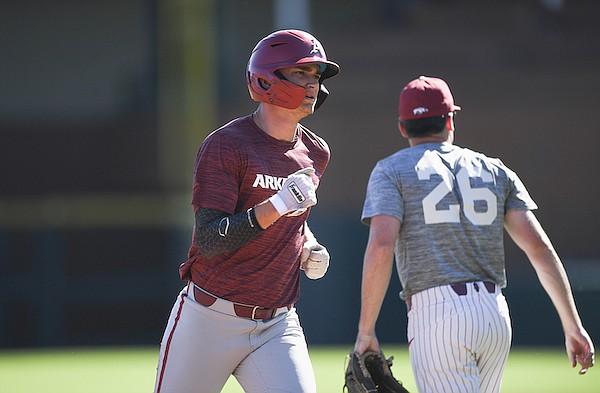 (
Charlie Kaijo
)
Arkansas' Brady Slavens is shown during a scrimmage Thursday, Sept. 23, 2021, in Fayetteville.
FAYETTEVILLE — It did not matter who was pitching against Brady Slavens on Thursday.
The Razorbacks' top every-day slugger earlier this year, Slavens homered twice and reached base five times against six different pitchers in Arkansas' final fall scrimmage. His lone out — a 385-foot line drive — would have been a third home run had it gone anywhere else besides dead-center field at Baum-Walker Stadium.
"I just felt really comfortable today and sometimes you just have one of those days," Slavens said. "I think the big thing for me this fall was making the pitchers pitch to you and come to the zone."
Slavens, who missed five games during the postseason this year after spraining his ankle at the SEC Tournament, said his ankle has fully healed. That has made a difference for him at the plate.
"I felt like I was playing on one leg last year after coming back (from the injury)," Slavens said. "I feel a lot better and a lot stronger this year."
Slavens muscled three balls into the outfield with triple-digit exit velocities. Slavens' solo-homer in the fifth inning jumpstarted an offensive barrage by the Cardinal squad during their 10-2 victory.
On the mound for the White team, Peyton Pallette faced live hitters for the first time since suffering an elbow injury against Florida on May 21. Pallette said he feels fully healthy, but was placed under a strict pitch count and only threw one inning Thursday.
Pallette walked Cayden Wallace after missing on a full-count pitch and hit Slavens in the leg on a 1-1 pitch two batters later. He escaped the jam while throwing 15 pitches.
"It felt really good to get back out there, (but) how I pitched did not go how I expected it to," Pallete said.
Pallette, who Baseball America ranks the top college pitcher eligible for the 2022 MLB Draft, started eleven games last season, but said he has not discussed his role on the pitching staff next year. He would prefer to retain a spot in the rotation.
"I want to be a starter," Pallete said. "We have to work for what we want. Nothing is given to me or anybody else in the locker room."
Several MLB scouts behind home plate were treated to multiple intriguing pitching performances. Heston Tole started for the Cardinal team and racked up three strikeouts while allowing just one hit through four shutout innings.
Gabriel Starks, who pitched the final two innings for the Red squad, raised a few eyebrows when he followed a 96 mph fastball with an 82 mph breaking ball for a strikeout.
Chris Kemp — the San Diego Padres' amateur scouting director — came away impressed with the depth of the Razorbacks' team.
"Looking down the field today, you could see six (or) seven guys getting drafted," Kemp said. "Pallete's got a big arm. You love the way (Robert) Moore gets after it. Wallace can obviously hit a little bit, so it should be a lot of fun for these guys on their trip to Omaha."
Arkansas canceled its scrimmage that was scheduled for Friday. The Razorbacks will now settle in for a 3 1/2-month break from team practices until they resume in late January.
The Razorbacks are scheduled to open the 2022 season with a three-game series against Illinois State that is scheduled to begin Feb. 18 at home.
Discussion
Have a comment on this story? Join the discussion or start a new one on the Forums.