The Recruiting Guy:
Get to know: 2023 D-line target Trey Wilson
Published: Thursday, October 21, 2021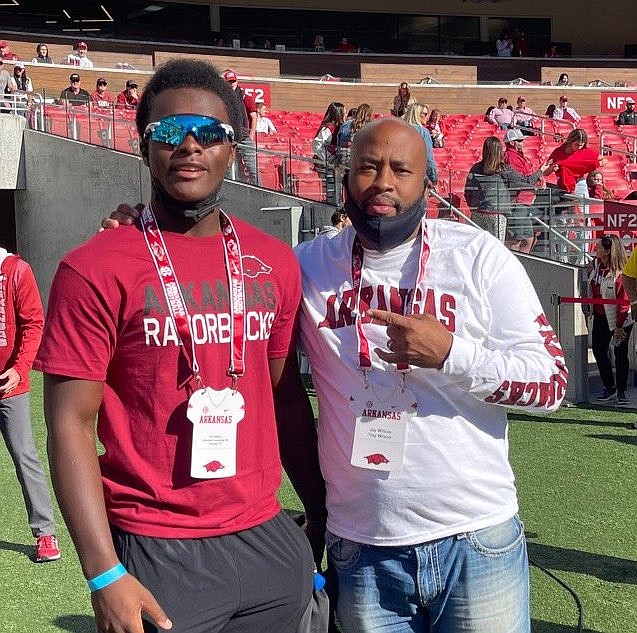 2023 defensive lineman Trey Wilson and his father Jay before the start of Arkansas' game against Auburn.
Junior defensive end target Trey Wilson visited Arkansas for the Auburn game last weekend and has plans to make a return trip in the spring.
Wilson, 6-4, 235 pounds, of Garland (Texas) Lakeview Centennial, has scholarship offers from schools like Arkansas, Illinois, Michigan, Arizona State, Baylor, Colorado, Oklahoma State and others.
Nickname: Trey
City/school: Garland, (Texas) Lakeview Centennial
Bench press: 265
Squat: 465
Defensive line coach Jermial Ashley is: A developer and for the people
Number of years playing football: 4
Favorite thing about playing D-line: Getting the sack or going through people
If I couldn't play football, I would want to star in: Coaching
I'm happiest when I: am able to be free
My mom is always on me to do: my school work because education is everything
Favorite NFL player: Von Miller
Favorite music: Rap
Must watch TV: The Office
How would you spend a million dollars: family first, me second, then savings
What super power would you choose if given the option: super speed
My two pet peeves are: Wet cloths, commercials
If you could meet a famous person, who would it be: Lil Uzi Vert
My hidden talent is: Piano
Your favorite fast food chain and why: Chipotle because it's just that good
I will never ever eat: Cauliflower
Favorite junk food: Honey buns
My favorite sweet tooth craving is: sour haribo gummy bears
Strangest thing I've ever eaten: Lion
My dream date is: Zendaya
I'm terrified of: missing a roach on the first swing
Hobbies: video games and watching sports
The one thing I could not live without is: God
Role model and why: my family because they set the expectation with there accolades
Three words to describe me: open minded, creative, understanding
People would be surprised that I: Used to play soccer
Discussion
Have a comment on this story? Join the discussion or start a new one on the Forums.