Trio of future Arkansas linemen bring the excitement
Published: Friday, September 10, 2021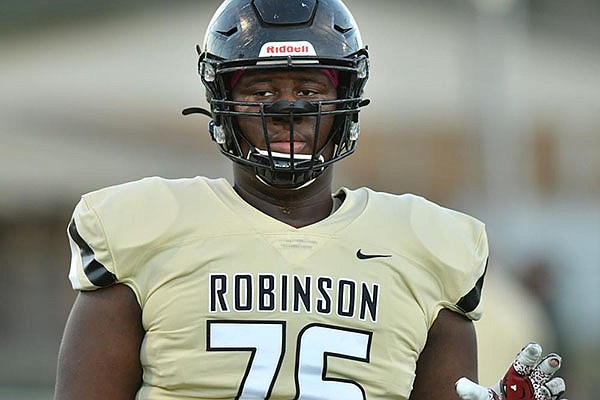 ( Jimmy Jones, Special to the Democrat-Gazette )
Offensive lineman E'Marion Harris of Joe T. Robinson High School is shown during a game against Ashdown on Friday, Oct. 30, 2020, in Little Rock.
Three future Razorbacks got together last Friday night for arguably the most exciting game of the young season.
Arkansas offensive line pledge E'Marion Harris (6-7, 370) and his Joe T. Robinson squad rallied from a 20-point fourth-quarter deficit to down Maumelle 47-44 in overtime.
Playing on both sides of the ball, Harris battled during the night with a pair of his future teammates – the Hornets duo of defensive lineman Nico Davillier (6-5, 270) and offensive lineman Andrew Chamblee (6-6, 290).
"It is why you schedule a challenging and tough nonconference schedule," Robinson assistant coach and recruiting coordinator Brian Maupin said.
"Coming off last season with limited fans and stuff, it was great to see the fans storming the field and the players going crazy after a walk-off touchdown. It just reminds you what makes high school sports and sports in general so special.
"To see all those guys that are future Razorbacks play so well is a great thing for the future at Arkansas."
The result left both teams 1-1, much better than Robinson's 0-2 would have have been after a 60-28 season-opening loss to Pulaski Academy.
"We didn't play up to our level against PA and we knew that and then we got down 41-21 against Maumelle and it would have been very easy for the kids to say, 'Here we go again. We are not very good. We've got work to do.' Some of which is still true, but to show that resiliency to keep at it, keep working and put some drives together was great."
Joe T. Robinson will travel to Marion on Friday while Maumelle visits Vilonia.
Interestingly, the game was schedule to be played at Maumelle, but was moved to Robinson.
"Maumelle has been practicing at our school for the past month after their field got turned up," Maupin said. "We had to move the game here."
Maupin was impressed with the trio of future Razorbacks, who are all planning to be on hand for Arkansas' home game with Texas on Saturday at 6 p.m.
"I can't say enough good things about E'Marion," Maupin said. "He is so special as a person and a player. He obviously looks imposing every time he takes the field. But it was nice to see him lined up against other children his size.
"He had some really, really good battles with Nico and did a really good job in the run game with him being strong, using his size and patience to combat Nico's athleticism as a pass blocker."
Davillier was a handful, Maupin said.
"I thought Nico was extremely active and I think his athleticism really jumped out," Maupin said. "He is well put together, moves well and you can see his pass rush package has improved from year to year. He has more tricks in his bag than even last year.
"It's exciting to see a guy put in the work and improve and I know that is going to continue as he goes into college. He even played some quarterback and running back in overtime, which is obviously a testament to his skillset."
Chamblee and Harris are two of the four offensive linemen Arkansas has pledges from in its 2022 recruiting class.
"I think Chamblee is really seasoned and does a really good job," Maupin said. "He does a good job getting inside, sealing down and back there still hinging on D-ends and blitzers, and his big butt wants to step down and set that backside.
"It eliminates a whole play for that side of the defense."
Discussion
Have a comment on this story? Join the discussion or start a new one on the Forums.