Arkansas wins 7th straight on Podojil's golden goal
Published: Thursday, September 23, 2021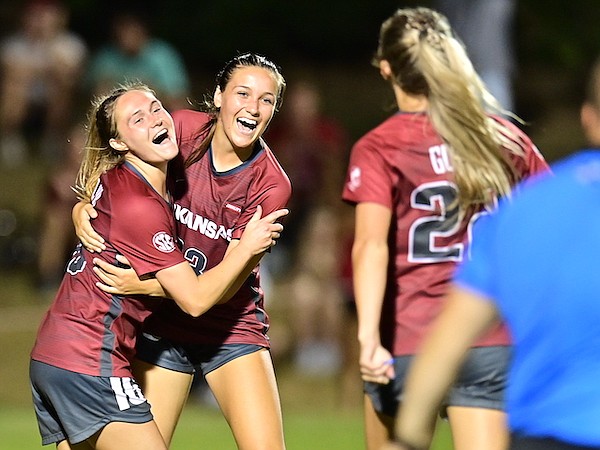 ( Walt Beazley, Arkansas Razorbacks )
Arkansas' Anna Podojil (left) celebrates with teammates during a game against Tennessee on Friday, Sept. 17, 2021, in Fayetteville.
Arkansas extended its soccer winning streak to seven games with a thrilling 1-0 overtime victory at Texas A&M on Thursday in College Station, Texas.
It took 97 minutes, but the Aggies' defense finally conceded to an unrelenting Arkansas attack when junior forward Anna Podojil converted on a half-volley inside the 18-yard box.
The No. 16 Razorbacks (7-2, 2-0 SEC) have won four in a row against the Aggies (5-4-1, 1-1) dating to 2018.
"We've struggled playing on the road," Podojil said on SEC Network. "Right before overtime, Coach (Colby Hale) said that someone needs to call game quick.
"I am lucky the ball fell at my feet and I was able to put it away."
Podojil leads the team with six goals and five assists this season. She is one goal away from matching her season total from last year.
Hale kept his overtime speech short and sweet, and asked for more of the same from a Razorback front line that was peppering the Aggies' goalkeeper with shots.
"We just said, 'Hey guys, we have got to win more first and second balls and be more composed in the final third,'" Hale said.
Arkansas senior forward Parker Goins assisted the game winner. She won two straight aerial duels — the second of which bounced in front of Podojil before she converted the shot. The assist was Goins' sixth of the season and 31st of her storied career.
The Aggies — playing without leading goal scorer Maile Hayes — relied on the counterattack to provide offensive opportunities. The match looked even at halftime with both teams registering five shots and fairly splitting possession.
In the second half, the Razorbacks began pounding Texas A&M goalkeeper Kenna Caldwell, who stood up to the task through regulation. Arkansas racked up 16 corner kicks compared to just two for Texas A&M.
The Razorbacks controlled the game after halftime and out-shot the Aggies 22-9.
"I thought we got much better in the second half of this game and in overtime we showed a lot of fight," Hale said.
Hale, who shared the SEC coach of the year award with Texas A&M's G Guerrieri last season, noted the lack of enthusiasm brought by the home fans seemed to help his squad.
"When you come here, you are used to a large crowd (but) they didn't have as many fans today," Hale said. "It was a lot flatter of an environment than we were expecting."
Arkansas will host Ole Miss (7-1-2, 2-0) at 1 p.m. on Sunday at Razorback Field. The match will be streamed on SEC Network-Plus.
Discussion
Have a comment on this story? Join the discussion or start a new one on the Forums.