Pittman loving quality of Hogs' 2023 recruiting
Published: Saturday, April 2, 2022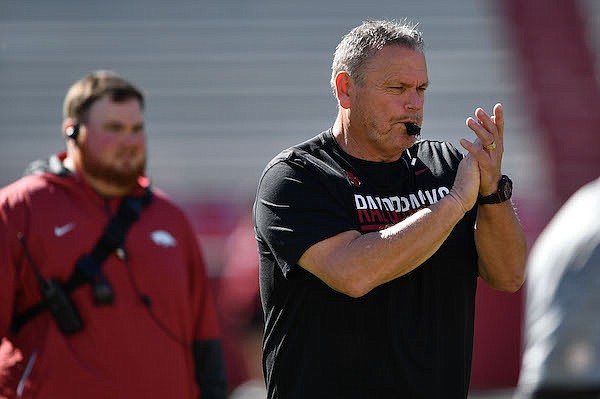 (
Andy Shupe
)
Arkansas coach Sam Pittman claps during practice Wednesday, March 16, 2022, in Fayetteville.
If it seems like Arkansas' football program is recruiting at a higher level than normal with its 2023 class, that's because it is, according to Razorbacks coach Sam Pittman.
Arkansas has 10 pledges in a class that is ranked third nationally (behind Notre Dame and Texas Tech) by ESPN, 247 Sports and Rivals, and has a recruiting board that still has a lot of top talent, he added.
Five of the 10 commits are 4-star prospects by one of the three recruiting services.
"I think where we are pretty good right now is our recruiting board," Pittman said Thursday after his team's spring practice. "You make mistakes in recruiting when you don't have anybody on your board that you can get. Then you go, 'This old kid plays hard, maybe we can turn him into a superstar,' and that usually doesn't happen."
Pittman stressed that Arkansas is going against much better programs in recruiting than it did when he first arrived in Dec. 2019.
"I think the biggest thing changing in recruiting is who we are recruiting against," Pittman said. "When we first got here, we were in recruiting battles against a lot of schools that were not SEC schools.
"Now, because of the success the kids had last year, we are in battles with everybody. To be honest, that is where we should be. We weren't that way a year-and-a-half ago in recruiting."
Several of Arkansas' 2023 commits and targets have made it to campus to see the Razorbacks practice this spring. More are expected in the next couple of weeks.
Mansfield, Texas, 4-star defensive end and Arkansas pledge Kaleb James, and Greenwood eighth-grade quarterback Kane Archer, who already has offers from the Razorbacks, Michigan and Missouri, were on hand at practice Thursday.
"I think it is a big deal for us," Pittman said of recruits taking in a practice. "It is a comfortability thing. In other words, if I go to a meeting, go to a practice, go on and watch individual (drills), I think it makes a player more comfortable shutting down questions in their mind and how it is going to be.
"In recruiting, we talk to them and say this is how it is going to be. Hopefully whatever we say is how it is going to be, they see it and you can start building a trust factor with them."
Arkansas had three Junior Days in January that resulted in a lot of prospects stepping on campus, several of whom committed.
"We had some really good kids coming in and we're in it and that's the biggest thing," Pittman said. "You might have a great one come with another kid, but that great one now is coming to see us. Obviously we have to be good closers and that kind of stuff, but I think the kids feel like we do about Arkansas.
"People can see you be yourself and sell the university. I have got a really good group of coaches that do that."
Discussion
Have a comment on this story? Join the discussion or start a new one on the Forums.