Arkansas finally gets full, open recruiting calendar
Published: Sunday, April 3, 2022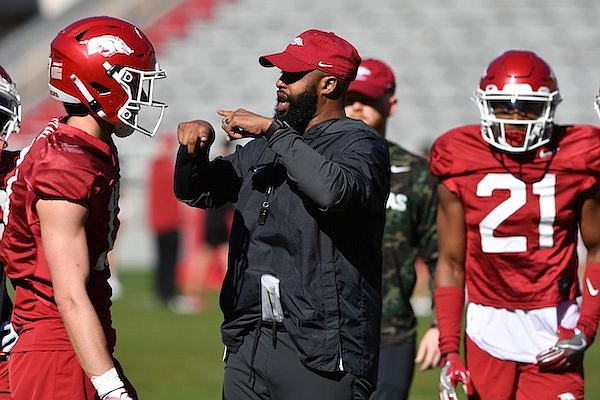 (
Andy Shupe
)
Arkansas defensive backs coach Dominique Bowman is shown during practice Wednesday, March 16, 2022, in Fayetteville.
For the first time since he has been at Arkansas, Razorbacks coach Sam Pittman has a full and open recruiting calendar in front of him and his assistants.
Not only have they been able to host recruits on campus since January, coaches will also be able to see recruits in person during the April 15-May 31 evaluation period.
The Razorbacks will also be hosting seven football camps from June 11-22.
"I tried to tell our staff that you make less mistakes in recruiting by going to see them and then having them in camp," Pittman said. "Obviously for the majority of my head coaching we have not been able to do that."
They'll do so with two new recruiters in defensive backs coach Dominique Bowman from Marshall and defensive line coach Deke Adams, who has coached at South Carolina, Ole Miss and Mississippi State.
Both have already shown their recruiting prowess with 2023 commits and landing a pair of transfers for the 2022 season in LSU cornerback Dwight McGlothern and Georgia Tech edge rusher Jordan Domineck.
"Dominique hit the ground running and so did Deke in recruiting," Pittman said. "They are both really good in getting guys on campus and communication and all those things."
It is the second offseason Pittman has replaced assistants, in part to improve recruiting.
"What happens when you start bragging on the guys that you hire, some people might take that as you are being negative about the guys that leave," Pittman said. "That is certainly not the case at the University of Arkansas. If I have somebody leave, I am going to replace them and hopefully with sone that brings something different to the table.
"That is what Dominique and Deke have done. I believe if you ask both position groups about them, you would get rave reviews and feel it. Not just saying what you want to hear, but you can see it and feel it.
"Any time you get the kids feeling about you that way, they are going to play hard and play well."
Discussion
Have a comment on this story? Join the discussion or start a new one on the Forums.