Future Razorback Dunning begins drive for five
Published: Tuesday, February 15, 2022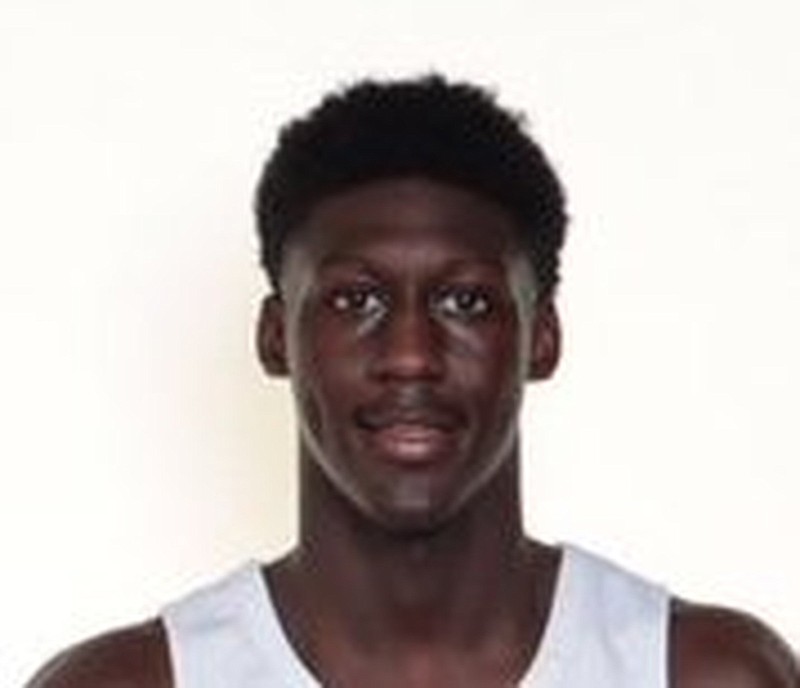 Arkansas 2022 basketball signee Barry Dunning of Mobile (Ala.) McGill-Toolen went into the postseason Tuesday night with a drive to play five.
Dunning (6-6, 205) had 30 points and 17 rebounds to lead the Yellow Jackets (28-4) to an 84-38 sub-regional win over Robertsdale and advace to the Sweet 16.
That is first of what Dunning hopes will be five games that finish with the ASHAAA Class 6A state championship contest on March 5.
"We have five games to win the state title and each one now is win or go home," Dunning said. "Our senior group this year have been great leaders, been in the program for a minute and been together for a long time. We have worked for this and deserve it."
The great 2021-2022 season comes after a 10-15 campaign last year during which McGill-Toolen assistant coach Mark Shelley died from the coronavirus on Jan. 26, 2021 after being on a ventilator for almost seven weeks.
"Last year me and my teammates went through a tough season, went through so many trials, bumps in the road and losing our coach unfortunately, may he rest in peace," Dunning said.
"It's great to be at this point this season after that. One thing our (head) coach (Phil Murphy) always tells us is that you don't want to ever get too high, get too low, remain in the middle, stay humble and strive for that state title."
Dunning had a career-high 40 points last Tuesday in a 110-40 win over Citronelle and also added 12 rebounds to go over 1,000 boards for his career.
He also added 6 assists, 2 steals and 2 blocks in that game and followed that by scoring 17 of his game-high 25 points after halftime in a 64-48 win over Blount to win the area championship.
"Really it's just been about keeping a level head," Dunning said. "I am blessed and grateful for these opportunities and great things and accomplishments that have come my way. I have been able to enjoy it, block some of the things that I don't want to hear, especially any negative stuff, and just move ahead.
"How I handle it is that I have a great support system - my coaches from McGill and Arkansas and a big thanks to my parents. They give me pointers on how to handle things, being humbled the biggest thing, keeping my head up and working hard."
Dunning, who was named the Alabama Gatorade Player of the Year as a junior after averaging 21.5 points and 11.3 rebounds per game, is averaging 23 points and 13 boards this season.
"I think every kid has the dream of playing in the NBA and that's certainly my dream, but my first goal is to get better every day on off the court, " Dunning said.
"I tell everybody this quote - 'being the best version of yourself is an infinite quest.' I got that from Kobe Bryant and I really miss him. As long as there is a number line and it is infinite, we can become better every day until the number line stops. We can't ever stop trying to improve.
"No matter how long I stay at Arkansas, three, four of five years, I am going to become the best version of myself I can be."
Dunning is part of an Arkansas recruiting class that is ranked fourth nationally by ESPN and 247 Sports and fifth by Rivals.
"The class we have coming is a great group of guys," Dunning said. "We talk a little bit and get along together well. It is going to be a special year next year. It still can be a special one this year as well. I still think we are going to shock a lot of people this year, too, even though a lot of people have been counting us out."
Dunning chose Arkansas over a final four that also included Memphis, Ole Miss and hometown South Alabama while also having offers from Alabama, Auburn, Georgia, UAB and others.
He committed on July 5 after officially visiting Arkansas on June 2-4.
"Being part of the Arkansas Razorback program is exciting," Dunning said. "I based the decision on who I thought could maximize my potential both on and off the court, where I felt like was home and where I jelled with the coach, team and fans.
"Coach Muss and his staff are a great group of guys, family oriented and just great. I just feel like it is a home away from home and the program can teach me a lot of good things on and off the court. I am looking forward to it and it is going to be a great opportunity. I am going to work hard and work on my long-term goals."
Dunning knows the general area of what he wants to study in college.
"I want to major in pre-medicine and biology, become an orthopedic doctor and hopefully one day open my own practice," Dunning said. "I don't know what I want to specialize in yet - spine, collateral or something else. But when I go to college I am going to explore and specialize in what I want to do."
Dunning got to watch the telecast of Arkansas' 80-76 overtime over visiting No. 1 Auburn last Wednesday.
"Watching that Auburn game, just seeing the Arkansas fans was amazing," Dunning said. "The state of Arkansas has nothing but love for them, hospitality and support and love for all sports. I love that and to be playing in front of those fans next year is a great opportunity and I am blessed. I am ready to give my all for them."
Discussion
Have a comment on this story? Join the discussion or start a new one on the Forums.