5-star Black finds plenty to love inside Bud Walton Arena
Published: Saturday, February 19, 2022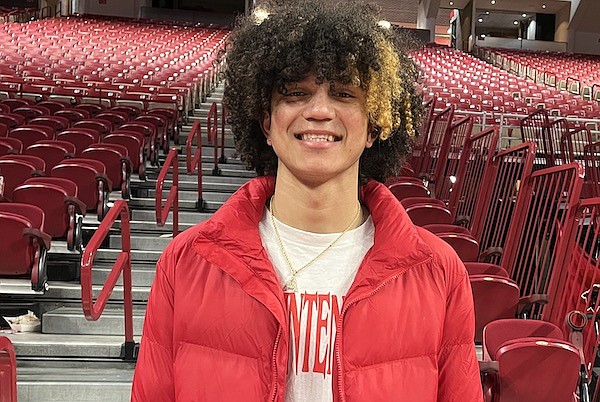 FAYETTEVILLE — Anthony Black, a McDonald's All-American and 5-star recruiting target for Arkansas, made a trip to Fayetteville last September, but got to take in the full Bud Walton Arena experience Saturday.
Black (6-7, 198 pounds) of Duncanville, Texas, and Arkansas signee Jordan Walsh (6-7, 200) saw the No. 23 Razorbacks down No. 16 Tennessee in. 58-48 slugfest.
"I mean, I enjoyed my (official) visit during then, but I didn't get to come to a game an actually experience everything," Black said of his Sept. 17-19 trip. "Now that I got to come to a game, the energy and stuff they talked about, I kind of (saw) it firsthand."
Black is the only McDonald's All-American who has yet to commit to a school.
He has narrowed his list to Arkansas, Gonzaga, Oklahoma State, Memphis, TCU and Georgia. He might also turn pro and play in the G-League, an NBA development league.
"To be honest, I am getting close to making a decision," Black said. "Here shortly I should know. I am just trying to narrow it down, figure it out and make the right decision."
He added that he will likely make his decision around the time of the March 29 McDonald's All-American Game in Chicago.
Walsh of Branson (Mo.) Link Prep and fellow Arkansas signee Nick Smith of North Little Rock are recruiting Black to join a signing class that is ranked third nationally.
Walsh and Smith are also 5-star recruits who have been named to the McDonald's All-American Game.
"They are just telling me that we all could be good and have the chance to win a lot of games," Black said. "They are not lying to me or telling me anything that's not real. They are just being good friends and telling me that we could be good together."
In addition to Walsh and Smith, the five-man class for 2022 includes national top-100 recruits Derrian Ford of Magnolia, Joseph Pinion of Morrilton and Barry Dunning of Mobile (Ala.) McGill-Toolen.
"I am working on him," Walsh said of Black. "He is my guy and from Texas like me. I am trying to get him here with me. I am just telling him all the true things about it, how life is at Arkansas from what I know.
"I have told him that (Arkansas coach Eric) Musselman is a winner and is going to make you work hard."
Black is averaging 13.5 points, 5.8 rebounds and 4 assists in 15 games for Duncanville. The Panthers (28-1) will begin postseason play Tuesday night.
He has not played the last few games as part of an ongoing battle with the University Interscholastic League — an athletics governing body in Texas — over his eligibility.
"We have got seven more games left and we have got to keep getting better," Black said. "It is hard to win seven games in a row in elimination (play). We have just got to stick with it and keep finding ways to get better.
"As for me, if they say I can play, then I am going to play. If not, I am just going to support my team because we have got a really good team, so I want them to do it with or without me."
Black, who played at Coppell the previous two seasons, has developed into a college point guard prospect.
"I feel like I have always had a natural giving mindset on the court," Black said. "I am really a pass-first player. Especially coming to Duncanville, I think it has helped me become a better true point guard."
Black sized up his game.
"Strength, I would say it is just playmaking, being a bigger guard, it allows me to make some passes that some other smaller guards can't," Black said. "Just creating to my teammates, creating offense.
"Weaknesses, it's probably just getting stronger because there are pretty strong dudes are pretty strong at the college level. Really just strength, athleticism and keep on my improving on my ball handling and tightening up everything."
He could envision himself playing in a game like Saturday's.
"They are strong, big, physical dudes, but I think I can help a team win at this level," he said.
Discussion
Have a comment on this story? Join the discussion or start a new one on the Forums.