Analysis: Pledges keep Hogs' 2023 recruiting rolling
Published: Sunday, January 23, 2022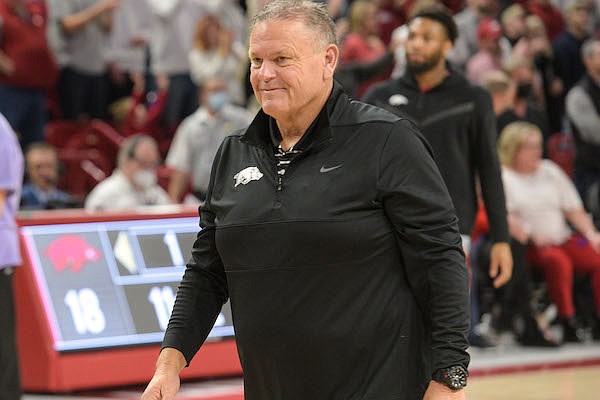 ( Hank Layton, NWA Democrat-Gazette )
Arkansas football coach Sam Pittman is shown during a Razorbacks basketball game against South Carolina on Tuesday, Jan. 18, 2022, in Fayetteville.
The smiles on the faces of Arkansas coach Sam Pittman and his staff continue to get bigger and brighter seemingly every day.
Bixby junior 4-star tight end Luke Hasz (6-3, 220), Oklahoma's top-ranked 2023 prospect and the No. 2 tight end nationally, per 247 Sports, and Ellenwood (Ga.) Cedar Grove 3-star linebacker Everett Roussaw (6-3, 210) have both pledged to be Razorbacks this weekend.
The additions bring the number of 2023 commits to eight in a recruiting haul that is ranked No. 3 nationally by 247 Sports and Rivals.
Arkansas did not get its eighth commit of the 2022 class until May 9, 2021, when Joe T. Robinson offensive lineman E'marion Harris (6-7, 370) announced his decision.
Hasz, who was committed to Oklahoma before former Sooners coach Lincoln Riley bolted for USC, is part of a trio of 4-star tight pledges considered arguably the best at the position in program history.
Hasz, who was in Fayetteville for a visit last weekend, chose Arkansas over Oklahoma, Oklahoma State, Alabama, LSU, Ohio State, Oregon, Ole Miss, Texas A&M, Michigan State, Penn State and numerous other programs.
He joins Ashdown's Shamar Easter (6-5, 225) and Jaden Hamm (6-6, 225) of Eudora, Kan., at Arkansas, the only school to have multiple Mackey Award winners – D.J. Williams (2010) and Hunter Henry (2015).
All three are also very good basketball players as well as mismatch problems who can not only be inline guys, but are athletic enough to split out and make wide receiver-type plays.
The trio are versatile guys that are likely to be on the field plenty at the same time during their careers in Fayetteville.
Much credit has to be given to former NFL offensive coordinator and current Razorbacks tight ends coach Dowell Logains as well as offensive coordinator Kendal Briles.
Loggains is a Newport native like myself. We jokingly didn't know the tight end was an eligible receiver in our run-dominated football program under the guidance of late legendary coach Bill Keedy.
Hasz and Oklahoma State athlete signee Braylin Presley (5-7, 155) were two of the leaders on this season's Bixby team, which won its fourth straight state title, its seventh in eight years and ran its winning streak to a 11-man state record of 49 games.
Bixby (13-0) had a high-scoring offense this past season as it went over 60 points in nine games, 70 in three games and maxed out in an 81-6 win over Oklahoma City's Putman City West on Oct. 1.
Luke Hasz, who has a fraternal twin brother in Dylan Hasz (5-11, 180), had 31 receptions for 406 yards and 2 touchdowns as a junior.
That followed a sophomore year that he returned from basketball to football for the first time since the sixth grade and caught 32 passes for 703 yards and 9 touchdowns. 
Roussaw continues a run of quality linebacker commits and signees that Arkansas linebackers coach Michael Scherer has landed since he was hired as a consultant in 2020. He was elevated to his current position in February 2021.
Scherer has been in on the recruiting of 2021 signees Christopher "Pooh" Paul and Marco Avant, and 2022 signees Mani Powell, Kaden Henley and Jordan Crook, and Alabama transfer linebacker Drew Sanders (6-5, 244), who is expected to step in and join Bumper Pool as a starter next season.
For a position that has honestly been three hits – two of them walk-ons in Grant Morgan and Hayden Henry – and many misses lately, it finally appears the Razorbacks' linebacker group has the needed combination of talent and depth.
Roussaw, who plays at the high school Arkansas running backs coach Jimmy Smith was a head coach, chose the Razorbacks over Mississippi State, Missouri, the University of Central Florida, Louisville, Virginia Tech Charlotte and other programs.
"Everett had a very good year this year," Cedar Grove coach John Adams said in an earlier interview. "He ended the season with four interceptions. He had a really impressive year. 
"The good thing about Everett is he is kind of the captain on our defense and a captain on our team as well. He kind of calls the shots, lets everybody know where to go, get lined up right. He is just real knowledgeable of the game of football.
"I think his football IQ is really good. He studies a lot of film. He is the one that comes and is going to be the first one there, takes notes and is the last one in the building. He just works his butt off every day and I think it pays off for him in the long run."
Adams notes that Roussaw has a nose for the football and believes that is both instinct and learned.
"He is a very instinctive player and I think it is a testament to his film study," Adams said. "He knows guys' tendencies and where the ball is going. He is also a long kid. Everett is about 6-3 and his wing span is pretty long. It is hard to throw it over his head. When he drops in the hole, you are going to have to throw that ball high to get it over him."
Roussaw, who was in Fayetteville on Saturday for a Junior Day, got a chance then to see a pair of former Cedar Grove standouts in 2022 Arkansas tailback signee Rashod Dubinion and wide receiver Jadon Haselwood, a former 5-star prospect who transferred from Oklahoma.
Dubinion (5-10, 185) rushed for 1,565 yards and 22 touchdowns as a senior, and had 20 carries for 110 yards in the championship game.
 "(The Razorbacks) are most definitely getting a leader and a very athletic running back," Roussaw said. "We always went against each other in practice to make each other better. I will say that he is very competitive and he is a hungry dog."
Hasselwood (6-3, 205) was Oklahoma's leading pass catcher with 39 receptions for 399 yards and 6 touchdowns this season.
His last play for Cedar Grove was a 22-yard touchdown catch with four seconds left in the championship game to hand the Saints the 2018 title.
"He is a very talented player," Roussaw said. "He is a great athlete and I think will do great things up there at Arkansas along with Rashod."
Roussaw said Pittman told him that Arkansas' turnaround was coming.
"When I went up there in the summer time, he told me that was about to happen," Roussaw said. "Just to see it happen was amazing."
Discussion
Have a comment on this story? Join the discussion or start a new one on the Forums.