Cowles joining Biliew on Mokan Elite AAU squad
Published: Wednesday, March 23, 2022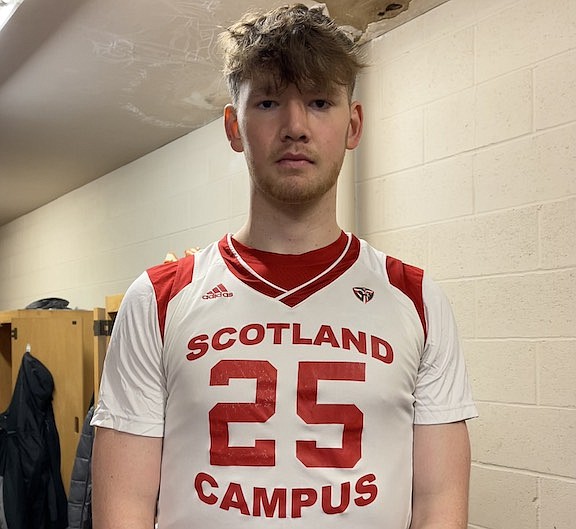 Former Morrilton hoops standout Henry Cowles will be getting a development lift this spring from a coach that has done the same this season for Arkansas signee Jordan Walsh.
Cowles (6-9, 230), who missed the middle part of season after transferring to Scotland (Pa.) Campus Sports prep school, will play for Mokan Elite's AAU organization under Branson (Mo.) Link Academy head coach Rodney Perry.
He'll play alongside a pair of 5-star prospects in Arkansas junior recruiting target Omaha Biliew (6-9, 205), Walsh's teammate at Link Academy, and St. Louis Christian Brothers John Bol (7-1, 190), the son of former NBA player Manute Bol.
"I had my first practice with them last weekend," Cowles said. "It went well and I have decided it would be a great idea to play with them. I learned so from Coach Perry in just the one weekend of practice last weekend."
Cowles, who helped Arkansas 2022 signee Joseph Pinion lead the Devil Dogs to the state championship game as a junior, is still of the mind to sign with a college later this spring or summer, but is also thinking about reclassifying to the 2023 class.
"As of right now, it's just for this spring," Cowles said of playing with Mokan. "I'm hoping for another good offer to come, but if it doesn't then that's when I will reclassify."
Cowles played a handful of games for the school in Chambersburg before tearing his labrum and only being able to play the school's last three games.
"I finished up the season strong," Cowles said. "John Parker, my trainer, is friends with the head coach at Mokan and Link Prep and helped me out with that.
"I am excited about working with Coach Perry because he wants his bigs to run and be the first ones down the court. I will work on that as well as the pick and pop, flashing to the post and also being able to hit the 3."
Cowles, who was on hand for Arkansas' win over Mississippi State on Feb. 5, is looking forward to watching Arkansas (27-8) face Gonzaga (28-3) Thursday night in a Sweet 16 matchup in San Francisco.
"I have not been able to see them play since that Mississippi State game, but it is great to see them in the Sweet 16," Cowles said. "(Arkansas head) Coach (Eric) Musselman and all those guys are doing great things.
"I'm excited to see them play Gonzaga. I am going to be watching Jaylin Williams against Drew Timme. That will be a good match up."
Discussion
Have a comment on this story? Join the discussion or start a new one on the Forums.