Best web comments of the week
Published: Saturday, October 1, 2022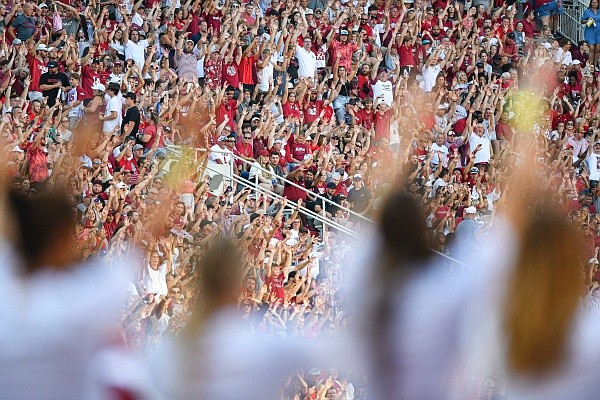 ( Hank Layton )
Arkansas fans call the hogs, Saturday, Sept. 17, 2022, during the first quarter of the Razorbacks' 38-27 win over Missouri State at Donald W. Reynolds Razorback Stadium in Fayetteville.
Here are some selected comments from the message boards at WholeHogSports.com:
• Sometimes the better team doesn't win
Hogmodo: Usually outstanding players make mistakes like KJ Jefferson's fumble or Ricky Stromberg's bad snap. Sometimes, when an offensive coordinator has his offense dominating another team they decide to "experiment" with some trickeration that stalls the offense, letting the momentum get away never to get it back. Sometimes, our great pass rush forces their quarterback to throw up a lame duck pass three different times and their great athletes beat our not-as-great defenders to the ball… Our defense played well enough to win. Our offense had a bad game. We still could have won but our future All-SEC kicker barely missed a critical field goal. Sometimes that happens at a really bad time and it should never have come down to that. If our offense plays anywhere close to its usual level of competence, we win by 10. PS: Maybe that will happen the other way this weekend and we will be the one who beats a better team.
bobghawg: The best TEAM always wins, the best players sometimes do not.
youdaman: Plenty of times the best TEAM beats themselves so the inferior team didn't have to. (That) happened Saturday. I think we beat Texas A&M nine out of 10 times but we made it easy for them to win by making critical, game-altering mistakes.
hawgcotton: Best prepared teams win most often but we will see if we can fix the turnovers, lack of tacking, getting away from what works play calling, having the defense get some turnovers, etc. And, do it against the benchmark of college football for past 15 years. So you say we have a chance? Yes, we do. But it will take the greatest performance by players and coaching staff to do it.
wizardofhogz: Two things particularly sting about (the) loss to A&M. One is that it was obvious that the better team (Arkansas) did not win. Not that that team played better in the game. But it was clear that if we just played straight-forward football (without some of the odd choices that were made) we not only win, we dominate. Second thing is that this exact type of loss is what has characterized the recent period of futility against the Aggies. With only a couple of exceptions, all of the games in the series have been very competitive, despite the 1-10 record in the last 11 games. And not only "might" Arkansas have won several of those games, they should … have won several. Four or five, for sure. And in those games, it was the same script…Arkansas finding a way to lose rather than A&M winning.
docestes2: Unfortunately, the Aggies seem to have replaced the 'Horns as the team that just seems to have our number, no matter what.
bushhog: I live in Austin with many Aggie friends. Just got back from church where I congratulated many. Almost all say they were lucky and do not want to play us again. Said we are really good. I still sting from loss and agree we hurt ourselves. So proud where program has come back though. A little over two years ago were coming off back-to-back 2-10 (seasons). And now we were a couple in inches from a field goal and 4-0 and maybe close to top 5.
• What are Arkansas' chances against Alabama?
armyhog: We might get beat by 'Bama, but they know our Hogs will fight until the end of the game. There will not be a four-game skid.
youdaman: I think (Alabama) will come in here ready to prove last year was a game we just caught them by surprise and they weren't ready for it. We have had their full attention now for a year they will be very prepared and motivated…They are light years better than A&M on defense in their quarterback's in a different world altogether…
bikehog23: This "reaching" for the end zone almost cost KJ possession in an earlier game. It did cost Missouri the game against Auburn. There is no need for it unless it is a 4th down situation. There's just too much risk of fumbling. We have had several players do it this year. In all the cases I can recall, all would have scored without the reach.
MattJones: Unless the ball hits the ground a lot, I think the tackling and pass coverage problems are going to be hard to overcome against a team like Alabama.
• What if Cam Little made the field goal against the Aggies?
rayzobackerii: if Cam had made it, there was plenty of time and big plays in the Gaggies to probably get in position for their own FG. Max Johnson seemed to have a flow to his game that would have succeeded. I did think that our pass rush had gotten better later in the game but his tackle-breaking scrambles and talented wide receivers just made me worry about the minute-plus left on the clock.
goldsurfer: I'll just say the game wasn't over if Cam had made it…Games these days aren't over when a team takes a lead inside of 30 seconds.
bikehog23: No doubt in my mind — A&M wouldn't get across mid-field.
nlrbuzzard: The better theoretical question is whether the Aggies would have had enough time to do anything if we had not had the bad snap on second and five shortly before the field goal. Their defense was reeling and we had two downs to make five yards. Make that first down and you either end up with a short field goal or you end up scoring the TD with the Aggies with little time and maybe no time outs when they get the ball back.
pavlovhog1: Of all the bad plays or non-plays of the game, the uncharacteristic bad snap by Stromberg was the defining play of the game in my (usually worthless) opinion. We could have run down the clock and either scored a TD or kicked a makeable FG. The Aggies would have little time to score. The saddest sight I saw the entire game was a shot of Stromberg with a towel over his head and tears streaming down his face. No one felt as bad as he did.
• Who does KJ Jefferson remind you of?
hogmaestro: One QB I admired as a kid — so much so that I even loved the team (though I probably loved the helmet and the nickname Vikings even more) — was Joe Kapp. KJ reminds me of him. Just pure, distilled grit. A leader. Made whatever play was needed. Nothing especially aesthetically beautiful — unless you think seeing your QB run over folks is beautiful, which I do.
adgebg: It fits. You couldn't pay him a higher compliment. Kapp really was the very epitome of grit.
neastarkie: I haven't thought about Joe Kapp in ages, but he was one tough QB. If I recall correctly, he was the coach for the Cal football team that beat Stanford on that incredible play where the Stanford band came onto the field thinking the game was over. Late 80's, I think.
nlrbuzzard: KJ actually reminds me more of Byron Leftwich when he was in college at Marshall, both physically and in attitude.
• Predicting the score of Saturday's game
LoudLoyd: I think we follow the Texas A&M model from 2021: Lose a heart breaker in Dallas, come home the next game and beat 'Bama. Arkansas 20, Alabama 17. Redemption for Cam Little.
eaglehog5: Crimson 42, Cardinal 17.
hawgindaslough: 'Bama 45, Arkansas 31.
hogmaestro: IF we beat 'Bama, we will have to score lots. Which we could do. Our offense is that good if KJ gets hot with his arm. My optimistic self says Hogs 31, 'Bama 30. Little hits a last-second 42-yarder.
hogbacker: 31-27, Hogs. We're overdue. I got nothing else to back up my prediction.
Snout: Had we beaten A&M I would have picked us this week. But we didn't and we did not look like a high calibre team for over half the game So, UA 24, Bammy 38.
neastarkie: Going with my head instead of my heart. 'Bama 45, Hogs 28.
gentryrzrbk: 'Bama 55, Hogs 17. We can't handle their passing attack.
lilhawg: We'll give it our best, but it won't be enough. 'Bama 38-22.
dghog: Bammer 49, Hogs 24. Secondary will be pierced easily and often, sad to say.
georgiahawg: Heard Trey Biddy said it was foolish or something similar to pick Arkansas and he is right. So I am a fool. Arkansas 27, 'Bama 24. Look at some away games for 'Bama with Bryce Young at quarterback. Beat Texas by 1. Beat Auburn by 2. Lost to A&M by 3. Beat Florida by 2. This game is not in Alabama or on a neutral field. The crowd and defensive line can get to him.
white25: TAMU hangover. Tide 39, Arkansas 12.
dogen: Big win, Little redemption. Hogs, 30-27.
Discussion
Have a comment on this story? Join the discussion or start a new one on the Forums.