Alabama coach: Miller patdown before Arkansas game 'not appropriate'
By: John Zenor, The Associated Press
Published: Saturday, February 25, 2023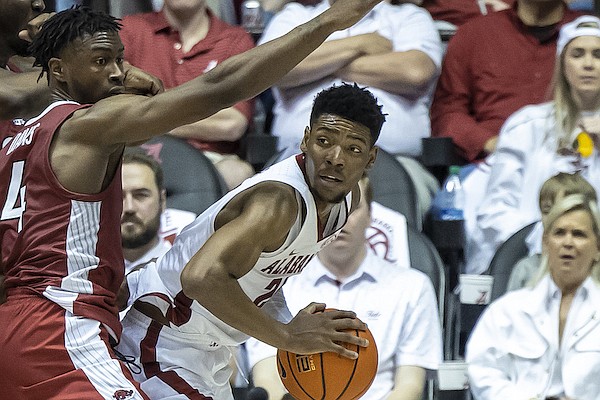 Alabama forward Brandon Miller (24) works to get away from Arkansas guard Davonte Davis (4) during the first half of an NCAA college basketball game, Saturday, Feb. 25, 2023, in Tuscaloosa, Ala. (AP Photo/Vasha Hunt)
TUSCALOOSA, Ala. — Brandon Miller and No. 2 Alabama eked out another close win in a week that has proved challenging on and off the court.
Miller scored 24 points and Mark Sears made 7 of 8 free throws over the final 1:04 to help No. 2 Alabama secure an 86-83 victory over Arkansas on Saturday, following an overtime win at South Carolina on Wednesday.
Miller delivered his second straight huge game since police alleged in courtroom testimony that Miller brought a gun to former teammate Darius Miles, who is charged with capital murder in a fatal shooting.
The week's details cast a different light on Miller's regular pregame introduction, which is a Tide staffer giving him a patdown. That, coach Nate Oats said, is over.
"I think that's something that's been going on all year," Oats said to open his postgame news conference. "I don't watch our introductions. I'm not involved with them. I'm drawing up plays at that time. Regardless, it's not appropriate. It's been addressed, and I can assure you it definitely will not happen again the remainder of this year."
Miller received a warmer reception at home than in South Carolina, where he heard chants of "lock him up" and "guilty" a day after testimony about the gun, which was allegedly used by another man in the fatal shooting of 23-year-old Jamea Harris on Jan. 15.
Miller hasn't been accused of or charged with any crime — or missed any playing time. Miller's attorney said Miller never handled the gun and that it had been left in his back seat. Police also said another Alabama player, guard Jaden Bradley, was at the scene. He started Saturday's game and did not score.
No players were made available and Oats declined to answer questions on the shooting case.
Discussion
Have a comment on this story? Join the discussion or start a new one on the Forums.